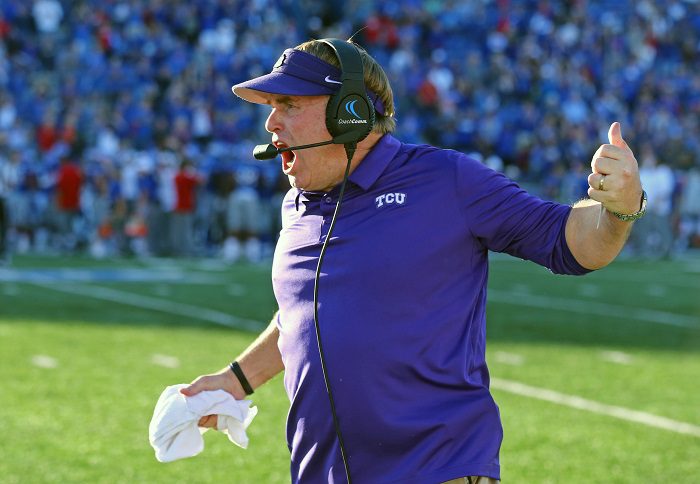 The Big 12 Conference released its 2021 football schedule on Thursday and there was one team that got hosed more than the rest: The TCU Horned Frogs.
My eyes first went to the TCU schedule because it was obvious in looking at the schedule on the Big 12 Twitter account that they were the only team without a game in the first two weeks of conference play, which means they are playing nine-straight games to end the season, with no bye week.
The Horned Frogs' non-conference features games on September 4th against Duquesne, September 11th vs. Cal and then September 25th vs. SMU.
So the bye week for TCU will be the weekend of September 18th, during non-conference play. They are the only school having to deal with that.
The scheduling process is always more complicated than many of us want to make it out to be, but this seems completely unfair to the Horned Frogs. Was it really impossible to get TCU a bye week somewhere in there? Considering there are hundreds of different schedules that can be put together, theoretically, it's frustrating TCU has to deal with this.
Plus, the Big 12 is a grind of a season with a true round robin schedule. This isn't the Big Ten or SEC where you cross your fingers that you get to avoid the powerhouse programs each season.
On top of that, this is the season that TCU has to play five Big 12 road games and four home games, a number that switches every season.
TCU is coming off a 6-4 season where they were bowl eligible, but had to back out of the Texas Bowl due to COVID-19 issues within the program.
Don't get me wrong, at this point, it's freezing in the Midwest, we are coming off a season with limited fan attendance, and we're all desperate for a football tailgate, cold beer and a game. But as TCU looks to get itself back into the Big 12 Championship race this fall, it's going to be that much harder after the hand they were dealt by the Big 12 Conference in today's schedule announcement.
**Want to win a $20 gift card? Go sign up here and join our conversation! The best poster each week wins a gift card to your favorite establishment!**