Baylor Bears
Five Reasons Baylor Basketball is Poised for a Historic Season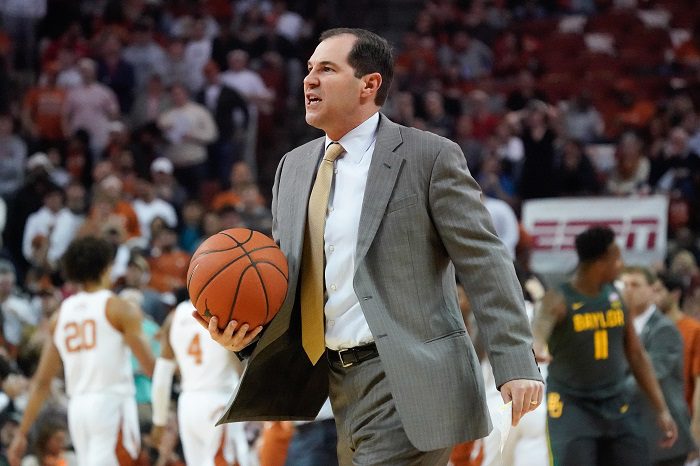 Baylor has set the standard for the Big 12 this year in historic fashion.
A 17-0 (9-0 Big12) record matches the best start in program history and the team is on track to win the program's first Big 12 conference title.
Unfortunately, the No. 2 Bears' current two-week COVID-19 pause postponed five conference games. It remains to be seen how this stoppage will impact the unblemished record and conference title chase since it's likely not all the games will be made up before the conference tournament.
Still, going undefeated for any length of time is hard. Doing so during a global pandemic makes it an even more impressive feat. A perfect record does involve some luck, but other pieces are needed for it to even be possible.
Consistent Coaching
In 2003, Scott Drew took over a Baylor program facing NCAA sanctions, dealing with a murder in the program and a depleted roster. Some coaches might have given up after one or two seasons, but Drew embraced the challenge. Baylor went from a bottom-dweller in the Big 12 to a perennial NCAA Tournament team as Drew brought in top-100 recruits amid the chaos. The longer Drew and his staff have stayed in Waco – Associate Head Coach Jerome Tang has been there for 18 years while Director of Player Development Jared Nuness has been there 11 – the easier it's become to bring in and keep top recruits. Recruits have an experience close to what they were promised, which encourages them to stay and recommend Baylor to their high school or club teammates. As players develop within the same program for multiple years, roster depth then becomes an advantage.
Roster Depth and Leadership
Baylor's starting line-up, three juniors and two seniors, has remained the same all season. Not many teams can make that claim during this COVID-19 interrupted season. In addition, every starter has been in Baylor's program for at least three seasons including transfer guards Jared Butler and Davion Mitchell. Even the key bench players spend time learning the system before playing significant minutes. Extended time together is a luxury in the era of one-and-done players and constant movement through the transfer portal. Programs relying heavily on freshmen, like Kentucky, have struggled to reach their usual success this year because COVID-19 pauses have taken away practices and other opportunities for team bonding. Teams with more history together have a better chance of adjusting quickly. The depth and leadership on the Bears' roster could help when they are scheduled to return from this COVID-19 stoppage on February 20 against Oklahoma State.
Offensive Firepower
Spending a couple seasons learning coach Drew's system and how to play off each other has allowed Baylor to develop into the nation's No. 2 most efficient offense, behind Gonzaga. Butler, a player of the year candidate, leads the Bears attack with 17 points and 5.2 assists per game. Senior guard MaCio Teague chips in 14.7 points and Mitchell adds 13.6 points and 5.8 assists. Reserve sophomore guard Adam Flagler has developed into a key piece with 10.2 points per game on 51% shooting. Baylor leads the league with 87 points per game and a 24.2 scoring margin. Top 10 marks nationally in shooting percentage (50.7), three-point field goals (43.9), and assists per game (18.2) help Baylor distance itself from opponents. The Bears also pull down 12.6 offensive rebounds per game due in large part to 6-8 sophomore Jonathan Tchamwa Tchatchoua and 6-5 senior forward Mark Vital. The three-point shooting percentage might drop as the season goes on, but Baylor has enough weapons to keep the points coming.
Defense, Defense, Defense
On the other end of the floor, Baylor knows how to make opponents uncomfortable. The Bears force a conference-best 18.5 turnovers per game and have a 6.12 turnover margin. Butler and Mitchell both average more than 2 steals per game. This allows the Bears to get out in transition, convert easy baskets, and dictate the game's pace. Baylor also covers the three-point line well, allowing six makes per game on 31.8% shooting. Only three teams have scored over 70 points against the Bears this year. That's quite an accomplishment considering Baylor gives up 62.8 points per game (No. 25 in the country) and rank in the top 10 nationally for defensive efficiency.
One Blip
Free throws attempts jump out as an area of improvement. For a team with guards who can create scoring opportunities and potentially draw fouls, 17 attempts per game is a relatively low number. Texas Tech leads the Big 12 and ranks No. 2 nationally with 23.9 attempts per game. Baylor's 70% shooting percentage may also leave something to be desired as it doesn't even register in the top 150 nationally. In a tight game, those numbers might need to bump to secure a win. Then again, the Bears snuck out a 68-60 win over Texas Tech despite shooting 59% (13-of-22) from the line. Time will tell if free throws end up being a bigger issue. It's a relatively minor flaw when looking at the bigger picture, but Baylor need something to correct because no team is perfect.
Right?
**Want to win a $20 gift card?  Go sign up here and join our conversation! The best poster each week wins a gift card to your favorite establishment!**