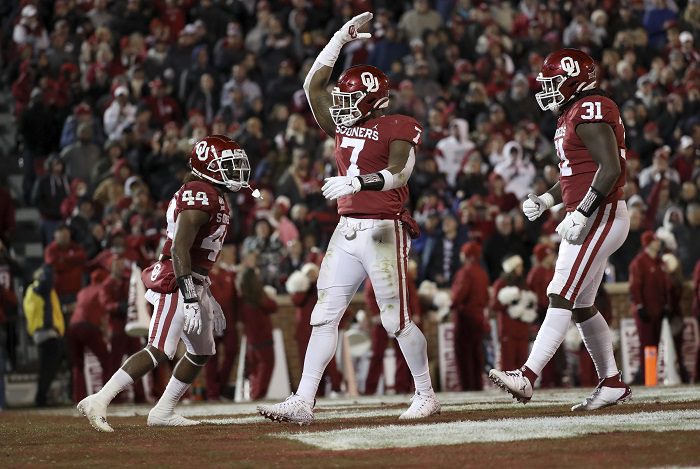 It was not a guarantee that Oklahoma defensive end Ronnie Perkins was going to declare for the 2021 NFL Draft, but he eventually made the move last month.
And in the weeks since, Perkins appears to be shooting up NFL Draft boards.
NFL Network analyst Daniel Jeremiah, in a recent episode of the Move The Sticks podcast, said he projects Perkins to go as a top 50 pick.
Here's part of what Jeremiah said about Perkins:
"I watched him and I think he's better (than the second- and third-round projections). I really liked him. I ended up putting a pretty strong grade on him, going to put him squarely in my top 50. I want to see how big he is. He's listed at 6-foot-3, 247. This is the hard part about this year. You don't have the measurables.
"Just off the tape, he's explosive. He's powerful. I posted a play with him putting Tevin Jenkins on the ground with a long-arm inside move, and Tevin Jenkins is a talented player from Oklahoma State. He's got power. He's got a real good feel for it off the edge. When I reach out to my guys over at Oklahoma, they talk about him being a leader, an alpha, all those things you want to hear."
However with Perkins, the off-field concerns are also there after he was suspended at the end of last season and missed half of the 2020 season (reportedly tied to marijuana). Perkins returned for the second half of the season and had 5.5 sacks and 23 tackles. For his career, which includes three seasons from 2018 to 2020, Perkins had 98 tackles and 16.5 sacks.
The 2021 NFL Draft is set to begin on Thursday, April 29th, 2021.
**Want to win a $25 gift card?  Go sign up here and join our conversation! The best poster each week wins a gift card to your favorite establishment!**