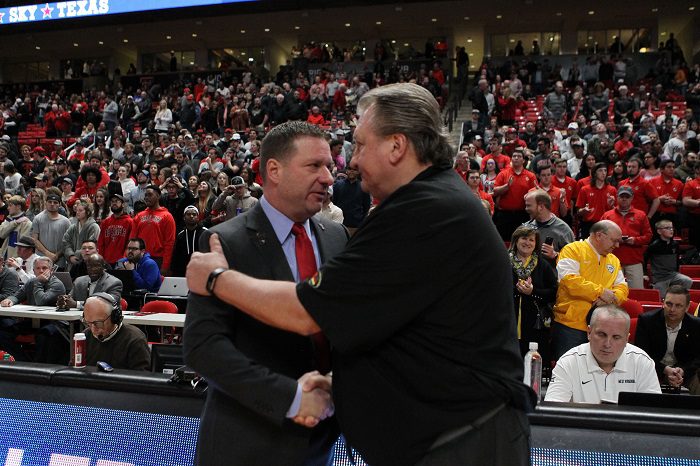 The Big 12 has decided to move forward with the conference tournament next month. No announcement has been made yet about which postponed games will be played, making the least week of scheduled games matter even more. Conference winning percentage determines seeds so Baylor (17-0, 9-0) has the clearest path to the No. 1 spot while two through seven are up for grabs. Let's take a look at storylines for the Big 12 teams fighting for those open seeds. Each team is currently projected to make the men's NCAA Basketball Tournament as an 8 seed or better.
No. 23 Kansas (16-7 overall, 10-5 Big 12)
Finding Kansas this high after they fell out of the AP top 25 for the first time in 231 weeks on February 8 was a big surprising. Recent wins over TCU, Kansas State, Iowa State, and Oklahoma State helped Kansas claw its way back up the conference rankings and into the top-25. The Jayhawks last win over a top Big 12 team came against Oklahoma on January 9. The Sooners then dealt Kansas a 75-68 loss a few weeks later. After losing the top two performers from last year's squad, Kansas has searched for a consistent leader. Junior guard Ochai Agbaji picked up the mantle at 13.9 points while junior forward David McCormack chips in 13 points and 6.1 rebounds per game. The Jayhawks can prove it belongs in the top 25 against No. 15 Texas Tech, No. 12 Texas, and No. 1 Baylor. Otherwise, Kansas may find itself lower on this list and out of the top 25 again.  
No. 9 Oklahoma (13-5, 8-4)
Oklahoma has found its groove, winning seven of its last eight games. The lone loss came at Texas Tech, 57-52, without senior guard Austin Reaves, the Sooners' leading scorer. A 91-90 double-overtime win at West Virginia did expose Oklahoma's rebounding issues at the end of regulation and in the overtimes, but head coach Lon Kruger knows how to make adjustments and play to the team's strengths. Senior forward Brady Manek has gotten back on track after scoring one point against Texas on January 26. Manek nailed at least four three-pointers against Alabama, Texas Tech, Iowa State and West Virginia. Reaves continues to dominate with 16.6 points and 5.5 assists per game. With games against Iowa State, Kansas State, and Oklahoma State (twice), and potential make ups against Texas and Baylor, a path exists for the Sooners to come out with 10-12 conference wins. A strong finish should secure at least a 3 seed in the NCAA tournament and position the Sooners for a Sweet Sixteen-level run.
No. 12 Texas (13-5, 7-4)
Texas has battled COVID-19 issues as much as any Big 12 team this year. The Longhorns looked like the team to beat, behind Baylor, before a COVID-19 disruption. Texas then lost four of its next seven games. The toughest loss during that stretch was to Oklahoma, 80-79, when the Longhorns played without head coach Shaka Smart and two starters. Texas still has a powerful offense led by junior guards Andrew Jones (15.9 points per game) and Courtney Ramey (13.2). Freshman forward Greg Brown and senior forward Jericho Sims, two of the top six rebounders in the Big 12, combine for 14.4 rebounds per game, providing even more scoring opportunities. Texas should have a couple make up games after playing No. 13 West Virginia, No. 23 Kansas, and No. 15 Texas Tech. If the Longhorns can get back to pre-COVID-19 form during these final games, they will vie for a top seed in the Big 12 tournament and be rolling in time for the NCAA tournament.
No. 13 West Virginia (14-6, 7-4)
Prior to the Oklahoma loss, West Virginia had won five straight Big 12 games after a COVID-19 pause. The only loss during that stretch was to Florida, 85-80, in the SEC/Big 12 challenge. The Mountaineers should have no problem getting back on track with the Big 12's No.2 scoring offense (77.5 points per game) and a strong defense (71.9 points). Sophomore guard Miles McBride and junior forward Derek Culver still lead the charge with 16.3 and 15.1 points per game respectively, while junior guard Sean McNeil has emerged as a solid third option. McNeil posted a career-high 26 points in the win over Texas Tech and hit five three-pointers against Texas Tech, Florida and Oklahoma. West Virginia's schedule will not get easier with No. 12 Texas, TCU, and No. 1 Baylor followed by four potential make-up games. The Mountaineers, like the Sooners, have the talent to win 10-12 conference games and play into late-March.  
No. 15 Texas Tech (14-6, 6-5)
Texas Tech's biggest enemy might be time off heading into the final stretch. The Red Raiders last played on February 9 and then COVID-19 protocols postponed a game against Baylor and bad weather delayed both contests against TCU. A near perfect record against No. 23 Kansas, Oklahoma State, and No. 12 Texas, plus any rescheduled games, will give Texas Tech a shot at improving its seed and keeping the first-round bye in the conference tournament. Junior guard Mac McClung has continued to put up big numbers with 17.2 points per game and 2.3 assists. Sophomore guards Terrence Shannon Jr. and Kevin McCullar are also scoring more than 10 points per game. Hopefully, having the conference's top scoring defense (62.7 points per game) will also help avoid a slow restart.
Oklahoma State (14-6, 7-6)
Oklahoma State, like Texas Tech, will need help to improve their seed in the conference tournament and earn a first-round bye. Games against Texas Tech and Oklahoma (twice) await along with potential make up dates with West Virginia and Baylor. Inconsistent play throughout the season has hurt the Cowboys, most notably in two losses to TCU, and could cause more problems as tournament time approaches. Freshman guard Cade Cunningham likes to get teammates involved and then take over in the second half. While spreading the ball around is a good thing, a top NBA prospect like Cunningham should take control early. It's too easy for Oklahoma State to fall behind and then spend the entire second half mounting a comeback. That strategy will not work if the Cowboys want to make deep tournament runs.  
**Want to win a $20 gift card?  Go sign up here and join our conversation! The best poster each week wins a gift card to your favorite establishment!**