Trending Now
Could the Pac-12 Target Bob Bowlsby For Commissioner?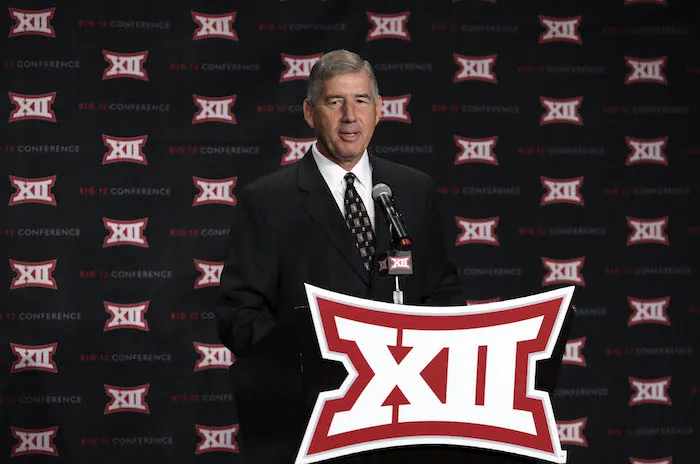 The Pac-12 Conference is searching for a new commissioner. Larry Scott is out after a brutal final few years of his tenure. The Pac-12 could not be less irrelevant on the national football or basketball conversation if it tried. The Pac-12 network is a disaster. Things just aren't going well for the conference. So what direction might the Pac-12 go?
The Mercury News' Jon Wilner put together a list of six potential candidates and Big 12 Commissioner Bob Bowlsby made the cut.
About Bowlsby, Wilner wrote, "He spent three decades as an athletic director, the last six at Stanford, and was the architect of the Cardinal's football reclamation project. In his current gig, he's immersed in the sport's present and future. Why would Bowlsby leave the Big 12 for the Pac-12? We're not at all sure he would. Also, he's 69 years old. We'd envision him as the Harvey Keitel character in Pulp Fiction — as Winston Wolfe, the problem solver: Bowlsby agrees to a five-year deal, which allows him to steer the Pac-12 through this critical upcoming window that includes media rights negotiations, NIL implementation and CFP expansion. He then handpicks his successor and rides off."
Bob Bowlsby has been very good for the Big 12 Conference. He's been the kind of leader the conference needed to navigate a tough time during conference realignment. The Big 12 could've sunken away as a Power 5 conference, but it didn't. In fact, it's been more than fine, it's thrived. The Big 12 Conference is consistently behind the SEC and Big Ten in revenues, especially when including Tier 3 rights. On the field and court, the Big 12 hasn't reached a College Football Playoff Championship, but OU has played in multiple Final Fours, and the depth in the conference remains. On the basketball side, the Big 12 has been arguably the best conference in the sport the last couple of seasons.
Ultimately, at almost 70 years old, I find it unlikely that Bowlsby will leave since he's the Big 12 in a very good place. Every Big 12 fan should want Bowlsby to remain in charge of the conference through the next batch of realignment which is just four to five years away.
**We now have FREE Big 12 Forums here at Heartland College Sports. Go sign up here and join our conversation! **