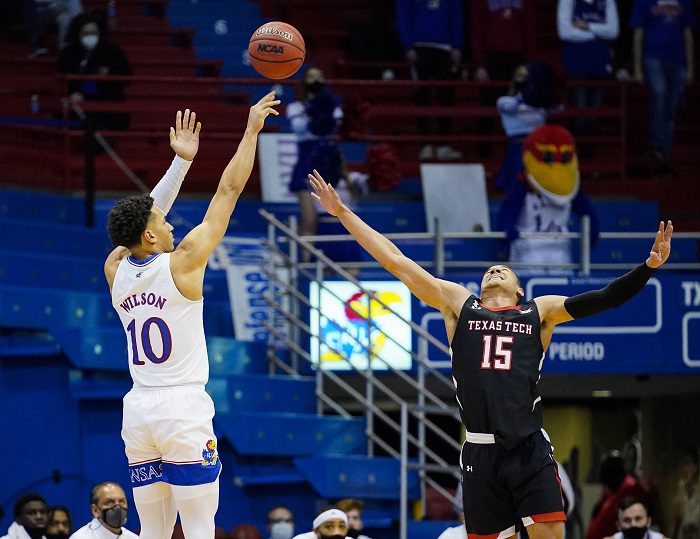 The Oklahoma Sooners remain at No. 1 in the Heartland College Sports Big 12 men's basketball power rankings as of Feb. 22. For the second straight week, Baylor isn't ranked because Baylor didn't play. But, in spite of a challenging weather week for the Texas-based schools in the Big 12, every other program played at least one game.
As a personal aside, I'm sure you all know about the devastating winter storm in Texas. I made it through relatively unscathed. I lost power for six hours last Monday and then made it through the rest of the week without incident. The only thing I'm without now is steady internet access, which I won't have until Wednesday. So for now, it's intermittent e-mail checks through the spotty hot spot on my cell phone. It also means that, for the first time in a LONG time, I didn't see a single Big 12 game last week. Anything you can do to help my fellow Texans right now, especially the ones that went far longer without power than I (I had two co-workers go at least 48 hours without power in sub-freezing temperatures), please do. We'd appreciate it.
1. Oklahoma (14-5, 9-4) (Last week: 1)
Results this past week: vs. Texas, postponed; def. Iowa State, 66-56
The Sooners may see Texas again down the road, depending upon how the Big 12 decides to reschedule games (and at this point there are too many to reschedule). The Sooners defeated Iowa State rather easily on Saturday, keeping them in the top spot in the power rankings. Yes, they would probably be No. 2 if Baylor were playing. But, then again, OU SHOULD have played Baylor earlier this month. But the Bears' COVID-19 pause picked that off. The Sooners have won seven of their last eight games.  
2. West Virginia (15–6, 8–4) (Last Week: 2)
Results this past week: vs. Baylor (Monday, postponed); vs. Baylor (Thursday, postponed); def. Texas, 84-82.
That win on the road at Texas is the kind of win where you think to yourself, 'This team really does have the goods to make a deep run in March.' The jolt in Emmitt Matthews Jr.'s play is telling of the rhythm the Mountaineers have gotten back into since their COVID-19 pause in January. They're 6-2 since that pause, with one of the Mountaineers' two losses coming to the team above them in the power rankings right now. That's the difference at this point. I am now deeply lamenting the postponement of the Baylor games, because that's the question we all want answered now — is West Virginia in a position to beat the Bears? We may finally get an answer to our question on Thursday. Looks like the two will tangle in Waco.
3. Kansas (17-7, 11-5) (Last week: 4)
Results this past week: def. Kansas State, 59-41; def. Texas Tech, 67-61.
Kansas State did what it needed to do against Kansas State — win. That was basically their last 'gimme' game before moving into a brutal stretch against ranked teams. So what did the Jayhawks do against that first ranked team? Win, beating the Red Raiders on the road. Once again, all five starters scored for the Jayhawks in the win over TTU. Kansas doesn't have much of a bench, but if they can get all five of their starters in double figures, they're hard to deal with. Kansas is starting to look like a team that can make a little run in March, even if it doesn't have much depth to speak of. Kansas has now won seven of its last eight Big 12 games. Plus, assuming both of the Jayhawks' games this week come off as scheduled, they'll spend the buffer week resting up.
4. Texas Tech (14-7, 6-6) (Last week: 3)
Results this past week: vs. TCU, (Tuesday, postponed); vs. TCU (Thursday, postponed); lost to Kansas, 67-61.
Texas Tech continues to get the short end of the postponement straw. The Red Raiders were set to play TCU twice last week, one of which was rescheduled due to COVID-19 postponement. Well, the horrible winter storm that crippled Texas for five days forced the Red Raiders to postpone both games. When Texas Tech finally got on the floor Saturday against Kansas, it lost by six points. I feel like the Red Raiders are this close to being consistent, but the missing ingredient always seems to be elusive. 
5. Texas (13–6, 7–5) (Last week: 4)
Results this past week: vs. Oklahoma, postponed; lost to West Virginia, 84-82.
This is the team I'm having the hardest time judging right now. Losing by two points at home to West Virginia is by no means something to punish, though the Longhorns do have to slide down. But is this a Sweet 16 team, like I thought a few weeks ago? Or is this a flawed NCAA Tournament team that's going to lose a close game in the second round? It's hard to project right now. If there's anything to be optimistic about, it's that we've seen teams in this conference that have had long layoffs bounce back, albeit slowly. Maybe that's Texas in a couple of weeks. But right now they're 2-3 in February, with those two wins against teams below them in the league standings.
6. Oklahoma State (14–6, 7-6) (Last week: 6)
Results this past week: def. Iowa State, 76-58; vs. Baylor, postponed.
One game this week for the Cowboys, and it was a relatively easy win over Iowa State. At this point, this is a game the Cowboys should win. A finish above .500 for the regular season is basically assured, and a .500 or better finish in Big 12 play is a possibility. I considered sliding the Cowboys ahead of Texas, but their win over the Longhorns was more than a week ago and I don't think Texas should be punished that much for a two-point loss to a WVU team that is basically a Top 10 team at this point.
7. Kansas State (6-18, 2-13) (Last week: 8)
Results this past week: lost to Kansas, 59-41; defeated TCU, 62-54.
The Wildcats keep plugging away, and on Saturday the win over TCU ended their 13-game losing streak. For that, the Wildcats have to move up. At least for one week. Good for them. And great game from Mike McGuirl.
8. TCU (11–9, 4–7) (Last week: 7)
Results this past week: vs. Texas Tech, (Tuesday, postponed); vs. Texas Tech (Thursday, postponed); lost to Kansas State, 62-54.
I'm sure the one-week layoff hurt the Horned Frogs a bit. But Kansas State was a game the Horned Frogs should have won. They're a bit more talented and a bit more mature than the Wildcats. If the Horned Frogs want to avoid the cellar in these power rankings, they need to beat Iowa State on Feb. 27. 
9. Iowa State (2–16, 0-13) (Last week: 10)
Results this past week: lost to Oklahoma State, 76-58; lost to Oklahoma, 66-56.
There are only two real pieces of drama left in Ames right now. First, whether the Cyclones will win a conference game. Second, whether head coach Steve Prohm will have a job after the season.
READ MORE: Iowa State Basketball: Candidates to Replace Steve Prohm
NR. Baylor (17-0, 9-0) (Last Week: NR)
Results this past week: vs. West Virginia (Monday, postponed); vs. West Virginia (Thursday, postponed); vs. Oklahoma State (Saturday, postponed).
COVID-19, snowmageddon … Baylor doesn't need any more reasons not to play. But, you don't play, you don't get ranked. Fingers crossed we'll see the Bears back on the floor this week, with three games on tap — Iowa State on Tuesday, West Virginia on Thursday, and Kansas on Saturday. Then, we'll see what the Big 12 has in store for the buffer week. Right now, the Bears owe the league half their conference schedule. They can't make all that up.
You can find Matthew Postins on Twitter @PostinsPostcard. Send him a tweet with your question to be included in this week's Big 12 Basketball Mailbag, which appears each Friday during the conference season.
**Want to win a $20 gift card?  Go sign up here and join our conversation! The best poster each week wins a gift card to your favorite establishment!**