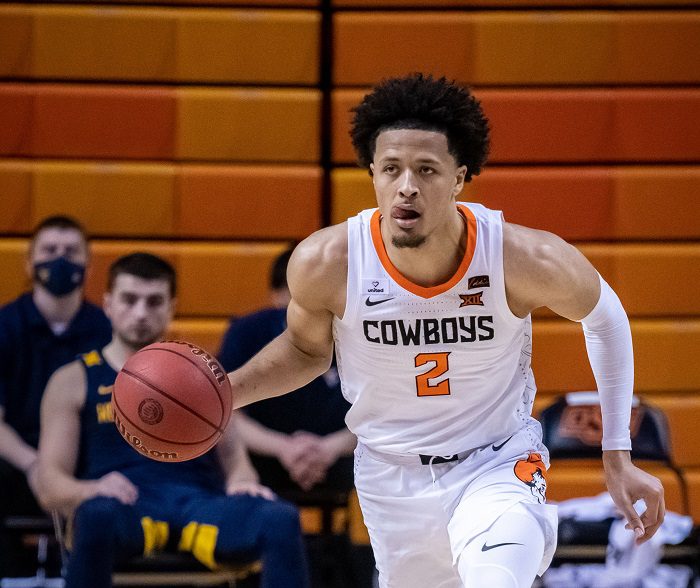 Oklahoma State guard Cade Cunningham remains a popular No. 1 overall pick in 2021 NBA Mock Drafts, the most recent being one created by Kyle Boone at CBSSports.com.
Cunningham was one of a half-dozen Big 12 players in Boone's mock, his second of the 2021 draft cycle and his first since the NBA season began.
Cunningham, who leads the Big 12 in scoring with 18.7 points per game, is a finalist for the Bob Cousy Point Guard of the Year Award. Boone has the Detroit Pistons taking Cunningham No. 1 overall in the mock, which takes into account NBA team records through Feb. 24.
Boone called Cunningham the 'safest, most easily projectable prospect in this year's class.'
No other Big 12 players were in the NBA Lottery (the top 14 picks), but five other players made the cut, and all would be early entries, like Cunningham.
Texas sophomore forward Kai Jones came in at No. 15, going to the Charlotte Hornets. Boone wrote that due to a 'dearth of big men' in this draft, that could allow the 6-foot-11 Jones to slide up into the middle of the first round.
Texas Tech sophomore Terrence Shannon Jr. went to the Indiana Pacers at No. 20. Shannon, a finalist for the Julius Erving Small Forward of the Year award, is in line for the Big 12's Sixth Man of the Year award.
Another Texas underclassmen, freshman Greg Brown, went to Toronto at No. 22. The 6-foot-9 forward, who was also a Top 10 recruit, like Cunningham, is one of the best rebounders in the Big 12.
Two Baylor guards, Jared Butler and Davion Mitchell, rounded out the Big 12's half-dozen.
Butler, went at No. 23 to the Denver Nuggets. A finalist for the Bob Cousy Point Guard of the Year award, is one of the best 3-point shooters in the Big 12. Mitchell went No. 26 to Philadelphia. Mitchell, who is one of the most improved 3-point shooters in college basketball, and right now is shooting better from the arc than Butler.
You can find Matthew Postins on Twitter @PostinsPostcard. Send him a tweet with your question to be included in this week's Big 12 Basketball Mailbag, which appears each Friday during the conference season.
**Want to win a $20 gift card? Go sign up here and join our conversation! The best poster each week wins a gift card to your favorite establishment!**