Big 12 Sports Articles
Pro Football Focus Names Top Returning Players For Each Position: Here's Where They Were Right and Wrong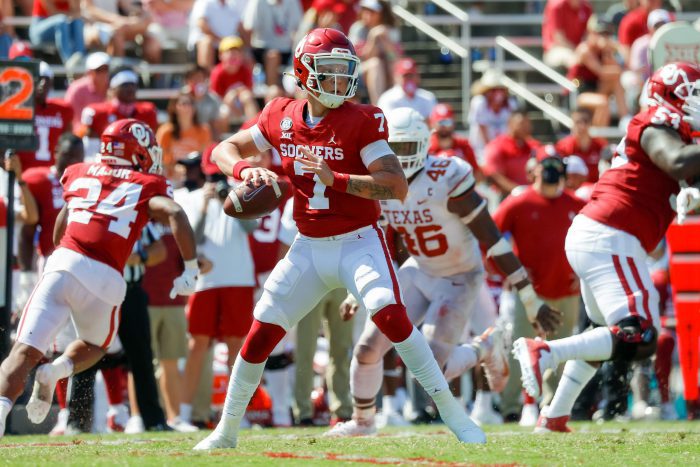 As we continue into the abyss of no college football, the offseason takes are flowing out from countless websites. Perhaps no other website is as controversial as Pro Football Focus and for those who read my work know that I have a bit of a love/hate relationship of how they do things.
Nobody is perfect including myself but as the weeks have gone by PFF has been releasing their top ten players returning for each position. Here is the entire list of all the Big 12 players who made the cut.
Quarterback
#1 Spencer Rattler (Oklahoma)
Not really surprised by this at all. I have been saying since the season ended that Spencer Rattler is the best quarterback in the Big 12. However, I am a little surprised that Iowa State's Brock Purdy did not make their top ten. He deserves to be on that list.
Running Back
#2 Deuce Vaughn (Kansas State)
#3 Kennedy Brooks (Oklahoma)
#6 Breece Hall (Iowa State)
Ok, I get Deuce Vaughn is a good player but putting him ahead of Breece Hall? No way in hell. Breece belongs in the top 3 without a doubt. Also, I respect Kennedy Brooks but after sitting out a year I am not sure he belongs in the top five. Top ten maybe? Ok. And let's not forget about Texas running back Bijan Robinson who looks to be poised to have a big 2021 season.
Wide Receiver
#6 Marvin Mims (Oklahoma)
I have zero issue with Marvin Mims being in the top ten. He is without question a top receiver in the Big 12. With that said, don't sleep on Iowa State's Xavier Hutchinson or Texas Tech's Erik Ezukanma. Both players had over 700 receiving yards a season ago. I believe these three players I just named are the three best receivers in the conference and belong somewhere in the top ten.
Tight End
For whatever reason, PFF didn't rank tight ends but I will do it for them. Iowa State's Charlie Kolar would be the top choice. I think PFF should pay me now.
Offensive Line
No offensive lineman made the cut and that is probably fair. The Big 12 loses the best big men from last season but there should be some names making some splashes in 2021.
Defensive Line
#1 Nik Bonitto (Oklahoma)
Here is where I have the biggest issue. Nik Bonitto belongs so I have no problem with that whatsoever. But I think there could easily be three more Big 12 players in this group. Iowa State's Will McDonald led the Big 12 in sacks last year (10.5) and TCU's Ochaun Mathis belongs in the conversation. And how can they forget about Oklahoma's Isaiah Thomas. Come on PFF, wake up.
Linebackers
Just like the tight end position, PFF didn't make a linebacker list for whatever reason. Maybe it hasn't come out yet, but I will help them. Iowa State linebacker and Big 12 defensive player of the year Mike Rose would be in the top three. Once again, I am doing the heavy lifting. Not cool PFF, not cool.
Defensive Backs
#4 CB Tre'Vius Hodges-Tomlinson (TCU)
#5 Safety Tykee Smith (West Virginia)
Totally agree with Hodges and Smith being in the PFF top ten. Keep in mind, this list is difficult to make because it not only includes corners but safeties as well. Although I would consider Oklahoma State safety Tre Sterling being a fringe top ten returning secondary player. Maybe even Iowa State safety Greg Eisworth.
**Want to win a $25 gift card? Go sign up here and join our conversation! The best poster each week wins a gift card to your favorite establishment!**