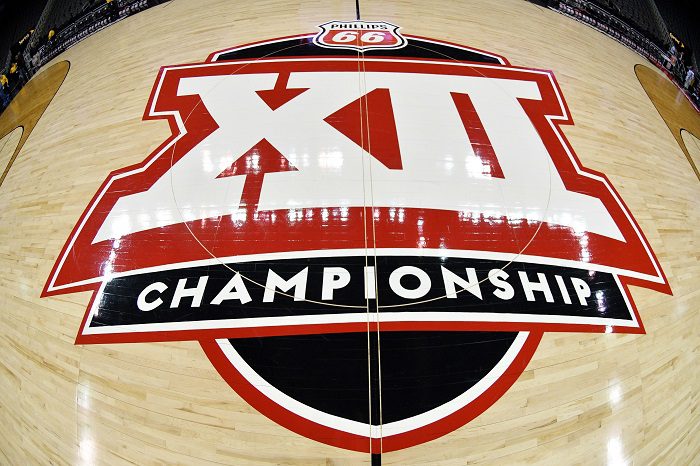 Two weeks from now, teams from the Big 12 conference will meet in Kansas City to play the long missed Phillips 66 Big 12 Basketball Tournament, taking place March 10-13.
Last season's tournament was cut short after just two games, the same day the NBA shut down after medical officials stopped a regular season match between the Utah Jazz and Oklahoma City Thunder moments before tipoff, due to a last minute positive test from Utah's Rudy Gobert.
There are still more games to be played until the tournament kicks off on March 10, but let's take a look at what the tourney bracket would look like if the regular season ended today (courtesy of this ugly mock bracket I made in Google Drawings).
The Seedings Can Change Dramatically
With each team having about three or four games left to go in the regular season, these placements could very easily shift when all is said and done. The teams currently ranked in the 2-7 area will be the ones to watch for as we wind down the season, as West Virginia (9-4), Kansas (11-6), Oklahoma (9-5), Texas (8-5), Oklahoma State (8-6) and Texas Tech (6-7) could all jump or fall dramatically these last couple games. Heck, Baylor's No. 1 seed isn't even completely safe, as the Bears still have five games remaining in their postponement-riddled season.
West Virginia finishes the year off with Baylor, TCU and Oklahoma State all at home. Should something crazy happen and the Mountaineers drop all three, they would be looking at a plunge from the second seed to potentially the sixth or seventh seed. 
Kansas took a tough loss to Texas on Tuesday, but an OU loss the same night kept them sitting at the three seed. It won't be an easy position to keep though, as the Jayhawks have one remaining game against the red-hot Baylor Bears, and Oklahoma is only half a game behind KU. It seems plausible that Bill Self's squad could be jumped by the Sooners even with a Baylor win.
Oklahoma sits just behind Kansas at the four seed after an upset loss at the hands of K-State. A couple of KU losses and some Bedlam victories could prop the Sooners back up to the third seed and a more favorable quarterfinal matchup. They finish the year out with two Bedlam matchups and a Red River Showdown finale in Norman.
Texas has a favorable shot to finish the year 3-0, as they face TCU, Oklahoma and Iowa State down the stretch. The Longhorns are fired up after a close 75-72 win Tuesday versus Kansas, and an undefeated run could potentially catapult Shaka Smart's team to the two or three seed.
Oklahoma State entered the sixth seed after completing a season sweep of Texas Tech on Monday. They'll have to work to preserve it however, as they face Oklahoma (twice), Baylor and West Virginia to conclude the season, all of which are currently ranked in the top 10 nationally. Should the Cowboys win two or more of these games, they would be looking at a possible fourth or fifth seed.
Chris Beard and Texas Tech should be able to keep their seventh seed, as they hold a two game lead over eighth-seeded TCU. A crippling loss to Oklahoma State dropped the Red Raiders from six to seven, flip flopping the two teams in favor of Oklahoma State. They have two winnable games against TCU and Iowa State, but also two dire straits with Texas and Baylor.
Again, these rankings could and most likely will change between now and the final seedings, but it's good to have an idea of where each team is at this point of the season and which spot they are potentially playing for.
**Want to win a $20 gift card?  Go sign up here and join our conversation! The best poster each week wins a gift card to your favorite establishment!**