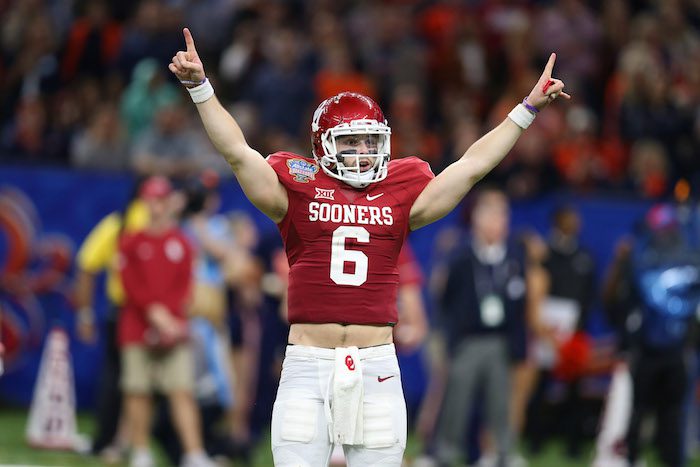 As we continue to make our way through the offseason, ESPN's Bill Connelly came out with his top 60 college football quarterbacks since 2000. Keep in mind that schools like TCU and West Virginia were in different conferences prior to the 2012 season. With that said, here are all the Big 12 quarterbacks who made the list.
#59 TCU QB Andy Dalton (2007-2010)
#55 Kansas QB Todd Reesing (2006-2009)
#54 Texas Tech QB Patrick Mahomes (2006-2009)
#53 Oklahoma State QB Mason Rudolph (2014-2017)
#38 Kansas State QB Collin Klein (2009-2012)
#36 Oklahoma QB Landry Jones (2009-2012)
#32 Texas Tech QB Graham Harrell (2005-2008)
#30 Oklahoma QB Jason White (1999-2004)
#25 West Virginia QB Pat White (2005-2008)
#23 Oklahoma QB Jalen Hurts (2019)
#15 Oklahoma QB Sam Bradford (2007-2009)
#12 Texas QB Colt McCoy (2006-2009)
#10 Baylor QB Robert Griffin (2008-2011)
#7 Oklahoma QB Kyler Murray (2016-2018)
#3 Texas QB Vince Young (2003-2005)
#1 Oklahoma QB Baker Mayfield (2015-2017)
In case you are bad at math like me, that makes a total of sixteen Big 12 quarterbacks on this list. Nine Big 12 schools are represented with the only school not making the cut being Iowa State. However, maybe Brock Purdy can chance that if he has a magical season coming up.
I don't have too much of an issue with the list, but I am a little confused on how these quarterbacks were ranked and how much stock went into winning versus stats. Only one quarterback on this list won a national championship as the starter at their Big 12 school (Vince Young at Texas). If I had to nit-pick, I would probably give Patrick Mahomes a bump up and I would have Colt McCoy in the top ten.
Also, an interesting snub I felt was left out is Oklahoma State's Brandon Weeden (2008-2011). He should be somewhere on this list. Overall, there are some great quarterbacks on this list, and it goes to show just how deep the talent is in the Big 12 and I am excited to see what the future holds from some of these current signal callers in the conference.
**Want to win a $25 gift card? Go sign up here and join our conversation! The best poster each week wins a gift card to your favorite establishment!**