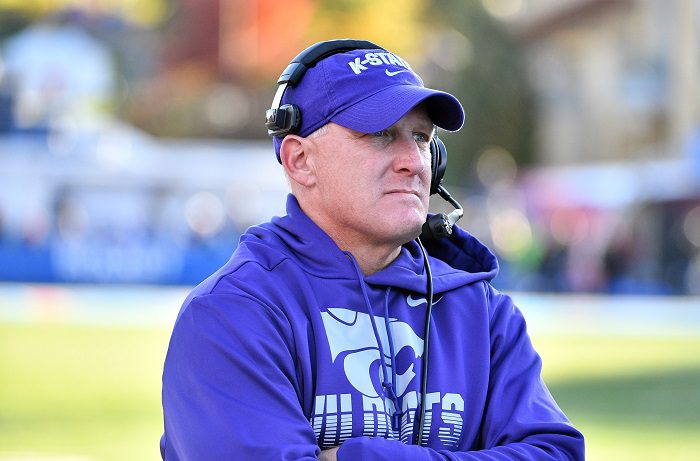 March is here. That's not just the NCAA Tournament, that's also the start of college football spring practice. The Kansas State Wildcats start their spring practice this year under Chris Klieman, who is preparing for his third season as the head coach of the program. Here are the five biggest questions heading into this spring.
1) Is Jake Rubley going to redshirt?
Starting quarterback Skylar Thompson is returning for the 2021 season, but he is still recovering from a shoulder injury and will not participate in spring practice. That leaves sophomore Will Howard and incoming four-star freshman Jake Rubley to take most of the reps at quarterback. In a zoom call with reporters in December, Rubley indicated that he plans to redshirt his freshman year, which would indicate that there won't be a battle for the backup quarterback job. If Rubley redshirts, Will Howard would have the spot again. However, during a zoom call with reporters in January, Chris Klieman did not confirm that the plan was to redshirt Rubley, instead saying that Rubley needed to be ready to contribute to the team at a moment's notice. They are sending mixed signals to the fans, who want to see Rubley as soon as possible and would like to see him as the backup to Thompson going into this fall. We'll have to wait and see if that happens.
2) Who is going to replace Briley Moore's production at tight end?
Moore was K-State's most productive receiver in 2020, with 338 yards and three touchdowns. He's off to the NFL draft, leaving an opening at the starting tight end position. Transfer Daniel Imatorbhebhe looks promising even though he has been injury-prone his entire career. He was a top 20 tight end in 2015 when he committed to Florida out of high school. He has transferred twice since then, first to USC and then to Illinois before deciding to use his final year of eligibility at Kansas State.
There are other tight ends on the roster, Sammy Wheeler and Nick Lenners, that were productive at times last fall. To replace Moore's production, someone on the roster will have to make up for what they lost at that position.
3) What transfers will have an impact?
In addition to Imatorbhebhe, there are four other transfers to keep an eye on. Defensive back Julius Brents transferred in from Iowa, defensive back Russ Yeast from Louisville, linebacker Eric Munoz from Utah State, and defensive lineman Timmy Horne from Charlotte. All of these transfers should compete for playing time and perhaps starting positions on the defense. Anyone who watched the last game of last season against Texas knows this defense needs immediate help and, hopefully, these guys will provide it.
4) Will anyone step up at wide receiver?
K-State's top two receivers in 2020 were running back Deuce Vaughn and tight end Briley Moore. That's not necessarily a ringing endorsement of the wide receiving corps. Chabastin Taylor was third on the team with 293 yards and he returns this fall along with Malik Knowles and Phillip Brooks. K-State needs more production at the wide receiver position and it starts with these three players.
5) Can the offensive line protect the quarterback and open holes for the running backs?
Senior Josh Rivas returns as the leader of the offensive line and everyone else from that young 2020 offensive line returns along with him. Another year of experience should do nothing but help the line continue to develop and improve. They'll need to protect Skylar Thompson and keep him healthy. Getting the running game churning with Deuce Vaughn is also very important if the Wildcats are to find success during the 2021 season.
*If you like what you've read from Joe Mathieu, find more on his personal K-State site: https://www.kstatejoe.com/*