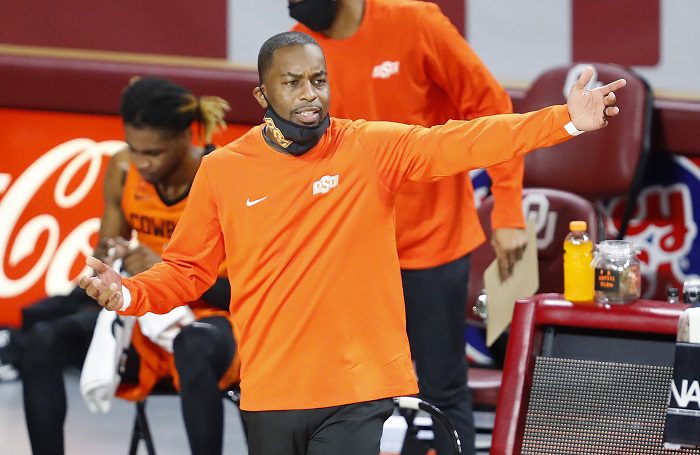 After completing a season sweep of in-state rival Oklahoma, Oklahoma State jumped from the sixth seed to the fourth seed in the Big 12 standings, half a game behind West Virginia. Not only that, but as Matthew Postins wrote about Tuesday, the Cowboys now hold a four seed in Joe Lunardi's Bracketology. 
AND if Oklahoma State were to win both of their remaining two regular season games at Baylor and West Virginia, they could be looking at a No. 2 seed in the Big 12 and potentially a No. 3 seed in the NCAA Tournament. 
Sean Bennett outlines the possible outcomes for Oklahoma State going forward, as well as Texas and West Virginia:
Should the Cowboys retain their fourth-place spot, it would be the program's highest seeding going into the Big 12 Tournament since they finished No. 3 in 2013, led by a freshman Marcus Smart.
Of course, this could all change, as OSU is facing off against the two most talented teams in the Big 12. But the fact that the Cowboys went from the No. 7 seed in the conference standings to No. 4 in just three games speaks volumes about Mike Boynton's coaching philosophy and the guys he's recruited. The group of guys he's assembled this season has to be one of the most hard-working and mentally tough Cowboys basketball teams I've ever watched. Even if they don't have the talent the likes of a Baylor or a Kansas, they still find a way to keep those games competitive and even pull out the W on some occasions.
It seems every team under Boynton has had this edge to them in one way or another, reminiscent of Eddie Sutton's teams. The players understand Boynton's approach to the game and are willing to contribute by any means necessary, starting with the 'defense' practice shorts that was started by Sutton during his time in Stillwater. They buy into his methods because he establishes strong relationships with everyone around him, as well as possessing a prodigious basketball mind. He truly is a player's coach.
In just three and half seasons, Boynton has managed to survive a roster overhaul and NCAA sanctions, besting all of them. He so far has a record of 67-55 at Oklahoma State. Not great, but I expect that to be trending upwards in the near future. As a first-time head coach he was able to pull in a top 10 recruiting class in just his third offseason, and at Oklahoma State, no less.
The team's stellar performance this season added with another solid recruiting class in 2021 should cement his job security. Although, I think it already has in the eyes of Cowboy fans.
Though, it isn't only Boynton's methods as a basketball coach, but as a mentor and figure his players can look up to. He just gets it. He gets what it means to be an OSU Cowboy in all facets of life, whether it's actively supporting all Oklahoma State athletics by attending events or by being an active and charismatic member in the Stillwater community.
If Oklahoma State basketball keeps improving at the rate they are, schools across the country will start to put their bids in for Mike Boynton. I cannot urge the importance of keeping him in Stillwater more, not just for the sake of OSU basketball, but as an ambassador for Oklahoma State University and embodiment of the Cowboy Culture. This is especially important after the way things ended with Brad Underwood.
Mike Boynton signed an extension three years ago and his current contract runs through 2023-24, which in college coaching circles isn't that long. Also, his salary of $1.7 million is ranked 62nd in the sport, according to the latest numbers.
I think I speak for all Cowboy faithful when I say, Mike Holder, pay this man!
**Want to win a $20 gift card?  Go sign up here and join our conversation! The best poster each week wins a gift card to your favorite establishment!**