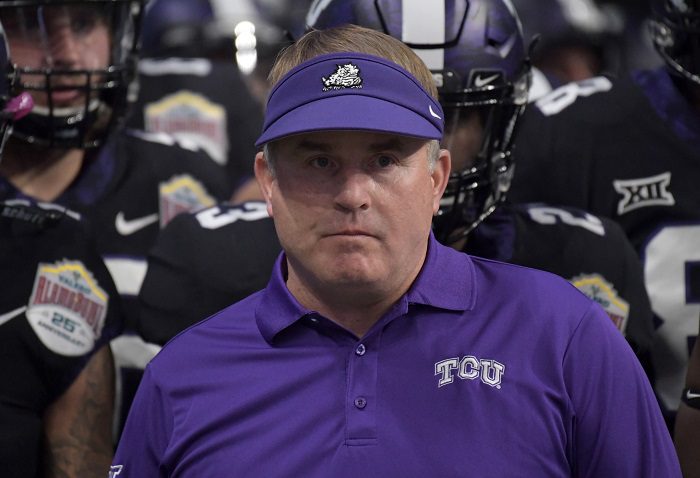 It seems like every year we talk about TCU as a dark horse in the Big 12 Championship race. But quite frankly, the Horned Frogs have not lived up to expectations since the 2017 season. And the last two seasons, TCU has allowed a lot of NFL talent come through the program with nothing to show for it except a handful of mediocre seasons. This year is no different losing the best safety duo in the nation in Ar'Darius Washington and Trevon Moehrig, plus standout linebacker Garrett Wallow. As has been the case dating back to arguably the Trevon Boykin era, the issue for TCU has been on offense.
Aside from an upset loss to Kansas State, TCU had a solid 2020 campaign, going 6-4 and really gaining steam at the end of the season. All in all, it wasn't bad for a program who was not sure if its starting QB would ever play football again a week before the season kicked off. Max Duggan struggled mightily as a freshman, and that is probably an understatement, but in 2020 the sophomore QB took big strides as a leader and passer. While 10 touchdown passes are nothing to write home about, his efficiency improves dramatically. Duggan became a 60% passer, cut down on the turnovers and became even more efficient as a runner, scoring 10 rushing touchdowns. If Duggan can make the same jump from sophomore to junior year that he made from freshman to sophomore year, we could see a similar trajectory to what we saw with Kenny Hill, the former TCU signal caller who currently serves as the team's QB coach. 
However, the real reason TCU is a threat in the Big 12 is because of the monsters they have in the backfield. Former five-star sensation Zach Evans finally broke through at the end of the season, and so did fellow freshman tailback Kendre Miller. In the season finale against Louisiana Tech, the duo rushed for a combined 266 yards and four touchdowns on only 12 carries. But it's unfair to call the backfield a duo. It's really a trio, as Darwin Barlow was able to rush for over 400 yards during the 2020 season. These freshman backs, alongside the rushing ability of QB Max Duggan, will put some stress on defenses. Throw in the experience of TCU's offensive line and a jump in play at the line of scrimmage is expected. This will bring more personnel into the box defensively and allow Duggan to hit wide receivers like former Nebraska star JD Spielman, TE Pro Wells, and Big 12 Honorable mention wide receivers Taye Barber and Quentin Johnston. 
Defensively, TCU will always be fine, and they are going to be more than fine going into 2021. In 2020, TCU had the best safety duo in the Big 12, and perhaps the nation, and next season they will likely have the best combo of cornerbacks in the Big 12, and perhaps in the nation. Cornerbacks Noah Daniels and Tre'vius Hodges-Tomlinson are two guys who expect to start opposite of each other and grade out very well, according to Pro Football Focus.
Meantime, the defensive line may be even better. Second-Team All-Big 12 DE Ochaun Mathis being paired with Co-Defensive Freshman of the year Khari Coleman make for a lethal one-two punch. UCF transfer Kenny Turnier, who was productive for the Knights, will likely start in the middle of the defense. TCU is in a very good spot to play the dark horse role in 2021. While Oklahoma and Iowa State are the clear favorites to make it back to Arlington for the Big 12 Championship, TCU may have plenty to say about the race before everything is all set and done.
Are you scoffing at this idea? Perfect, that's when Gary Patterson's teams shine the brightest.
**Want to win a $20 gift card?  Go sign up here and join our conversation! The best poster each week wins a gift card to your favorite establishment!**