Big 12 News
Kansas Puts Les Miles on Administrative Leave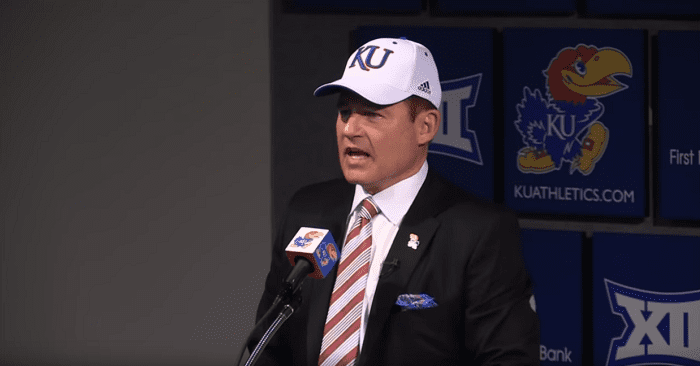 Kansas athletic director Jeff Long placed head football coach Les Miles on administrative leave on Friday, after revelations of Miles' past behavior at LSU toward female student assistants.
In a statement, Long said Kansas would do a 'full review' of the allegations.
Long's statement included the following:
"Today, I placed head football coach Les Miles on administrative leave as we conduct a full review to determine the appropriate next steps. Even though the allegations against him occurred at LSU, we take these matters very seriously at KU. Now that we have access to this information, we will take the coming days to fully review the material and to see if any additional information is available. I do not want to speculate on a timeline for our review because it is imperative we do our due diligence. We will be able to comment further once our review is complete."
READ MORE: Kansas Athletics: It's Time to Cut Ties with Les Miles
READ MORE: Les Miles was Banned From Contacting Female Students After 2013 Probe
According to an internal investigative report released on Thursday, Miles was accused of texting female students, taking them to his condo alone, making them feel uncomfortable and, on at least one occasion, kissing a student and suggesting they go to a hotel after telling her he could help her career. That investigation was done by an outside law firm in 2013 and determined that his behavior was inappropriate, but did not result in sexual relationships. Miles denied kissing the student. That report, by law firm Husch Blackwell, was released in full on Friday and detailed allegations going as far back as 2009.
The allegations compelled former athletic director Joe Alleva to bar Miles from being alone with student workers and that Alleva actually urged LSU to fire Miles in 2013. Miles wasn't fired by LSU until after four games were complete in the 2016 season, after a 2-2 start.
Miles has been the head coach of the Jayhawks since 2019 and is 3-18 in his first two seasons in the job. His five-year contract expires at the end of the 2023 season.
UPDATE: Saturday, March 6th, 3:00 p.m. CST
On Saturday, Miles' attorney Peter Ginsberg released a statement to ESPN on Kansas' decision to put Miles on leave as being based on "media blowback" and categorized it as being "disturbing and unfair."
"Bending to the winds of media blowback, Kansas has now decided to put Coach Miles on administrative leave," Ginsberg said in a statement. "Before the release of the reports this week, Kansas had been provided with significant information supporting Taylor Porter's conclusions. KU also had performed thorough due diligence before hiring Coach Miles. Kansas' decision to put Les Miles on administrative leave is both disturbing and unfair. To fail to recognize that a person's career should not be compromised by unsubstantiated allegations hardly is consistent with the example an institution of higher learning should champion."
**Want to win a $20 gift card? Go sign up here and join our conversation! The best poster each week wins a gift card to your favorite establishment!**