Big 12 News
2021 Big 12 Tournament: Schedule, Printable Bracket, Dates and Times (Updated)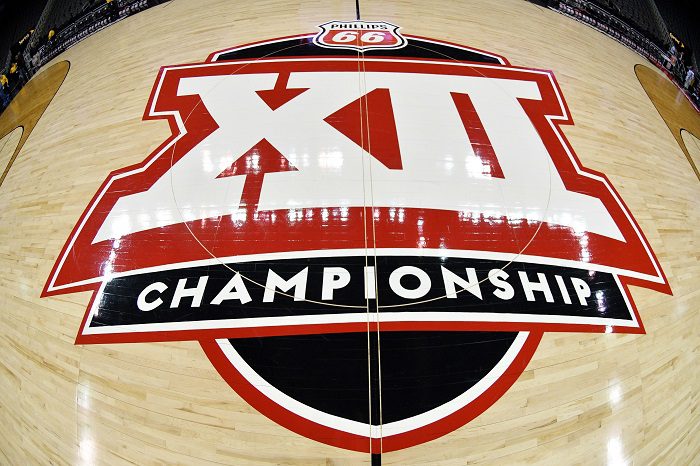 This article was updated on 3/11/2021 to update scoring and brackets. Printable bracket background has been changed to white to preserve your ink. You're welcome.
The 2021 Big 12 Men's Basketball Championship will be held at the T-Mobile Center, March 10-13, 2021, in Kansas City. The seedings were finalized on Sunday night after Texas beat TCU 76-64.
The lowest four seeds, Oklahoma, TCU, Kansas State and Iowa State will play on Wednesday night, March 10th, with the winners advancing for four games to be played on Thursday. The Big 12 Tournament Championship Game will take place on Saturday, March 13th and will air on ESPN at 5:00 CST.
2021 Big 12 Tournament Schedule (All Times in CST)
Wednesday, March 10
G1 – No. 8 TCU vs. No. 9 Kansas State: Wildcats win 71-50
G2 – No. 7 Oklahoma vs. No. 10 Iowa State: Sooners win 79-73
Thursday, March 11
G3 – No. 4 West Virginia vs. No. 5 Oklahoma State: Cowboys win 72-69
G4 – No. 1 Baylor vs. Kansas State: Bears win 74-68
G5 – No. 2 Kansas vs. Oklahoma: Jayhawks win 69-62
G6 – No. 3 Texas vs. No. 6 Texas Tech: Longhorns win 67-66
Friday, March 12
G7 – No. 5 Oklahoma State vs. No. 1 Baylor: Cowboys win, 83-74
G8 – No. 2 Kansas vs. No. 3 Texas — Canceled due to COVID-19 protocols. Kansas is out of the tournament. Texas advances to the title game.
Saturday, March 13
Championship – Oklahoma State vs. Texas: Longhorns win, 91-86
Click on the 2021 Big 12 Tournament bracket below to print at home.
**Want to win a $25 gift card? Go sign up here and join our conversation! The best poster each week wins a gift card to your favorite establishment!**