Big 12 News
'The Eyes of Texas' Report May Challenge Social Justice Narrative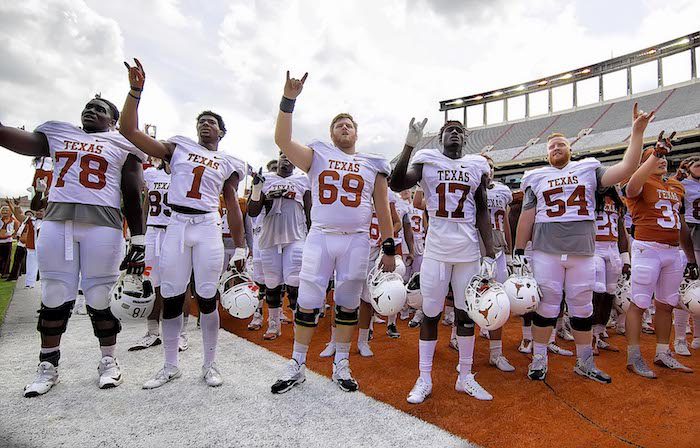 On Tuesday, the University of Texas is set to release a 95-page report around a 24-person committee researching "The Eyes of Texas," the school song's origins as a fact-finding expedition.
And while there has been a major push to get rid of the song at Texas sporting events and elsewhere, according to the Austin American-Statesman, those with knowledge of the report's findings signal that the crowd pushing for the removal of the song may be disappointed by the findings.
Most notably, was the reporting that while it's widely believed that the phrase "The Eyes of Texas are upon you" is a spin on an old phrase coined by Confederate Gen. Robert E. Lee after he became a university president in the 1860s, there was no evidence found to support that claim, according to Dr. Richard Reddick, the committee chairman and associate dean in the UT College of Education. 
The committee contacted Washington and Lee University, where Robert E. Lee was once president, and they could not find anything to credit him with the saying. The report adds, "As best the committee could research, that tidbit was traced back to a UT historical document published in the 1930s."
While there will be much more that we learn in the report this week, regardless, it will likely remain a PR nightmare for the University, as the issue is now working down political lines as either supporting the Black Lives Matter movement or pushing back against "cancel culture".
Most recently, former player Caden Sterns says he was threatened by Texas alums if he didn't participate in "The Eyes of Texas". Also it was reported last week that Texas alumni threatened to withhold millions in donations of the song was dropped.
Stay tuned as to what the report shows us tomorrow, but we know it won't be the last we hear about the ongoing drama.
**Want to win a $25 gift card?  Go sign up here and join our conversation! The best poster each week wins a gift card to your favorite establishment!**