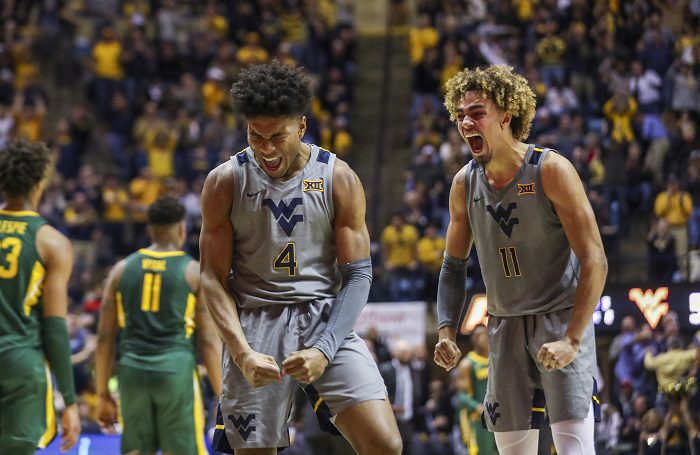 Here's a preview of the West Virginia Mountaineers and the Oklahoma State Cowboys in Game 3 of the 2021 Big 12 Men's Basketball Tournament at the T-Mobile Center in Kansas City.
No. 4 West Virginia (18-8, 11-6 Big 12) vs. No. 5 Oklahoma State (18-7, 11-7), 10:30 a.m. CT, Thursday, ESPN or ESPN2
Season series (tied, 1-1): West Virginia def. Oklahoma State, 87-84, in Stillwater, Oklahoma, on Jan. 4; Oklahoma State def. West Virginia, 85-80, in Morgantown, West Virginia, on March 6.
Winner gets: a Friday semifinal game at 5:30 p.m. CT.
READ MORE: 2020-21 Big 12 Basketball Individual Awards
READ MORE: Predicting Every Big 12 Tournament Game
Projected starting lineups
West Virginia: F Derek Culver, F Jalen Bridges, F Emmitt Matthews Jr., G Miles McBride, G Sean McNeil.
Oklahoma State: F Kalib Boone, G Bryce Williams, G Cade Cunningham, G Isaac Likekele, G Avery Anderson III or G Rondel Walker.
Player to watch
West Virginia: F Derek Culver. The Mountaineers' guards are some of the most consistent in the conference. When Culver is on the floor, he can be the most dominant forward in the Big 12. But that's the issue — the Mountaineers have to keep him on the floor. Foul trouble has been his bugaboo this season. But if he gets 30 minutes a game, he'll will absolutely get the better of you, and the Cowboys know that all too well. In their first meeting, Culver had 22 points and 19 rebounds.
Oklahoma State: G Cade Cunningham. In a stunning development, the coaches' pick for Big 12 Player of the Year (click here for the HCS Big 12 Player of the Year selection) will be back on the floor after a one-game absence. While he's one of the best players in the Big 12 and in the country, his play the past few weeks has been just plain amazing. He has scored at least 20 points in five of his final seven games, including that 40-spot he put on Oklahoma. In his only meeting with West Virginia he scored 25 points and had 9 rebounds.
Heading into the Tournament
West Virginia: The Mountaineers enter the game having lost two of their final three games in league action, but both were against ranked teams. The loss to the Cowboys last Saturday is definitely worth being concerned about, since the Cowboys were short-handed. But, since the Mountaineers' COVID-19 pause in January, they're 9-4. Their only losses are to ranked teams and Florida.
Oklahoma State: The Cowboys might be a little hotter than the Mountaineers entering this tournament. The Mountaineers' COVID-19 pause involved postponing a game with Oklahoma State, and since then the Cowboys are 9-4 and are now No. 12 in the country. The only slight difference between the two teams is that two of the Cowboys' four losses in that span were to unranked teams, including TCU.
Number to know
31: The points Oklahoma State's Avery Anderson III scored against West Virginia on Saturday. That pushed his per-game average to 11.1 points per game for the season. But, Anderson III is averaging 17.5 points per game in the Cowboys' two games with the Mountaineers this season. Of course, he only scored four points in the first meeting.
59: The number of made 3-pointers by West Virginia's Sean McNeil this season. There may not be a more streaky 3-point shooter in the Big 12 than McNeil, who is shooting 37.8 percent from the arc this season. He's hit at least three 3-pointers in eight of his last 12 games.
Who wins?: West Virginia in a squeaker. Both teams have won on the road. Both teams have won in exciting fashion. With Cunningham and Likekele back, the Cowboys return to their normal rotation. But that doesn't mean it's going to be a cakewalk for the Cowboys in such a short turnaround from Saturday's game. The Mountaineers will adjust. They will play better defense. And the Mountaineers will be back to their own normal rotation, too (no Senior Day starts like Saturday). WVU hasn't lost back-to-back games this season. I don't think they'll start in Kansas City. But this should be a last-possession game. In that case, give the ball to WVU's Miles McBride.
**Want to win a $20 gift card? Go sign up here and join our conversation! The best poster each week wins a gift card to your favorite establishment!**