Baylor Bears
Big 12 Tournament Game 4 Preview: Baylor vs. Kansas State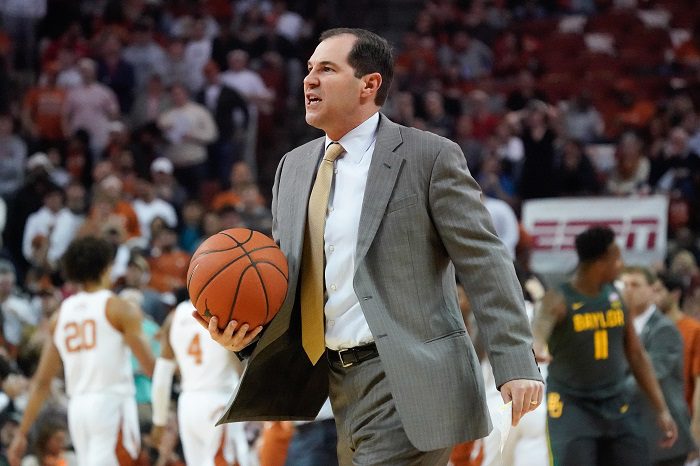 Here's a preview of the Baylor Bears and the Kansas State in Game 4 of the 2021 Big 12 Men's Basketball Tournament at the T-Mobile Center in Kansas City.
No. 1 Baylor (21-1, 13-1 in Big 12) vs. No. 9 Kansas State (9-19), 1:30 p.m. CT, (time is dependent on completion of Game 3)
Season series (Baylor 2-0): Baylor def. Kansas State, 100-69, in Manhattan, Kansas, on Dec. 19; Baylor def. Kansas State, 107-59, in Waco, Texas, on Jan. 27
Big 12 Tournament results: This is Baylor's first game in the Big 12 Tournament. Kansas State def. TCU, 71-50, in Game 1 on Wednesday night.
Winner gets: a Friday semifinal game against the winner of the West Virginia-Oklahoma State game at 5:30 p.m. on Friday.
Projected starting lineups
Baylor: G Jared Butler, G Davion Mitchell, G MaCio Teague, G Mark Vital, F Flo Thamba.
Kansas State: G Mike McGuirl, G DaJuan Gordon, G Nijel Pack, G Selton Miguel, F Davion Bradford.
Player to watch
Baylor: Butler. Oklahoma State guard Cade Cunningham was named the Big 12's Player of the Year by the league's coaches (Butler was our Big 12 Player of the Year here at HCS, along with being the Associated Press Big 12 Player of the Year). Will Butler take that personally? Probably not. He doesn't seem the type. And, yes, you absolutely could make a case for Cunningham as POY. But you could do the same for Butler, who averaged 17.1 points, 3.2 rebounds and 5.0 assists per game. Yes, the Bears are deep on the perimeter. But Butler is the player that stirs the drink on most nights.
Kansas State: McGuirl. The senior has had a fine season for the Wildcats, as he's finally come into his own after a long stretch in Manhattan. Against TCU on Wednesday night, McGuirl teamed up with freshman Nijel Pack to just bury the Horned Frogs with a bucket of 3-pointers. Pack may have led the way with 23 points, including five 3-pointers. But McGuirl scored 17 points, shot 50 percent from the floor and hit a pair of 3-pointers. I made the point earlier this year that McGuirl should trigger his extra year of eligibility and stick around. My mind hasn't changed.  
Heading into the Tournament
Baylor: Baylor, of course, has lost just one game this season, and that came against Kansas on Feb. 27, a 71-58 loss that saw the Bears play their worst game of the year by far. Since then, the Bears have won three straight games over three Top 20 teams in Big 12 play and clinched their first Big 12 regular-season conference title in its history (and its first league title since 1950). The Bears look like the team that has been No. 2 in the country all season behind No. 1 Gonzaga.
Kansas State: The Wildcats have now won four of their last five games, with their win over TCU on Wednesday. At least they have momentum, and at least one player — DaJuan Gordon — who thinks the Wildcats can shock the world.
Number to know
Baylor: 4. That's the number of players that are shooting 40 percent or better from the 3-point line (Butler, Mitchell, Adam Flagler, and Matthew Mayer). Teague is just a hair below at 39.6 percent, so if you like rounding up, it's five.
Kansas State: 40. That's the number of points that Pack and McGuirl combined for in Wednesday's win over TCU.
Who wins?
Baylor. Let's not get cute here. It would take a monumental effort from Kansas State for them to beat the Bears. Given their two regular-season matchups, I don't think Baylor will score 100 again, but the Bears should win with relative ease.