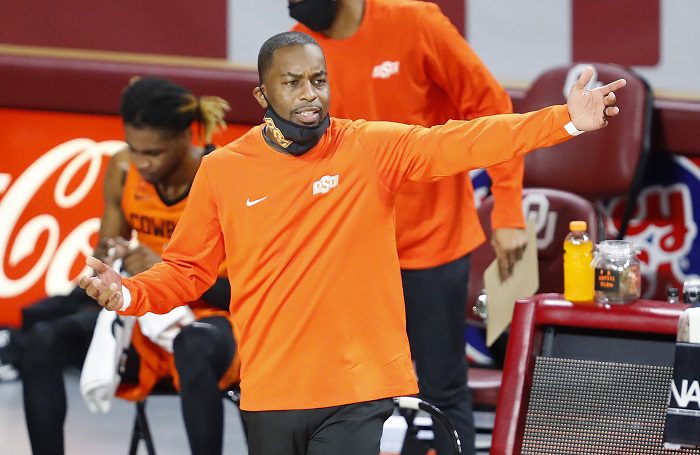 The Big 12 Tournament kicks off Wednesday night at 5:30 p.m. as No. 9 seed Kansas State takes on No. 8 TCU. One of the more intriguing matchups of the quarterfinal round takes place Thursday morning, as No. 5 Oklahoma State rematches No. 4 West Virginia five days after upsetting the sixth-ranked Mountaineers 85-80 in the season finale.
As far as storylines in the Big 12 go, Oklahoma State is one of the more interesting this season. A team that started their conference slate 1-3 rallied to finish the season 11-7, winning six of their last seven games. On top of that, OSU defeated seven ranked opponents and picked up eight N.E.T Quad 1 wins, which tied for second in the country with Michigan and just behind Illinois with nine.
The Cowboys are one of the hottest teams in the Big 12 and in the country, due in part to their strong end to the regular season. Mike Boynton's team beat Oklahoma twice in three days, finished a sweep of Texas Tech and, as previously mentioned, upset West Virginia in Morgantown. They dropped a game to Baylor, but I honestly don't see anyone stopping the Bears in this tournament or in March Madness.
That's not to say Oklahoma State can't put up a good fight. I think the Cowboys can beat any team in this conference whose main color isn't green, but they'll need to avoid certain mistakes if they want to make a deep run in Kansas City.
Cut down on turnovers
While we watched Cade Cunningham and the Cowboys dazzle us with upsets and great team performances, Oklahoma State did put up some troubling turnover numbers. OSU averaged 16 turnovers per game in 2020-2021, which ranked 317th in all of Division 1 and last in the Big 12. Cunningham in particular is the main culprit, averaging 4.3 turnovers a game.
It makes sense that the primary ball handler would have more turnovers, it's just a part of the game. The issue lies in the fact that Cade has the worst assist to turnover ratio in the country with a .83 rate. Yikes.
If the Cowboys hope to contend in this tournament with the top teams in the top conference, they'll need to drastically cut down on turnovers.
Know when to switch out of zone
The Cowboys have been mostly successful when executing their zone defense, but when they face a team that knows how to beat it, Mike Boynton has a tendency of staying in it despite the opponent ending up with a wide open shot every time down the floor.
This was especially noticeable against teams like Baylor and West Virginia, who were able to move without the ball and find open looks nearly every offensive possession.
I don't have a problem with the zone defense itself. I just think Boynton needs to know when to switch out of it. There have been multiple instances where the other team gets hot because they're finding weaknesses in the zone and they continue to stay hot because the Cowboys keep running it. By then, their opponent has built a sizable lead and the Pokes have to claw back.
Free throws, free throws, free throws
As long as I have watched Oklahoma State basketball, I cannot remember a time the Cowboys shot free throws consistently. It's been a problem as long as I can remember and it isn't any better this season. The only consistent thing about their free throws is how inconsistent they've been.
The Cowboys rank 168th nationally in free-throw percentage at just above 71%.
There have been many close games OSU has lost this season that they might have won, had they made their free throws. A one-point loss to TCU, a three-point loss to West Virginia and a one-point loss to Texas could have all gone the other way and potentially put the Pokes at the two or three seed.
Stay out of foul trouble
The season finale game at West Virginia proved one: how broken the bonus system in college basketball is, and two: how foul trouble desperately hurts the Cowboys.
It also doesn't help when you're missing Cade Cunningham and Isaac Likekele, as well as Donovan Williams. At one point, I thought we might see some walk-ons take the floor in the closing minutes.
Both of Oklahoma State's true big men, Kalib Boone and Bernard Kouma, were sitting at four fouls midway through the second half of the game, causing them to sit the bench more than Mike Boynton probably preferred.
Basically, don't get baited into fouls and try to avoid silly fouls like three-point shot attempts.
It will be interesting to see how Mike Boynton preps his team for the Big 12 tournament. We've seen it isn't just the Cade Cunningham show, as the Pokes showed they can compete without Cunningham and Isaac Likekele, their two top players, so don't view the Cowboys as a one-trick pony this postseason. Look for them to make some serious noise.
**Want to win a $20 gift card? Go sign up here and join our conversation! The best poster each week wins a gift card to your favorite establishment!**