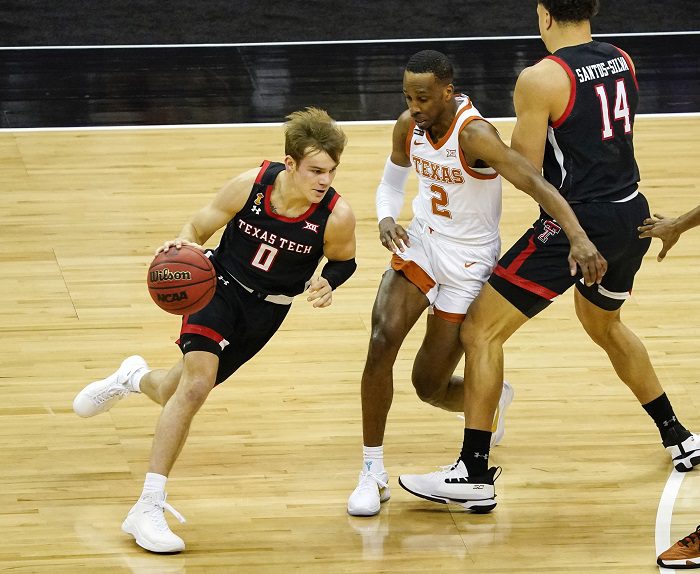 Here are three thoughts on Day 2, Session 2 of the 2021 Big 12 Tournament.
1. KANSAS FINDS A WAY WITHOUT MCCORMACK
I was wondering how Kansas head coach Bill Self would handle not having forward David McCormack in the lineup on Thursday night. Self, as expected, had a plan. He slid Bryce Thompson into the starting lineup, though Thompson really didn't have much of an impact. The three players that did have an impact for Kansas were Ochai Agbaji, Marcus Garrett, and Mitch Lightfoot. And this makes sense, when you consider that those were Self's three most experienced players.
Agbaji scored a career-high 26 points, and poured in four 3-pointers to help Kansas build a 23-point lead in the first half that proved insurmountable. Garrett, the senior, had a tremendous overall game, shooting more than 50 percent from the field, scoring 17 points, and forcing three steals. That included a late steal of Oklahoma's Austin Reaves that had an impact on the game. Finally, Lightfoot, who intends to come back for a sixth season, thanks to the NCAA's extension of eligibility by one season for COVID-19, had a wonderful night emulating McCormack on the block, scoring 11 points in grabbing four rebounds.
I was a little surprised that Kansas was able to win this game. I was concerned that they would have no inside presence without McCormick, and concerned that the 3-point shooting woes that have dogged them this season would crop up. They didn't shoot a great percentage from the 3-point line. But they were able to manufacture an inside game, lean on forward Jalen Wilson for extra rebounding (he had nine boards), and use that experience in critical situations to beat the Sooners. I'm still not bullish about The Jayhawks winning this Big 12 Tournament, but they built some great momentum for themselves going into Friday's semifinal game and the NCAA tournament.
READ MORE: Big 12 Tournament Game 7 Preview: Oklahoma State vs. Baylor
READ MORE: Big 12 Tournament Game 8 Preview: Kansas vs. Texas
2. TEXAS NEEDED THE RETURN OF JASE FEBRES
The past few years Texas Tech has, if we're being honest, had the Texas Longhorns' number. That included a season sweep of the Longhorns this regular season. At times, it looked as if Texas Tech was going to win their third meeting, this time in the Big 12 Tournament. At one point in the second half, Texas Tech had a 10-point lead. But Texas fought back, and they fought back the entire second half. They did so with some critical defensive plays. But, an old weapon came to the fore to help out. Jase Febres, whose season ended last year with microfracture surgery, is finally back to himself, and that's a big deal for the Longhorns. Febres is a tremendous 3-point shooter, and against Texas Tech he had five 3-pointers for 15 points. Nearly all of them came at critical junctures in the game. When the game was on the line, even though Matt Coleman III drove to draw the game-winning free throws, Febres was on the floor. The trust that Texas head coach Shaka Smart has in Febres is absolute. If Febres gets the ball and he's open, he's going to shoot. And Kansas should remember that on Friday.
READ MORE: Rasir Bolton Says He's 'Committed' To Cyclones
3. THE SOONER DOWNTURN
Like West Virginia in the Thursday afternoon session, the Oklahoma Sooners feel like the team that is trending down at the wrong time. The Sooners' loss to The Jayhawks on Thursday night was their sixth in their last seven games. It also marked their third loss to ranked teams in that span. I'm not sure what's actually going on with the Sooners right now, if we're being honest. Every game they've lost has been close. In each of those games the Sooners played well. They had their opportunities to win the game.
Now, on Thursday night, their horrible start against Kansas put them in a bad place. It's nearly impossible to come back from a 23-point deficit, and the Sooners managed to it back down to three points at one point in the second half. Brady Manek, Elijah Harkless, and Austin Reaves all had solid games for OU. But to be successful in the NCAA tournament, the Sooners need more scoring from either De'Vion Harmon or Umoja Gibson. Plus, they need better starts shooting the ball and the Sooners cannot turn the ball over 19 times, like they did on Thursday. I still think the Sooners can win a game, maybe even two, in the NCAA tournament. But losing won't help their seeding, and I'm now worried that they'll be closer to a eighth seed, which would put them in line with a No. 1 seed in the second round.
**Want to win a $20 gift card? Go sign up here and join our conversation! The best poster each week wins a gift card to your favorite establishment!**