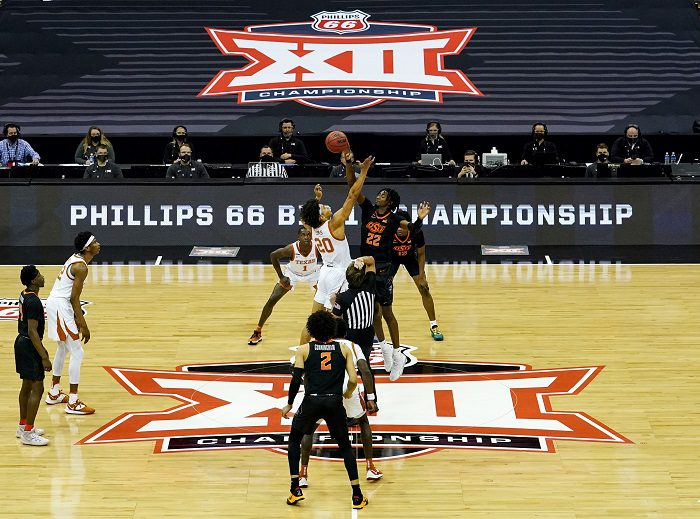 My 'Five Thoughts' on the Big 12 Tournament title game as Texas defeated Oklahoma State, 91-86, and are the Big 12 Tournament champions.
1. TEXAS, FINALLY, WINS THE BIG 12 TOURNAMENT
I don't know how one celebrates in a sequestered hotel during the tail end of a pandemic, but the Texas Longhorns will be celebrating tonight. Texas' 91-86 win over Oklahoma State means the Longhorns have won the Big 12 Tournament championship for the first time in their history. The Longhorns had been to the Big 12 title game six previous times, and had lost all six times (all pre-Shaka Smart). In fact, the last time the Longhorns won a conference tournament title came in 1995, when Texas was still a member of the Southwest Conference. This is also just the third conference tournament title in their history, with the third title coming in 1994, also in the SWC. It's a big night for Texas basketball, and a big night for Smart, a coach some thought was on the hot seat just a year ago. He seems quite safe now in Austin.
READ MORE: Kansas Jayhawks Drop Out of Big 12 Tournament
2. THE INEVITABILITY OF CADE CUNNINGHAM
I tweeted during the game that Oklahoma State guard Cade Cunningham has an air of inevitability to him. He always seems to start slow in the first half, but he comes on like a hurricane in the second half. Well, that was largely the case on Saturday night, as Cunningham ended up with 29 points, but 25 of those points came in the second half. Now, if it's possible to keep a guy under 'control' that scored 25 points in 20 minutes, Texas was able to do that to some degree because they didn't allow Cunningham to totally overwhelm them. But, as Oklahoma State continued to try and close the gap, they repeatedly had to turn to Cunningham, in part because Avery Anderson III and Matthew-Alexander Moncrieffe fouled out. Cunningham will continue to have games like this in the NCAA Tournament. But how far the Cowboys go in the Tournament will be largely dependent upon how players like Anderson, Moncrieffe, Kalib Boone, and Rondel Walker continue to play. If they play like this in the NCAA Tournament, these Cowboys have a high ceiling.
3. THE DIFFERENCE WAS … AT THE FREE THROW LINE
Texas had plenty of great performances on Saturday. Matt Coleman III had a career-high 30 points. Jericho Sims had a career-high 21 points, along with another Big 12 Tournament double-double as he had 14 rebounds. But the biggest difference between these two teams was what Texas did at the free-throw line. The Longhorns went 28-of-36 from the line, with Coleman a perfect 10-for-10 and Andrew Jones a perfect 6-for-6. Jase Febres was a perfect 4-for-4 off the bench. The free-throw shooting was critical to keeping the Longhorns in control of the game in the second half. Oklahoma State shot a high percentage (13-for-17), but they didn't win the volume game.
4. THE BROCK CUNNINGHAM SHOW
It's easy to forget that Longhorns forward Kai Jones had a great start to this game, scoring nine points early in the first half (Jones finished with 13 points). But he got into foul trouble. And when that happened, Shaka Smart turned to backup forward Brock Cunningham for help, and Cunningham delivered. Cunningham had some great 'glue guy' moments in this game, scoring seven points, grabbing eight rebounds, stealing three passes, blocking two shots and dishing out one assist. Cunningham made few mistakes on Saturday night, and the Longhorns benefited from his gritty, no-nonsense play.
5. WATCH BOONE NEXT WEEK
Oklahoma State sophomore forward Kalib Boone has really come into his own the past few weeks for the Cowboys. He had a solid game against Texas, scoring 12 points, grabbing six rebounds, and blocking two shots. But what sticks out in his three games in this tournament is that he blocked 14 shots. Yes, that's right, 14 SHOTS. That kind of rim protection is going to come in handy for the Cowboys when they get to the NCAA Tournament. Plus, Boone is turning into a player you can get an alley-oop to as well. He had six blocked shots in each of his first two Big 12 tournament games. If he produces like that, along with his offense, he can change the game for the Cowboys.
**Want to win a $20 gift card? Go sign up here and join our conversation! The best poster each week wins a gift card to your favorite establishment!**