Big 12 News
Report: Kansas Should be Eligible for NCAA Tournament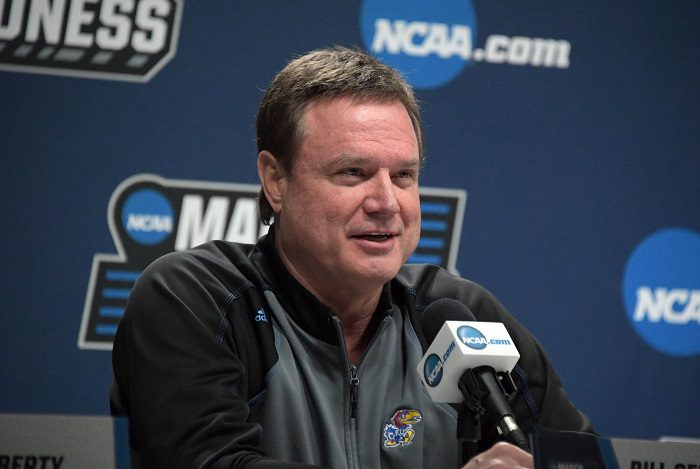 It would appear the Kansas Jayhawks are eligible for selection for the NCAA Tournament, two days after withdrawing from the Big 12 Tournament.
ESPN.com reported on Sunday that Kansas had not notified the NCAA that it could not meet the stated COVID-19 protocols, a key benchmark for selection eligibility. Teams that could not meet NCAA-specified protocols for the NCAA Tournament by 10 p.m. central on Saturday had to let the NCAA know that and withdraw from consideration for the tournament.
Since Kansas reportedly hasn't done that, the Jayhawks would appear to be eligible for selection.
The report also noted that both Duke and Virginia — two other teams that had to exit their conference tournaments due to COVID-19 protocols — had not notified the NCAA of their ineligibility, either.
ESPN reporter Mark Schlabach cited sources with knowledge of the situation.
READ MORE: Five Thoughts As Texas Wins the Big 12 Tournament Title
READ MORE: All-Big 12 Tournament Team: Heartland College Sports Edition
Kansas left the Big 12 Tournament on Thursday after another player tested positive for COVID-19. The departure followed a positive test, subsequent quarantining, and contact tracing within the Kansas men's basketball program.
As a result of that uncontested outcome, Texas advanced to the Big 12 Tournament title game and defeated Oklahoma State.
The positive test came on the heels of the Jayhawks having to leave two players home in Lawrence due to COVID-19 protocols — David McCormack and Tristan Enaruna. Kansas head coach Bill Self told ESPN's Holly Rowe on Friday that he believes McCormack and Enaruna will be available for the NCAA Tournament.
The NCAA Tournament field will be announced on Sunday at 5 p.m. central. But that isn't the only hurdle left to clear for the Jayhawks and other teams impacted by COVID during conference tournament week.
The tournament field doesn't lock in until 5 p.m. central on Tuesday. That's when any team selected for the field has to notify the NCAA if it can't meet the NCAA's COVID testing protocols.
**Want to win a $20 gift card? Go sign up here and join our conversation! The best poster each week wins a gift card to your favorite establishment!**