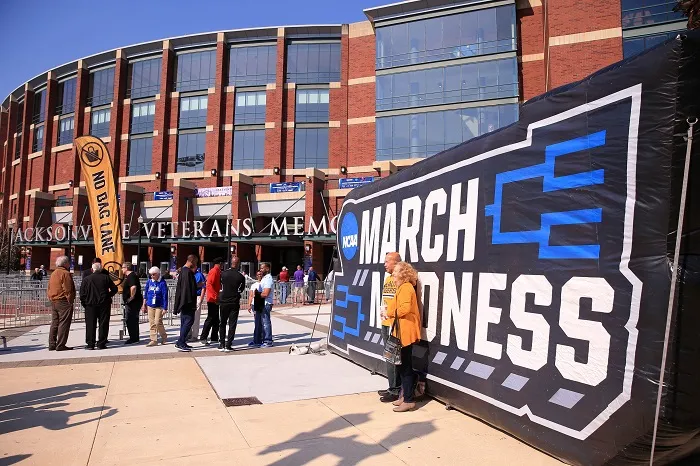 They'll never admit it, but the NCAA Selection Committee certainly chose to go the marketing route and find a way to make matchups interesting once again.
Believe it or not, they've done this for quite some time. In fact, in "Those Guys Have All The Fun: Inside The World of ESPN", the NCAA asked the ESPN executives if they would even broadcast a particular matchup during the NCAA Tournament. As many of you know, ESPN came on the air in 1979. In the 1980 NCAA Tournament, ESPN made good on a promise to broadcast a particular match up: No.7 Weber State vs. No.10 Lamar Tech. These two teams were specifically mentioned by the NCAA when asking the questions about broadcasting every game.
So now we digress. The "coincidences" continue. The second matchup released during the NCAA Tournament Selection Show on CBS was Oklahoma vs. Missouri. This rivalry goes back beyond the Big 12 Conference. These are former Big Eight Conference foes. Both teams are entering in similar fashion too. Missouri has not defeated a tournament-bound team in over a month. Meanwhile, Oklahoma has lost five of its previous six games. Both were bounced from their conference tournaments in their second game.
In the second region released, we found that Texas Tech has the potential for interesting matchups in each of its first two rounds. The sixth-seeded Red Raiders will face Utah State in the first round. Why is this intriguing? Well, the Tech faithful isn't too thrilled with their current head football coach Matt Wells. Where did Wells come from? His previous gig was at Utah State. Even more intriguing than the first round matchup is the potential for an old Southwest Conference rivalry renewal. If No.3 Arkansas prevents Colgate of the pesky Patriot League from pulling the upset, these two teams could see each other.
Another potential Second Round matchup could pit West Virginia vs. Syracuse. It's hard to believe it's been a full decade since West Virginia played in the Big East Conference. It's even more difficult to believe that Syracuse is no longer in the Big East. Now, this matchup may not happen. Syracuse is from the ACC, yet they are an 11 seed. They'll have to get past San Diego State in order to renew this rivalry. If Syracuse scores the "upset", then it's likely they will face the Mountaineers who should get past Kentucky-based Morehead State.
Rounding out the interesting matchups is No.3 Texas facing No.14 Abilene Christian. Okay, so this may be a bit of a stretch. However, you can't deny there is a bit of intrigue. This is a case of the historic, legendary Texas Longhorns taking on the most recent Texas school to finish the Division 1 reclassifying period. In fact, Abilene Christian has a longer NCAA Tournament streak that Texas currently does. Remember, the Longhorns failed to make the 2019 NCAA Tournament. Abilene Christian was smoked 79-44 by Kentucky in the First Round that year. It's also of note that Texas has not won an NCAA Tournament game since defeating Arizona State in the Round of 64 in 2014. Sure, that might not be too much of a cause for concern, but Shaka Smart hasn't won an NCAA Tournament game since he lead VCU to a Round of 64 victory over Akron. Recent NCAA Tournament history doesn't serve Texas well. If it's any consolation, Texas did win the 2019 NIT.
Are my words coincidence? I'll let you decide.
**Want to win a $20 gift card? Go sign up here and join our conversation! The best poster each week wins a gift card to your favorite establishment!**