Big 12 News
Oklahoma Sooners NCAA Tournament History, Notable Facts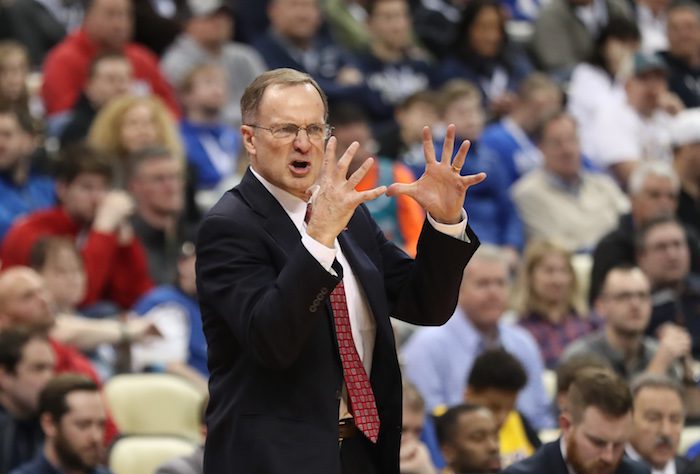 The Oklahoma Sooners have a long history in the NCAA Tournament. Here we dive into that history and other notable facts about the Sooners' appearances in March Madness.
Oklahoma Sooners
NCAA Tournament Appearances: 1939, 1943, 1947, 1979, 1983, 1984, 1985, 1986, 1987, 1988, 1989, 1990, 1992, 1995, 1996, 1997, 1998, 1999, 2000, 2001, 2002, 2003, 2005, 2006, 2008, 2009, 2013, 2014, 2015, 2016, 2018, 2019, 2021.
Final Four Appearances: 1939, 1947, 1988, 2002, 2016.
National Championship Game Appearances: 1947, 1988.
National Titles: None.
Remember This About Oklahoma in the NCAA Tournament
The First Final Four: The first NCAA Tournament was played in 1939. The eight-team tournament featured four teams divided into two regions — East and West. Oklahoma played in the West Region and had to head all the way out to San Francisco to play in its regional. No one in the tournament field had fewer wins (11) and more losses (8) than Oklahoma, which back then played in the Big Six Conference. Joining them out west was Oregon, Texas, and Utah State. The East Region, played in Philadelphia's legendary Palestra, featured Brown, Ohio State, Villanova, and Wake Forest. The Sooners defeated Utah State, 50-39, in the national quarterfinals. But in the national semifinals (or, the Final Four), the Sooners fell to Oregon, 55-37. Oregon went on to beat Ohio State in the national championship game, 46-33.
READ MORE: March Madness Big 12 Conference Rewind: 2016
READ MORE: March Madness Big 12 Conference Rewind: 2002
The Big 8 Showdown: The 1988 national title game feature Big 8 rivals Kansas and Oklahoma. They definitely tread different paths that year. The Sooners, led by Billy Tubbs, were a No. 1 seed in the NCAA Tournament and won 35 games, winning the Big 8 regular-season title and tournament title. Tubbs and the Sooners rolled like a buzzsaw in the NCAA Tournament, winning all of their games by at least eight points. Kansas, meanwhile, coached by Larry Brown, was a No. 6 seed that was unranked and finished fourth in the Big 8, losing both of its meetings to Oklahoma in the regular season. But in the national championship game, held in Kansas City, the Jayhawks, led by Danny Manning, prevailed, 83-79, robbing Tubbs, along with players like Stacey King and Mookie Blaylock, of a national title.
An Ignominious Feat: Oklahoma is one of three teams with five Final Four appearances and no national titles to show for it, the most Final Four appearances without a title in NCAA history. The other schools, as of 2021, are Houston and Illinois. Bruce Drake was the only Sooners coach to do it twice, leading the Sooners to the Final Four in 1939 and 1947. Along with Tubbs in 1988, Kelvin Sampson did it in 2002 and Lon Kruger did it in 2016. Drake and Tubbs are the only Sooners coaches to get the program to a national title game.
**Want to win a $20 gift card? Go sign up here and join our conversation! The best poster each week wins a gift card to your favorite establishment!**