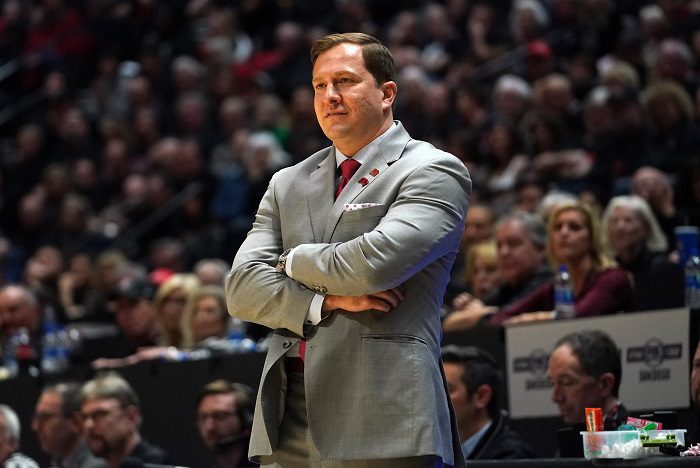 With T.J. Otzelberger headed to Iowa State to take over as men's basketball coach, here are three things the new head coach must do in the next few months to build on the momentum of his hiring.
Evaluate the Current Roster
Iowa State athletic director Jamie Pollard told Cyclone fans on Tuesday that new rules, like the transfer rule, made it necessary for him to act quickly to let Steve Prohm go and to hire a new head coach. Well, 24 hours later, it appears that Pollard has his man in Otzelberger. Now, 'Otz' has to act in kind to talk with the players on the current roster and determine next steps. At the top of the list is guard Rasir Bolton. The Cyclones' leading scorer took to Twitter after the Cyclones were eliminated from the Big 12 Tournament and appeared to let Cyclone fans know he was committed to coming back. But how much of that had to do with Prohm? And will a coaching change, well, change his mind? What about the futures of seniors Solomon Young and Jalen Coleman-Lands, who can actually come back under the NCAA's extension of eligibility due to COVID-19? Coleman-Lands said after the Tournament that he was considering it, and he had good things to say about Prohm after the season. Plus, Otz will need to build a relationship fast with the injured Xavier Foster, the centerpiece of last year's recruiting class and a potential future building block for this program. These are all Prohm's recruits, so Otz has some sales work to do. He can't 'chase' any of them off, mind you. But sometimes, determining who should stay and who should transfer takes care of itself.
READ MORE: Wikipedia Switches Scott Drew to Being Indiana Head Coach
READ MORE: NCAA Picks Marketing Route in Tournament Pairings
Maintain the 'Parting Gift'
Prohm did leave Otz one parting gift — Tyrese Hunter. The 6-foot-1 guard from St. Catherine's in Racine, Wisconsin, is a Top 40 player nationally according to 247Sports.com, and is a high-volume scorer. I made the point in my Iowa State season wrap that he's the only recruit who has signed with Iowa State for 2021, but he's a talent that can impact the team immediately. He's considered to be Iowa State's No. 3 recruit of the 247Sports era, which dates back to 2004. The only players 247Sports ranked better were Craig Brackins and Lindell Wigginton. Now, Hunter is signed. But players are finding creative ways to get out of those letters of intent. You know the history of Baylor guard Jared Butler, right? He enrolled at Alabama, stayed a few days, realized it wasn't for him and transferred to Baylor. He was able to play immediately. Coaches still can't do in-person recruiting right now. So, Otz better get his Iowa State-approved Zoom account fast.
Work the Transfer Market
Pollard referenced the transfer rule. Now, the NCAA offered a blanket transfer waiver for this year and this year only. But a one-time transfer without sitting out a year is coming at some point. Otz is going to have to become a master at the game Texas Tech head coach Chris Beard is playing so well out in Lubbock right now (at least initially). Part of that will be driven by exactly how many scholarships Otz will have to give out this spring (and that may depend on which current players stay and go). If you look back at UNLV's 2019 class, you'll see that Otz had four transfers come into the program. For the 2020 class, he actually pulled former Iowa State guard Caleb Grill. We'll get a quick snapshot at Otz's acumen in the near-term, if any scholarships come open.
You can find Matthew Postins on Twitter @PostinsPostcard.
**Want to win a $20 gift card? Go sign up here and join our conversation! The best poster each week wins a gift card to your favorite establishment!**