Big 12 News
NCAA Tournament: West Virginia vs. Morehead State Preview and Prediction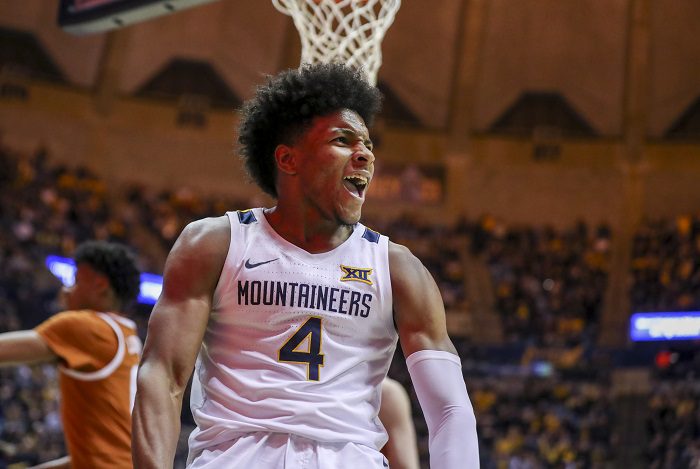 The West Virginia Mountaineers will face the Morehead State Eagles in the first round of the NCAA Tournament on Friday in Indiana. Here is a preview of the game.
No. 3 West Virginia (18-9) vs. No. 14 Morehead State (23-7), 8:50 p.m. CT, Friday, TV: TruTV
Region: Midwest
Location: Lucas Oil Stadium Unity (South), Indianapolis
National rankings: West Virginia: No. 13 (AP), No. 13 (USA Today); Morehead State: No ranking.
Path to March Madness: West Virginia: At-large berth (lost in Big 12 Tournament quarterfinals); Morehead State: Automatic qualifier (won Ohio Valley Conference tournament title).
NCAA Tournament history: West Virginia and Morehead State have never met in the NCAA Tournament.
Winner faces: San Diego State or Syracuse in the second round of the NCAA Tournament on Sunday.
READ MORE: 2021 NCAA Tournament: Schedule, Printable Bracket, Dates and Times
READ MORE: The Big 12's Easiest, Hardest Paths to the Sweet 16
Projected starting lineups
West Virginia: F Derek Culver, F Jalen Bridges, F Emmitt Matthews Jr., G Miles McBride, G Sean McNeil.
Morehead State: F James Baker, F Johni Broome, G DeVon Cooper, G KJ Hunt, G Skyelar Potter.
Player to watch
West Virginia: G Taz Sherman. The Heartland College Sports pick for Big 12 Sixth Man of the Year enters the NCAA Tournament on a high, having scored 19 points in the Mountaineers' Big 12 quarterfinal loss to Oklahoma State. For the season, he's averaging 13.6 points per game, and whenever he comes off the bench he gives the Mountaineers tremendous offensive energy. He's scored at least 20 points in five games this year, and four of those have come in the last nine games. He's a consistent shooter who hits nearly 90 percent of his free throws, and his defense as progressively gotten better this season. There's a reason the Mountaineer faithful are hoping that Sherman will trigger the additional year of eligibility afforded to him by the NCAA and come back to Morgantown.
Morehead State: Johni Broome. The Mountaineers are going to have to contend with the Eagles' leading scorer (13.9 ppg) and rebounder (9.0 rpg). And guess what? The 6-foot-10 forward is a true freshman playing like a guy who's been in Division I for a few years now. The Plant City, Florida, native may have been the most dominant player in the Ohio Valley Conference this season, as he was named the OVC Freshman of the Year, First Team All-OVC, OVC All-Newcomer Team, OVC All-Tournament Team and OVC Tournament MVP. He earned the OVC Freshman of the Week honor NINE times. The closest Big 12 comparison to Broome might be Texas forward Kai Jones. Broome has the potential to give the Mountaineers fits.
Heading into the Tournament
West Virginia: The Mountaineers are a bit hard to read right now. Since their COVID-19 pause in January they're a rock-solid 9-5 in the brutal Big 12 (one of those losses was to Florida). But, in the past two weeks, the Mountaineers have lost three of five — one to Baylor and two to red-hot Oklahoma State. And, the Mountaineers were competitive in all three losses, falling by an average of four points. So we could call this a 'slump,' but I see it as more of a 'competitive slump,' something a team like West Virginia is more likely to play itself out of in short order. Their top six players are as talented as any in their bracket, with Derek Culver (14.6 ppg 9.8 rpg) leading the way inside and Miles McBride (15.4 ppg, 4.7 apg) leading the way outside. Along with Taz Sherman, Sean McNeil (11.8 ppg) gives the Mountaineers three quality 3-point shooters, with McNeil being the one who is most likely to catch fire in a particular game. Since joining the regular rotation, Jalen Bridges (5.6 ppg, 3.3 rpg) has provided the Mountaineers quality minutes, and has scored in double digits five times in Big 12 play. Gabe Osabuohein gives the Mountaineers quality minutes off the bench as a rebounder and defensive threat in Culver's place.
Morehead State: The Eagles are a No. 14 seed entering this NCAA Tournament, but they're not the kind of No. 14 seed you want to tangle with, historically. MSU has made eight overall appearances and carries a 6-8 NCAA Tournament record, with a 2011 win over No. 4-seed Louisville marking their last tourney appearance. But this is just their third NCAA Tournament appearances since the field was expanded to 64 or 68 teams, and their record in that span is 2-2. DeVon Cooper (12.2 ppg, 5.0 rpg) and Skyelar Potter (11.8 ppg, 5.8 rpg) are the Eagles' other double-digit scorers. MSU's fourth-leading scorer is Ta'lon Cooper, who averages 8.2 points off the bench. He also leads the team in assists, with KJ Hunt (6.9 ppg) second in that department. With James Baker (7.9 ppg), the Eagles have a solid six-player rotation, all of which play at least 24 minutes per game. With this being the NCAA Tournament, one should expect these six players on the floor most of the time. In fact, in the OVC title game, the only other player to log double-digit minutes was Jaylen Sebree, who played just 11 minutes. Of particular note is that all three of the Eagles' games against high-major teams were double-digit losses (Kentucky, Ohio State, and Clemson).
Who wins?
I'll take West Virginia. Clearly, the Mountaineers' biggest issue is going to be Johni Broome. The Mountaineers will probably play Osabuohein a bit more in this game, given that he's a better defender inside than Culver. Still, Mountaineers head coach Bob Huggins will have to strike a balance between making sure his two big guys are on the floor and managing the potential foul trouble that both of them represent. Morehead State is a good team, and they have the tools to give the Mountaineers significant trouble. But, even with West Virginia losing three of its last five coming into the tournament, I think they can turn it around in short order. The issues aren't systemic. The fact that all of their losses have been close leads me to believe that they are in good shape to have a solid run in the NCAA Tournament. I expect McBride, Sherman, and McNeil to all have big games on Friday, and that should sustain the Mountaineers into the second round.