Baylor Bears
Baylor Bears Start NCAA Tournament By Beating Hartford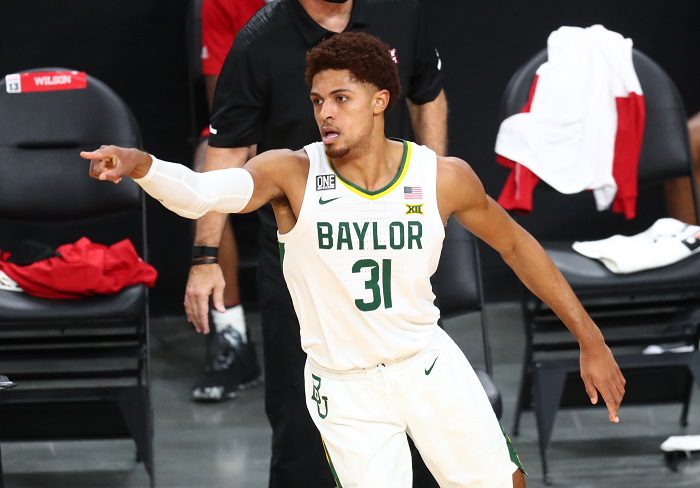 The Baylor Bears defeated the Hartford Hawks, 79-55, to win its NCAA Tournament first-round game on Friday, a victory the Bears hope sparks a deep run into March Madness.
The Bears (23-2) will face either North Carolina or Wisconsin in the second round on Sunday.
The No. 1 seeded Bears are seeking their first trip to the Final Four under head coach Scott Drew, after claiming their first Big 12 regular-season title, the program's first of any kind since 1949-50. The Bears were playing their first game since losing to Oklahoma State in the Big 12 Tournament semifinals.
Baylor ended up shooting 40.5 percent from the floor, 33.3 percent from the 3-point line and 60 percent from the free-throw line as the Bears held a 37-21 lead at the break and eased on to a first-round victory. The Bears had a season-high 15 steals. That includes a 12-for-17 finish from the floor in the first half.
"I thought the nerves kind of calmed down and we were able to get in transition and the guards really were sharing the ball well, getting good looks," Drew said. "Once we got a couple breakaways, John had that dunk, I thought the guys started to relax and feel a lot more comfortable. At the same time with feeling more comfortable on the offensive end, I thought defensively we kept up our pressure and intensity."
READ MORE: Should Kansas State Fire or Retain Bruce Weber? Five Reasons for Each
READ MORE: March Madness: All-Time Big 12 Sports Edition Vote
Guard MaCio Teague led the Bears with 22 points, along with four rebounds, one steal and one blocked shot. Davion Mitchell had a great all-around game, with 12 points, six rebounds, three assists, three steals and two blocked shots. Jared Butler, who is a national player of the year finalist and was recently named an Associated Press All-American, finished with 13 points, four rebounds, and a team-high nine assists. He also had a team-high five steals.
Off the bench for the Bears, Adam Flagler scored 12 points, while Matthew Mayer had eight points and nine rebounds.
The Hawks (15-9), who were making their first NCAA Tournament appearance, played just about the entire game without D.J. Mitchell, who suffered an injury on the game's first possession. The Hawks were already without Moses Flowers, who was the Hawks' leading scorer before suffering a hip injury in December that required surgery.
Austin Williams had the big game for the Hawks, with 19 points, seven rebounds, three assists, two steals, and one blocked shot. Traci Carter added 11 points, nine rebounds, and six assists.
Here's more from Drew after the game:
On the Bears' defense after Mark Vital got into foul trouble: Well, Mark is such a great defender, normally when he goes out of the game, first and foremost you worry about the loss of intensity and focus and he covers up a lot of mistakes with his aggressiveness and toughness and his rebounding. Matt (Mayer) really did a great job — when MaCio (Teague) played there he did a great job, and I thought the team really picked him up. He did a great job staying involved, and then second half more of the same situation. The good thing is he's rested for the next game.
On what the week off after losing in the Big 12 Tournament did for the Bears: You hold a team to 35 percent that had really been playing well offensively in the last five games, really shooting at a high clip, and you held them to 29 percent in the first half, you forced 24 turnovers. So defensively a lot of the rotation mistakes, a lot of our one-on-one, being able to contain the ball was just a lot better and we were a lot sharper, a lot crisper. Really credit to the guys for working hard this past week, and sometimes you go into a tournament and you're worried you don't want to get injured so you try to save yourself and those guys knew that we had to get better and they really got after it, and I thought it showed. We made some improvements today.
On what he's hoping for from the North Carolina-Wisconsin game: Yeah, I'm hoping for a five-overtime game and we look forward to playing the winner.
You can find Matthew Postins on Twitter @PostinsPostcard.
**Want to win a $20 gift card? Go sign up here and join our conversation! The best poster each week wins a gift card to your favorite establishment!**