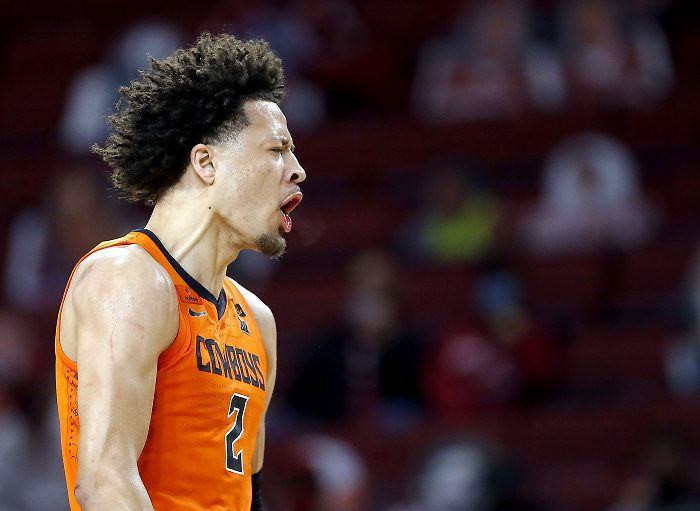 Oklahoma State star Cade Cunningham appeared to take the NCAA to task for the swag he was provided at the 2021 NCAA men's tournament as opposed to the women's tournament, part of a larger conversation taking place about the inequities between the men's tournament and the women's tournament.
Cunningham posted to his Instagram story on Thursday comparing the decidedly larger amount of amenities that the men received, as opposed to the women. Cunningham tagged the Instagram site WomensHoopz in the story.
The first photo shows what men's players received in Indianapolis.
The second photos shows what the women received in Indianapolis.
Cunningham tagged the second photo with '@ncaa this is why nobody likes y'all.'
Cunningham, the Big 12 Player of the Year and a finalist for national player of the year awards, takes the floor later today in the Cowboys' first-round game against Liberty.
The NCAA came under fire on Thursday for the inequity in facilities in both tournaments, both of which are happening in bubble environments. Some women's players and support staff went to social media feeds like Instagram and TikToc to show off the weight rooms for women's players in San Antonio.
The men have access to a full weight room throughout the tournament. The women, however, won't have access to a full weight room until the Sweet 16. The NCAA, in a statement on Thursday, said it was attempting to address the concerns.
A story at Yahoo.com also noted that UConn head coach Geno Auriemma called out the NCAA for differences in COVID-19 testing at the two tournaments. On Friday, the NCAA Committee on Women's Athletic demanded an independent investigation on the inequities.
**Want to win a $20 gift card? Go sign up here and join our conversation! The best poster each week wins a gift card to your favorite establishment!**