Big 12 News
Oklahoma State Handles Liberty 69-60 in First Round of NCAA Tournament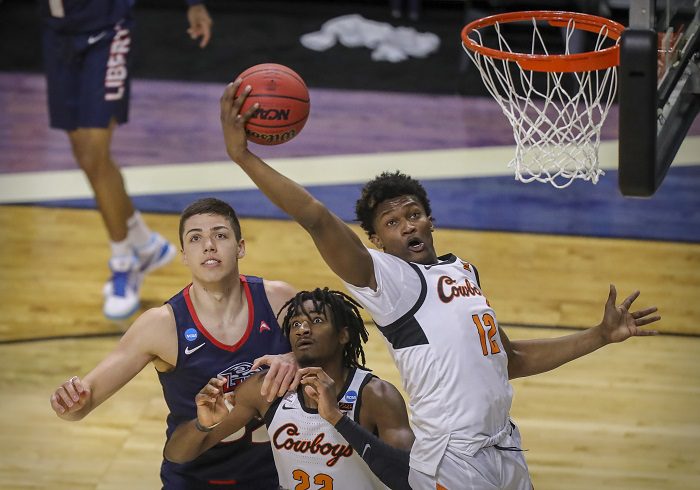 The Oklahoma State Cowboys defeated the Liberty Flames, 69-60, to win their NCAA Tournament first-round game on Friday, their first Tournament win in 12 years.
The Cowboys (21-8) will face Oregon State in the second round on Sunday. The Beavers, a No. 12 seed, upset No. 5 seeded Tennessee, 70-56.
Freshman Cade Cunningham had to fight a tough Liberty defense all night, but he finished with 15 points, four rebounds, one assist, and two steals. He shot just 3-of-14 from the floor, but he hit a huge 3-pointer in the final 90 seconds to push the Cowboys' lead to nine points.
Cunningham had plenty of help. Sophomore Avery Anderson III had 19 points, eight rebounds, and four steals. Junior Isaac Likekele, who returned to the starting lineup, had 11 points, six rebounds, three assists, and one steal. Freshman Matthew-Alexander Moncrieffe had 10 points, nine rebounds, and two blocked shots.
READ MORE: Should Kansas State Fire or Retain Bruce Weber? Five Reasons for Each
READ MORE: March Madness: All-Time Big 12 Sports Edition Vote
Head coach Mike Boynton Jr. said he felt his young team did have some jitters, as it was the program's first NCAA Tournament in four years.
"There's no question about it in my mind," Boynton said. "This is the biggest and best sporting event in any sport. I mean, this is the biggest. This is the biggest stage you can be on, and most of these guys have never been on a stage like this, and I certainly know that they were excited to play, but we made some boneheaded mistakes and we were playing against a really good team. So I didn't expect to win by 20, no matter what the seed lines looked like in here. But it was a hard fought game and I'm glad our defensive carried us at the end of the day."
The Cowboys won their first NCAA Tournament game since 2009, when they beat Tennessee, 77-75, in the first round. The Cowboys lost to Pittsburgh two days later.
The Cowboys ended up shooting 40.4 percent from the floor, 20 percent from the 3-point line and 69 percent from the free-throw line as the Cowboys were down 30-27 at the break, built a solid second-half lead and then had to hold on to win. The Cowboys were 18-of-24 from the free-throw line in the second half.
The Flames (23-6), were making their second NCAA Tournament appearance in three years (the Flames were set to make an appearance in the 2020 Tournament before it was canceled due to COVID-19). Liberty won its first-round game in 2019 against Mississippi State, its first NCAA Tournament win.
Elijah Cuffee had 16 points, three rebounds, four assists, and one steal to lead the Flames. Blake Preston had 11 points, seven rebounds, one assist, and two steals. Darius McGhee had 12 points, five rebounds, one assist, and one steal.
Here is more from Boynton after the game:
On Avery Anderson and whether he was surprised by his game on Friday: Not at all. In fact, Avery was really, really disappointed and really hurt that he didn't play better in our conference tournament championship game. Took that one really hard. At the end of the day what happened with him was he just ran out of gas. We had Cade and Ice out for a couple of games there late and that guy was carrying us in many situations. So I'm not surprised that with a few days to get his mind right and to get some rest that he came out and played the way he did today.
On this team's trust in each other: I got a date for you. It's February 10th. We got back from Lawrence, Kansas, probably on one of our worst games, to be perfectly honest, in our approach. We actually didn't play poorly, we just didn't play the game the right way. And we had a meeting on February 10th that the guys kind of made a decision that no matter what, how it ended the last few weeks of the season, that we were going to play the way we have been trained to play and the way that they were recruited to play. And since then, I think you've seen a different team, and that's been pretty consistent, everybody's been willing to sacrifice the things necessary for us to have the success, and so here we are a month later, continuing to play in the NCAA tournament.
On Matthew-Alexander Moncrieffe: I've got a ton of confidence. We recruited these kids believing that they could help us have success in this event. And it's not just Cade, it's guys like Matthew who really believe in themself, who came here because he felt like he could impact winning. And the truth is the reason he played well is because he had an unbelievable week of practice since we got here. So we always talk about the work winning and the work certainly was on full display for Matthew today by his effort.
You can find Matthew Postins on Twitter @PostinsPostcard.
**Want to win a $20 gift card? Go sign up here and join our conversation! The best poster each week wins a gift card to your favorite establishment!**