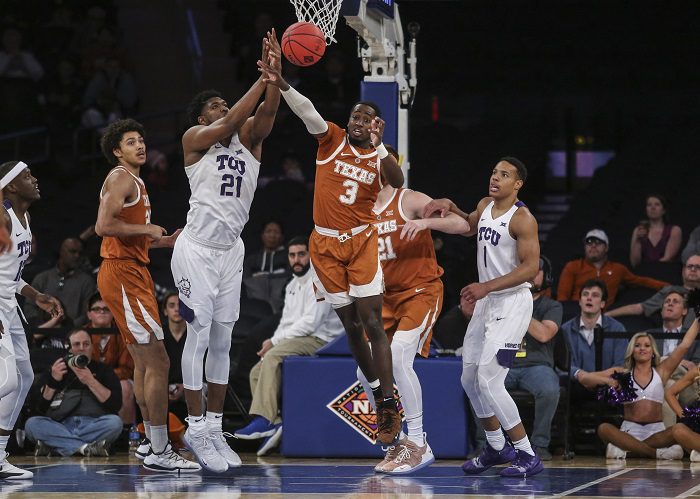 The Texas Longhorns will face the Abilene Christian Wildcats in the first round of the NCAA Tournament on Saturday in Indiana. Here is a preview of the game.
No. 3 Texas (19-7) vs. No. 14 Abilene Christian (23-4), 8:50 p.m. CT, Saturday, TV: TruTV
National rankings: Texas: No. 9 (AP), No. 9 (USA Today); Abilene Christian: No ranking.
Region: East
Location: Lucas Oil Stadium Unity (South)
Path to March Madness: Texas: Automatic qualifier (won Big 12 Tournament title); Abilene Christian: Automatic qualifier (won Southland Conference tournament title).
NCAA Tournament history: Texas and Abilene Christian have never met in the NCAA Tournament.
Winner faces: BYU, Michigan State, or UCLA in the second round of the NCAA Tournament on Monday.
READ MORE: 2021 NCAA Tournament: Schedule, Printable Bracket, Dates and Times
READ MORE: The Big 12's Easiest, Hardest Paths to the Sweet 16
Projected starting lineups
Texas: F Kai Jones, F Jericho Sims, G Courtney Ramey, G Matt Coleman III, G Andrew Jones.
Abilene Christian: F Joe Pleasant, G Damien Daniels, G Reggie Miller, G Coryon Mason, C Kolton Kohl.
Player to watch
Texas: Kai Jones. Texas head coach Shaka Smart put Jones into the starting lineup in the Big 12 Championship game against Oklahoma State and Jones delivered 13 points and five rebounds in that game. Now, Jones typically comes off the bench. But he started in place of Greg Brown, who was so emotionally frustrated during the Longhorns' quarterfinal win over Texas Tech that Smart benched him. Smart may want to stick with Jones as a starter for now. Armed with a lanky, 6-foot-11 frame, he's a hard matchup for both teams. He's capable of working inside, but his ability to dribble on the perimeter, drive to the basket, and put up 3-pointers makes him a real problem defensively for opponents. Mostly off the bench, he's averaged 8.8 points and 4.9 rebounds this season. He's also shot nearly 40 percent from the 3-point line. His game isn't completely mature yet, and he's prone to fouls. But in the first 10 minutes of that Big 12 title game he might have been the best Longhorn on the floor, and he's capable of doing that every night.
Abilene Christian: Joe Pleasant. Kansas may want to call and see if they can borrow the Overland Park, Kansas, native, because they could use the junior right now. The 6-foot-8 forward is the second-leading scorer for the Wildcats (10.8 ppg) and their best rebounder (5.4 rpg). He's done that in a remarkably efficient 23 minutes per game while shooting 47 percent from the field and 38 percent from the 3-point line. Pleasant ended up earning second-team all-Southland Conference, and he's already among the Top 10 scorers in ACU history in their Division I era, which started about 10 years ago.
Heading into the NCAA Tournament
Texas: Texas was, at one point, No. 4 in the country, and eventually got back into the Top 10 after a bout with COVID-19, and pauses by other teams, set them back in early February. Texas never had an official pause, but several players missed games due to COVID-19 and COVID protocols. So, after a scintillating 11-2 start to the season, the first pause hit, caused by their opponents that week. After a week off, the Longhorns returned short-handed, lost to Oklahoma, and then missed another game when Kentucky had to bow out of the Big 12-SEC Challenge. It led to a stretch where Texas lost three straight up until Feb. 6, and their season appeared to be teetering. But, slowly, the Longhorns got their bearings back and won eight of their last 10 games, including the Big 12 title game over Oklahoma. Their guards are excellent, led by Andrew Jones (14.6 ppg, 2.2. apg), Matt Coleman III (13.3 ppg, 4.1 apg, Big 12 Tournament Most Outstanding Player), and Courtney Ramey (12.6 ppg, 4.0 apg). Jase Febres is finally back as their top guard off the bench and he adds 3-point shooting. Jericho Sims (9.2 ppg, 7.1 rpg) is having his best season inside at the perfect time, and Kai Jones is a nice complement. Freshman Greg Brown's (9.6 ppg, 6.4 rpg) best assets are his rebounding and his athleticism right now, but his maturity and offense outside the paint are a problem. Brock Cunningham is a solid glue guy off the bench who made some quality defensive plays against Oklahoma State. The Longhorns are a deep team now. Eight players have played in at least 20 games, and two other have played in at least 10. And they're hot at the right time.
Abilene Christian: ACU was one of the best teams in the Southland Conference this year, as the Wildcats won 13 of their 15 league games and won the SLC Tournament. This will be their second appearance in the NCAA Tournament. The Wildcats are 15-2 in their last 17 games. More importantly to Texas, the Wildcats managed to squeeze in two games against high major teams, Texas Tech and Arkansas. ACU lost both games, but both losses were by seven points, and against Tech the Wildcats were in it until the very end. They're a pesky mid-major team that is about to move to the Western Athletic Conference next season. While Joe Pleasant is probably their best all-around player, center Kolton Kohl is their leading scorer (12.3 ppg) even though he plays less than 20 minutes per game. He was a First-Team All-Southland Conference selection. Coryon Mason (third-team All-SLC) is averaging 10.7 points per game. Reggie Miller leads the team in assists (118). Damien Daniels was on the All-SLC Defensive Team. The Wildcats look like they have an eight-player rotation, and some of the played in the Wildcats' first NCAA Tournament appearance in 2019. That should serve them well.
Who wins?
I'll take Texas, though this likely won't be the blowout the Wildcats experienced when they fell to Kentucky, 79-44, two years ago. Kolton Kohl, a 7-footer, does present somewhat of a matchup issue for Texas. But between Jericho Sims and Kai Jones, the Longhorns have the size to run some tandem defense on him. Plus, since he plays less than 20 minutes, the matchup issue may be less than I'm making it out to be. If I were Texas, I'd be looking at the tape from the Texas Tech and Arkansas games and trying to figure out how ACU stayed close in those games. If there's a lesson in the box of the Tech game for Texas, it's that the Longhorns need to shoot well (Tech shot an abysmal 27.9 percent in that game and still won). ACU forced 16 turnovers in that game, but Tech forced 22. There were even fewer lessons in the Arkansas box score. For Texas, it's all about sustaining the momentum from the Big 12 Tournament. Moving Kai Jones into the starting lineup would give the Longhorns more offense, and moving Greg Brown to the bench would give them more energy. Matt Coleman III is coming off a career-high 30 points against Oklahoma State. I suspect he'll take a bit of a step back. Good news is Andrew Jones, Courtney Ramey, and Jase Febres can pick up the slack. ACU will give Texas some fight. But the Longhorns should prevail.