Big 12 News
Oklahoma State vs. Oregon State Preview and Prediction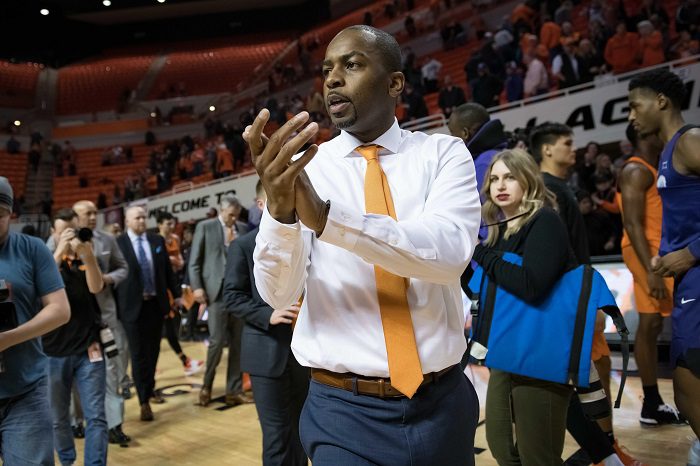 The Oklahoma State Cowboys will face the Oregon State Beavers in the second round of the NCAA Tournament on Sunday in Indiana. Here is a preview of the game.
No. 4 Oklahoma State (21-8) vs. No. 12 Oregon State (18-12), 8:40 p.m. CT, Sunday, TV: TBS
Region: Midwest
Location: Hinkle Fieldhouse, Indianapolis, Indiana
National rankings: Oklahoma State: No. 11 (AP), No. 12 (USA Today); Oregon State: No ranking.
Path to March Madness: Oklahoma State: At-large berth (lost in Big 12 Tournament championship game); Oregon State: Automatic qualifier (won Pac 12 Conference tournament title).
2021 NCAA Tournament Results: Oklahoma State: def. Liberty, 69-60; Oregon State: def. Tennessee, 70-56.
NCAA Tournament history: Oklahoma State and Oregon State met in the 1949 NCAA Tournament, back when Oklahoma State was Oklahoma A&M. The Beavers lost to the then-Aggies, 55-30, in the national semifinals.
Winner faces: Either Illinois or Loyola of Chicago in the Sweet 16 next week.
READ MORE: 2021 NCAA Tournament: Schedule, Printable Bracket, Dates and Times
READ MORE: Oklahoma State defeats Liberty in First Round of NCAA Tournament
Projected starting lineups
Oklahoma State: F Matthew-Alexander Moncrieffe, F Kalib Boone, G Isaac Likekele, G Avery Anderson III, G Cade Cunningham
Oregon State: C Roman Silva, F Warith Alatishe, G Zach Reichle, G Ethan Thompson, G Jarod Lucas
Player to watch
Oklahoma State: Isaac Likekele. Likekele got back into the starting lineup for the Cowboys after a two-week absence, thanks to an injury and head coach Mike Boynton Jr. wanting to work Likekele slowly into the starting lineup at the Big 12 Tournament. But, against Liberty, it was time to take the reins off his junior guard and let him run. Likekele had what one would call his 'usual' game — 11 points, six rebounds, three assists, and a steal. He's one of the best rebounding guards in college basketball, and with his linebacker-like frame you don't want to meet him as he's coming downhill. Likekele's seasons averages of 9.7 points, 6.7 rebounds, and 3.7 assists per game probably don't impress basketball fans that are tuning in JUST for the NCAA Tournament. But for those who know the game, they know that Likekele is an indispensable player in the OSU universe.
Oregon State: Ethan Thompson. The 6-foot-5 senior guard had a double-double in the Beavers' upset win over Tennessee, finishing with 13 points and 10 rebounds. He also had a team-high six assists. Going into the NCAA Tournament, Thompson was one of two Beavers averaging double figures, but Thompson was their leading scorer with 15.3 points per game. His 10 rebounds was well above his season average of 3.6 per game. No matter what happens against Oklahoma State, Thompson is going to be a fixture in the Oregon State record book for quite some time. He's on their Top 10 career lists for scoring, assists, free throws made, 3-pointers made and minutes played. Plus, he's played more games in his Beavers career (124 and counting) than any other player, including the program's legend, Gary Payton. In fact, Thompson and Payton are the only two players in program history to finish with at least 1,400 career points and 400 career assists.
Right now in the NCAA Tournament
Oklahoma State: The Cowboys have won nine of their last 11 games, with their final eight games of the regular season and Big 12 Tournament coming against ranked teams, with the Cowboys going 6-2. But the Cowboys' win over Liberty was their first in the NCAA Tournament since 2009 (just another reason to make sure head coach Mike Boynton Jr. gets a raise). Cade Cunningham didn't have a 'great' game, as Liberty succeeded in frustrating him for a good portion of the night. But he did end up with 15 points, four rebounds, one assist, and two steals. But the game became an example of just how far the Cowboys have come this season. They're a remarkably young team, with just a couple of seniors (and both are in their first year in the program). So, while the Flames tried to hold down Cunningham, Sophomore Avery Anderson III had 19 points, eight rebounds, and four steals. Likekele had 11 points, six rebounds, three assists, and one steal. Freshman Matthew-Alexander Moncrieffe had 10 points, nine rebounds, and two blocked shots. Cunningham isn't going to have back-to-back games like that, and his teammates don't look inclined to slump at this point. The Cowboys' momentum seems intact in Indiana.
Oregon State: The Beavers shot well against Tennessee in the first round, going 48.2 percent from the floor and 47.6 percent from the 3-point line. But that's emblematic of what the Beavers have done since the start of February. Since Feb. 4 the Beavers are 10-5. But, since Feb. 25, the Beavers are 7-1, and that run carried them to the Pac 12 Championship, as the Beavers beat UCLA, Oregon, and Colorado. All three of those teams made the Tournament, but the Beavers had to win the Tournament to get in. While Thompson is the Beavers' leading scorer, it was Warith Alatishe who was the Pac 12 Tournament's Most Outstanding Player, as he pushed his scoring average to 9.9 points per game entering the NCAA Tournament. He's the true rebounding threat on this team, with 8.5 rebounds per game entering the Tournament, and 13 double-digit rebounding games this season, best in the Pac 12. Jarod Lucas is also worth tracking, as he averaged 12.9 points per game entering the Tournament. Lucas had 14 points against Tennessee, but Roman Silva ended up with 16 points, while shooting a perfect 8-for-8 from the floor.
Who wins?
I'll take Oklahoma State. I had the benefit of watching Oregon State in the Pac 12 Championship game against Colorado and the Bears are a good team. This surge at the end of the season has been impressive, but it counts on the Beavers executing well down the stretch in close games. Well, the Cowboys do the same things. Plus, any jitters the Cowboys might have had are gone now after their first-round win over Liberty. I think Cade Cunningham has a big game, especially in the second half, and the Cowboys head to the Sweet 16.