Big 12 News
West Virginia vs. Syracuse Preview and Prediction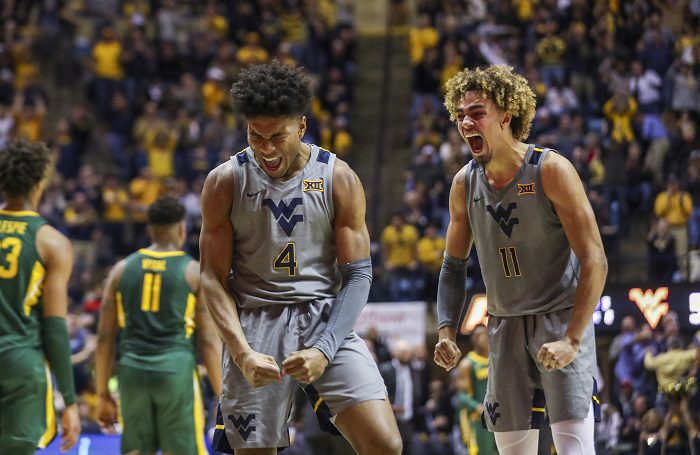 The West Virginia Mountaineers will face the Syracuse Orange in the second round of the NCAA Tournament on Sunday in Indiana. Here is a preview of the game.
No. 3 West Virginia (19-9) vs. No. 11 Syracuse (17-9), 4:15 p.m. CT, TV: CBS
Region: Midwest
Location: Bankers Life Fieldhouse, Indianapolis, Indiana
National rankings: West Virginia: No. 13 (AP), No. 13 (USA Today); Syracuse: No ranking.
Path to March Madness: West Virginia: At-large berth (lost in Big 12 Tournament quarterfinals); Syracuse: At-large berth (lost in ACC Conference Tournament quarterfinals).
2021 NCAA Tournament Results: West Virginia: def. Morehead State, 84-67; Syracuse: def. San Diego State, 78-62.
NCAA Tournament history: West Virginia and Syracuse have never met in the NCAA Tournament.
Winner faces: Rutgers or Houston in the Sweet 16 of the NCAA Tournament next weekend.
READ MORE: 2021 NCAA Tournament: Schedule, Printable Bracket, Dates and Times
READ MORE: The Big 12's Easiest, Hardest Paths to the Sweet 16
Projected starting lineups
West Virginia: F Derek Culver, F Jalen Bridges, F Emmitt Matthews Jr., G Miles McBride, G Sean McNeil.
Syracuse: G Buddy Boeheim, G Joseph Girard III, F Alan Griffin, F Marek Dolezaj, F Quincy Guerrier.
Player to watch
West Virginia: G Miles McBride. The sophomore guard introduced himself to casual basketball fans on Friday night, scoring a whopping 30 points on Morehead State, including a dominating second half. He shot 11-of-17 from the floor, with three 3-pointers, and was 5-of-6 from the free throw line. His entire line was productive, as he also had six rebounds, six assists and three steals. Of course, if you're been following the Big 12 all season, you KNOW what McBride is about. His performance nudged his scoring average for the season to 16 points per game. When it comes to next season, though, McBride just created some national expectations for himself, expectations that he seems completely comfortable with.
Syracuse: G Buddy Boeheim. There benefits to being a coach's son. Unfettered access to basketball hoops and gyms, for example. The junior son of Syracuse head coach Jim Boehiem is playing like the ultimate gym rat this season, and his 30-point game against San Diego State on Friday is, lately, par for the course. Boeheim is averaging 17.7 points per game this season, but in his last eight games the younger Boeheim has averaged 24.1 points per game. In his last three games Boeheim has connected on 18 3-pointers. So whichever Mountaineer defends him can't give him an inch of daylight.
Right now in the NCAA Tournament
West Virginia: The Mountaineers can breathe a sigh of relief as head coach Bob Huggins FINALLY has win No. 900. Of course, you know Huggy Nation won't rest until he's in the Naismith Basketball Hall of Fame, but that's a fight for another day. Right now the Mountaineers are 10-5 in their last 15 games and, after a sluggish start against Morehead State, look like a team that could make a run right into the second weekend of the NCAA Tournament. Jalen Bridges scored 15, Sean McNeil scored 13, and Derek Culver scored 12 points and seven rebounds, though Culver needed more than a half of basketball to get going. Taz Sherman had nine points off the bench. Culver is the wild card right now. West Virginia's perimeter players had a fine game, but Culver's presence inside, when it's on, can help open options up for McBride, McNeil, and Sherman. It's time for Culver to step up and be dominant from the jump.
Syracuse: The Orange is 7-3 in the last 10 games, and when you have Jim Boeheim on the bench, the record really doesn't matter. He's crafty enough to squeeze every last bit out of any team, no matter their record or their seeding. So their win over San Diego State wasn't that surprising, as they're riding a formula that involves Boeheim's son, Buddy, who is just plain red-hot right now. But he needs help, and he has it. Joseph Girard III had 12 points against SDSU, a game that included six rebounds and seven assists. Plus, Marek Dolezaj had 11 points, four rebounds, and five assists. Robert Braswell, a sophomore backup, ended up being a dangerous scorer for the Orange, finishing with nine points. Quincy Guerrier is the player the Orange look to for rebounding, with a team-leading 8.6 rebounds per game. Alan Griffin played just 15 points against SDSU, but he's the team's second leading rebounder with more than six per game.
Who wins?
I haven't seen Syracuse much this year, but the biggest thing to keep in mind with the Orange is defense. Boeheim is famous for the 2-3 zone in the half court, and one of the benefits of that is that is tends to slow the pace of the game for the opponent. For the Mountaineers that means a couple of things. First, it means not settling for 3-pointers early in the game, especially if they start missing. They need more driving to the basket to try and loosen the zone. Second, it means trying to establish Derek Culver early inside. Those two strategies can help make a zone more malleable. Heck, even using Gabe Osabuohein as a traditional 'post' would help. He's not a scorer, but he's a good passer and they can use him to play the inside-outside game. Defenses have to respect a forward inside with the ball. Defensively, forget the help-side rules with Buddy Boeheim. Put someone in his hip pocket and leave him there the whole game. If I'm Bob Huggins, I'm OK if someone else beats me. But I don't want it to be perhaps the hottest shooter in the country of the past two weeks. I think West Virginia takes the win. Why? Well, here's a little nugget from Andrew Pregler at SBNation. Syracuse is 21-3 against West Virginia in Syracuse. But they're 11-13 against West Virginia at other venues, including neutral sites.
You can find Matthew Postins on Twitter @PostinsPostcard
**Want to win a $20 gift card? Go sign up here and join our conversation! The best poster each week wins a gift card to your favorite establishment!**