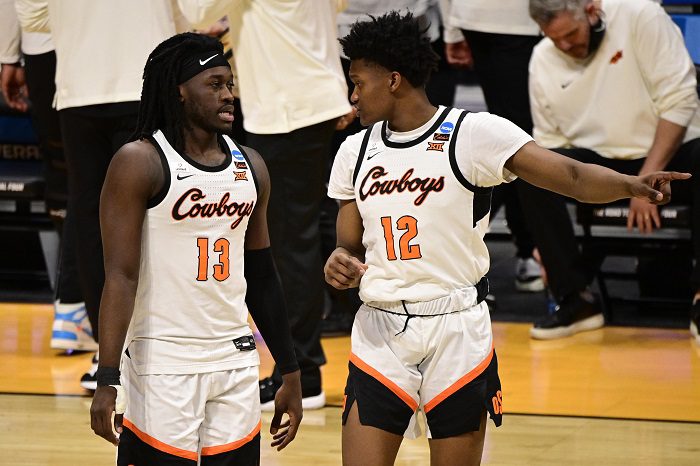 Here are three thoughts following Oklahoma State's loss to Oregon State in the 2021 NCAA Tournament.
THE PIVOTAL MOMENT
I thought that came at the under-8 time out of the second half. By that point, the Cowboys had nearly erased the 14-point deficit they faced at halftime (their biggest of the season, by the way), but then Oregon State had pushed it back out to a 63-54 lead. If there was a time for the Cowboys to get things going, it was then. Head coach Mike Boynton Jr. put Avery Anderson III back on the floor, despite the four fouls, and hoped his Cowboys could get on a tear. Nearly four minutes later they were still down, this time by 11 points. Why? Even though the Cowboys were in the bonus and regularly drawing trips to the free throw line, they couldn't make anything else. By the 4:58 mark of the second half the Cowboys were shooting under 30 percent. The Cowboys missed 11 straight shots after cutting Oregon State's lead to 54-52. Cade Cunningham didn't quite take over in the second half (24 points). Anderson had to sit out some time with foul trouble (16 points). The big 'third game' came from Keylan Boone off the bench (13 points). But the Cowboys needed one final offensive surge in the final four minutes, and while they cut it at one point to 70-67 on a Cunningham 3-pointer, the Beavers just extended the lead again, as Oklahoma State finished the game shooting 27.7 percent. If the Cowboys had just shot a bit better they wouldn't have lost, 80-70.
READ MORE: Should Texas Fire Shaka Smart For Saturday's Loss?
READ MORE: March Madness: All-Time Big 12 Sports Edition Vote
THE REVENGE OF CALLOO
Usually, when your star player gets two fouls early in the first half, you're just hoping you can hold serve with a quality opponent. You don't expect your team to build a 14-point halftime lead behind a player that has scored … checks notes … 31 total points in his last 10 games. But that's what happened for the Beavers behind Maurice Calloo. While Ethan Thompson, Oregon State's best player, drew his second foul and went to the bench, Calloo went to work. By the end of the half Calloo had 15 points — including four 3- pointers — and Oklahoma State was wondering what hit it. Led by Calloo, the Oregon State bench scored 22 of the Beavers' 44 first-half points and Thompson had been completely bailed out. By the way, Calloo did score more than 15 points in ONE game this season, an 18-point effort in an overtime loss to Portland on Dec. 10. No, not the Trail Blazers. The Portland Pilots, who play in the West Coast Conference. You know, that league Gonzaga plays in? And, if you're an astute Oklahoma State fan, you know that Calloo played his first season of college ball with Oklahoma State in 2018-19 before transferring. Calloo didn't score another point in the second half. He came up huge.
THE FUTURE IS AHEAD OF THE COWBOYS
Oklahoma State fans probably don't want to hear this right now, but the future looks bright for this basketball team. Yes, we all know Cade Cunningham is going to move on to the NBA after this season. We would all be stunned to be decided to stay (but we would all love it). Being the prohibitive No. 1 pick in the NBA Draft, you can't blame him for going. But the rest of these guys? They are here to stay, for another year at least. Head coach Mike Boynton Jr. finally has this program moving in the right direction, the direction that he's wanted it to go all along. After their first NCAA Tournament trip in four seasons, and their first NCAA Tournament win since 2009, the next step is their first Sweet 16 since 2005.
You can find Matthew Postins on Twitter @PostinsPostcard.
**Want to win a $20 gift card? Go sign up here and join our conversation! The best poster each week wins a gift card to your favorite establishment!**