Big 12 News
TCU Horned Frogs 2020-21 Basketball Season in Review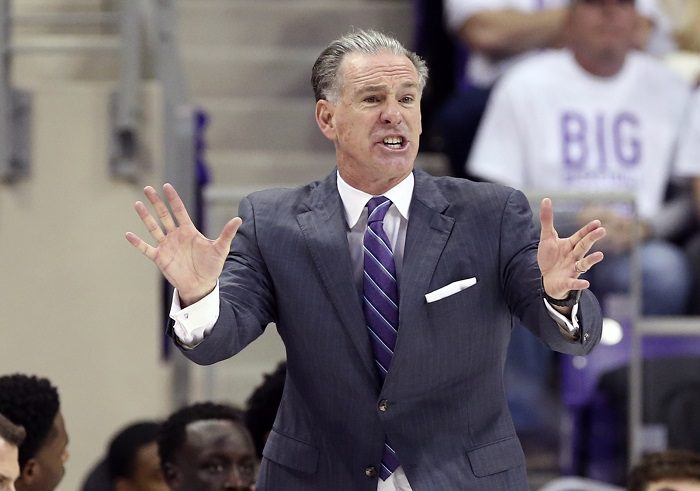 The TCU Horned Frogs finished under .500 for the season, so we take a look back in this TCU Horned Frogs 2020-21 basketball season in review.
Recap
Record: 12-14 (5-11 in Big 12)
Postseason: The Horned Frogs did not make the postseason.
Seniors/lettermen losing: G Owen Aschieris (Played in four games this season).
Note: NCAA rules allow all players to trigger an extra year of eligibility for the 2021-22 season due to COVID-19. These seniors have the choice to return based on that rule.
Any NBA Bound?: None.
Any One-and-dones or early entries?: None. In fact, no Frogs should even entertain the thought.
Any transfers: F Diante Smith played five games and then put his name in the transfer portal. He is headed for South Alabama.
Who and what's back?
Top players expected to return: G RJ Nembhard (15.9 ppg, 4.3 rpg, 4.0 apg, 1.0 spg); G Mike Miles (15.9 ppg, 4.3 rpg, 3.9 apg, 1.0 spg); C Kevin Samuel (9.1 ppg, 8.0 rpg, 1.75 bpg); G Chuck O'Bannon (6.8 ppg, 3.8 rpg); Jaedon LeDee (6.0 ppg, 3.9 rpg); G PJ Fuller (5.7 ppg, 2.0 rpg, 1.5 apg); G Francisco Farabello (5.3 ppg, 1.7 rpg, 2.3 apg, played just nine games); G Kevin Easley Jr. (4.6 ppg, 3.6 rpg); F Taryn Todd (4.5 ppg, 1.6 rpg).
The player(s) you don't know about: LeDee is a name you should get used to hearing. The 6-foot-9 junior forward was an Ohio State transfer who didn't play much in 2019-20. But, this season, his playing time went up as the season went on. He hit double figures twice in 2020-21, but his 20-point game in just 19 minutes against West Virginia on March 4 was a glimpse of what he can do with more playing time. Samuel needs more consistent help inside, and the Horned Frogs need a forward that can play inside and stretch defenders out to the mid-range. With another offseason of solid work, LeDee could be that player.
New Faces
2021 recruiting class: C Souleymane Doumbia, 7-foot, Navarro College, Corsicana, Texas.
Doumbia is a Top 5 juco recruit and turned down Houston, among other schools, to make the short drive from Corsicana to Fort Worth. He may also be the only recruit in the Horned Frogs' 2021 class, as they have just one senior on the team.
Commitments yet to sign: None.
Summarizing the season
This season probably felt familiar to TCU fans. The Horned Frogs started out with a lot of success, winning nine of their first 11 games. That included a 2-0 start in Big 12 action, with wins over Oklahoma State and Kansas State. And then … like last season, it fell apart. The Horned Frogs got into the bulk of league action and lost five straight to start 2021, and won just three games in their final 15, including the loss to Kansas State in the Big 12 Tournament. It wasn't easy for the Horned Frogs. Miles spent several stretches in isolation due to COVID-19 protocols. Head coach Jamie Dixon caught COVID. The Horned Frogs had six games postponed or canceled in league play.
Looking ahead to 2021-22
Every valuable piece of this team is coming back. But how valuable are those pieces? Well, Miles is a Big 12 star in the making. Miles, along with Nembhard and Samuel, give the Horned Frogs three good pieces to build around. Now, Samuel needs to show improvement in his consistency next season. He has the talent to be a double-double player every night. But with these three players, that means the Horned Frogs just have to fill out two more starters. And that, honestly, could be anyone. O'Bannon, LeDee, Fuller, Farabello, Easley and Todd ALL have something to offer. And, frankly, for the Horned Frogs to get back above .500 next season, all six of them have to give the Horned Frogs more than they did this season. Dixon mentioned that he doesn't know what this offseason will look like because he doesn't know when college basketball's COVID restrictions on offseason work will be lifted. There are plenty of question marks outside of TCU's Big Three. Depending on your point of view, that's a source of optimism or pessimism. This program has never had a winning season in Big 12 play (closest was 9-9 in 2017-18) under Dixon. Getting back to .500 in Big 12 play next season would be a good start, and would likely mean the Horned Frogs are close to .500 overall. That is a potential path with the talent they have.
You can find Matthew Postins on Twitter @PostinsPostcard