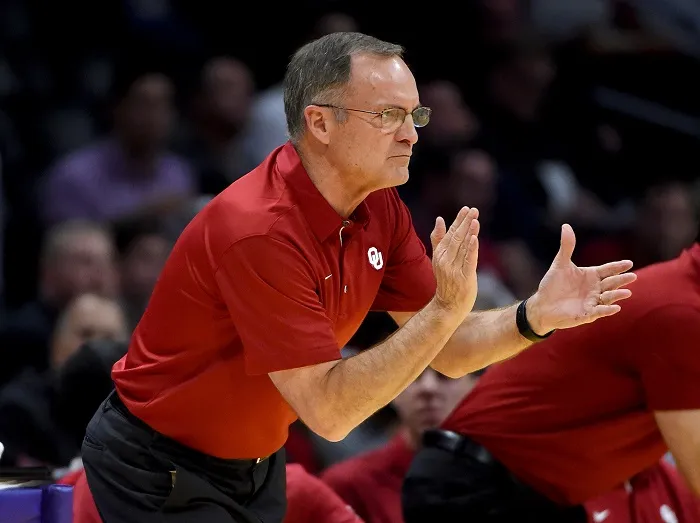 Here are three thoughts following the Oklahoma Sooners' loss to the Gonzaga Bulldogs in the second round of the NCAA Tournament.
THAT HOT START, BUT …
Oklahoma got off to a great start in this game, shooting and playing defense exactly the way it needed to against the Bulldogs. At one point, Oklahoma built an eight-point lead early in the first half. But, it's extremely difficult to sustain that level of play for 40 minutes. The Sooners found that out the hard way. By halftime they went from an eight-point lead to a 12-point deficit. They went from shooting well above 50 percent to shooting 45.2 percent from the floor. They went from having only two or three turnovers to having nine turnovers by halftime. Meanwhile, Gonzaga ended up shooting 56.7 percent from the floor in the first half, and 40 percent from the 3-point line. On most nights, Oklahoma's first half would have been more than enough to keep the Sooners within single digits, or even put them in the lead. But against Gonzaga, the best team in the country, all it got Oklahoma was a 12-point deficit.
By the end of the game, the Sooners were shooting 50 percent from the floor and had only committed four second-half turnovers. They even got that lead down to single digits a couple of times. But the Zags also finished at 49.1 percent shooting in the 87-71 win, their lowest shooting percentage in a game this season. Drew Timme had a career-high 30 points, one of four Bulldogs that finished in double figures. Despite the best efforts of Austin Reaves (27 points), Alondes Williams (15 points) and Jalen Hill (11 points), the Sooners were eliminated.
If nothing else, the Sooners provided Baylor some pointers if the Bears are able to meet Gonzaga in the national championship game.
READ MORE: Should Kansas State Fire or Retain Bruce Weber? Five Reasons for Each
READ MORE: March Madness: All-Time Big 12 Sports Edition Vote
HEY, KUR, COME ON BACK?
Kur Kuath is one of those four seniors that have the option to return, and I would imagine that head coach Lon Kruger is hoping that he does. He was high energy all game for the Sooners. Sure, he only had two points. But points aren't what he does. He had five blocked shots, was a pest to the Bulldogs' inside players the whole game, and even had four assists. He's a limited player, but as West Virginia's Gabe Osabuohein has shown us all season, players who are limited offensively can be effective, as long as they know their role. Kuath knows his role. Now, we'll see if the senior wants one more go-around in Norman.
THE MODEL OF CONSISTENCY
The Oklahoma Sooners brought Lon Kruger to Norman to make the basketball program consistent, and that's exactly what he's done. In spite of the second round loss to Gonzaga, the Sooners have been to all but one NCAA tournament since 2013. That came in 2017, the year after the Sooners got all the way to the Final Four. This loss hurts, of course. But the Sooners are always set up for success as long as Kruger is the head coach. Now, he has to figure out how many of his seniors will be coming back next year, and he may need to hit the recruiting trail to find a couple of transfers or freshmen to fill out a roster that will need a little depth next season.
You can find Matthew Postins on Twitter @PostinsPostcard.
**Want to win a $20 gift card? Go sign up here and join our conversation! The best poster each week wins a gift card to your favorite establishment!**