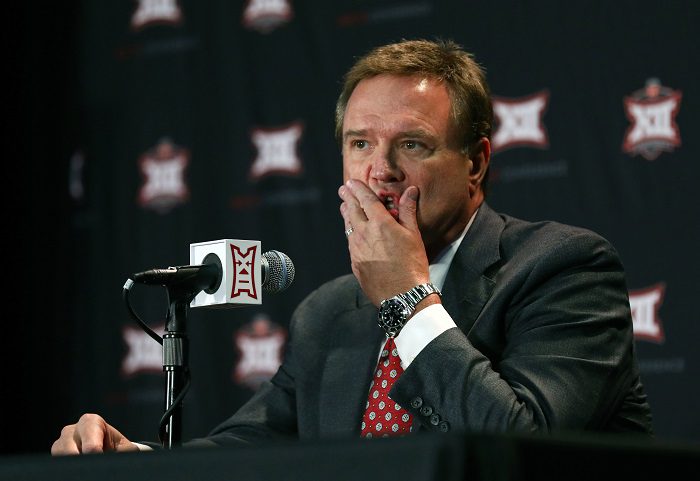 Here are three thoughts following Kansas' loss to USC in the second round of the 2021 NCAA Tournament.
THAT. AWFUL. START.
What a horrid first half for Kansas against USC. The Jayhawks started 1-of-11 from the floor, including some point-blank layups. Then, 12 minutes into the game, the Jayhawks were 4-of-20 from the floor. By the end of the first half, The Jayhawks we're shooting 8-of-31 from the floor, or 26.7 percent. That's pretty emblematic of a team that will have the worst shooting percentage of any Jayhawk squad since the early 1970s. Meanwhile, USC did start a little slow, but by the end of the first half they were all over it, shooting 51.7 percent from the floor and taking a 40-21 lead. Kansas didn't have an answer for either Mobley brother, Evan or Isaiah, or for the rest of the USC starting lineup for that matter. Isaiah had 14 first-half points, and Evan had 7 points, but 10 rebounds. (Isaiah finished with 17 points, and Evan finished with 10 points and 13 rebounds) Even with Jalen Wilson back — and he only played a few minutes in the first half due to foul trouble — The Jayhawks simply couldn't get anything going offensively and couldn't stay within striking distance going into the half.
And then, if it's possible, it got worse as the Trojans won, 85-51.
Marcus Garrett had 15 points in what might have been his last game as a Jayhawk (he can come back if he chooses to use the extra year of eligibility afforded to him by the NCAA due to COVID). He deserved better than that, if it was his last game.
Kansas was outplayed in every possible way. This was worse than the first loss to Texas in Big 12 play, if we're being honest. But it was also the worst NCAA Tournament loss in Kansas history.
READ MORE: Should Texas Fire Shaka Smart For Saturday's Loss?
READ MORE: March Madness: All-Time Big 12 Sports Edition Vote
THE ZONE PROBLEM
For the second time in as many nights, a Big 12 team was stymied by an opponent's aggressive 2-3 zone defense. USC used it in the second half of their first-round win, based on the match up. USC head coach Andy Enfield talked about it a bit after that game, saying he wasn't sure he would end up using it again against Kansas. Well in the first half, the Trojans were in that 2-3 zone and they were all over The Jayhawks. It made every interior shot for players like David McCormack difficult. On Sunday night, West Virginia had the same problem when it faced Syracuse. The Orange traditionally play a 2-3 zone, but the aggressive nature of their zone discombobulated West Virginia for a good portion of the game. Of larger issue may be the fact that every single team in the Big 12 plays man-to-man defense, meaning those teams don't get much exposure to those zones during the conference season. Perhaps that quick transition from playing against aggressive man-to-man defense to playing against aggressive zone defense was simply too much for the Mountaineers and for the Jayhawks.
WHERE TO GO FROM HERE?
I wrote a piece in January about the decline in the number of five-star recruits that the Jayhawks has been able to bring to campus since the NCAA investigation began a couple of years ago. With no end in sight, or no decision forthcoming, it's hard to say if Kansas will continue to be able to bring in those five-star players. Going into next season, The Jayhawks don't have many scholarships to give, and the scholarships they have given are going to players that aren't of the five-star variety (two are four-star). You could certainly see improvement from players like David McCormack, Jalen Wilson, and Christian Braun this year. But what the Jayhawks really need is for Ochai Agbaji to stick around for one more season. You can find him in some NBA mock drafts in the second round. If he wants to be a first-round pick, the wise decision for him would be to stick around for one more year in Lawrence.
You can find Matthew Postins on Twitter @PostinsPostcard.
**Want to win a $20 gift card? Go sign up here and join our conversation! The best poster each week wins a gift card to your favorite establishment!**