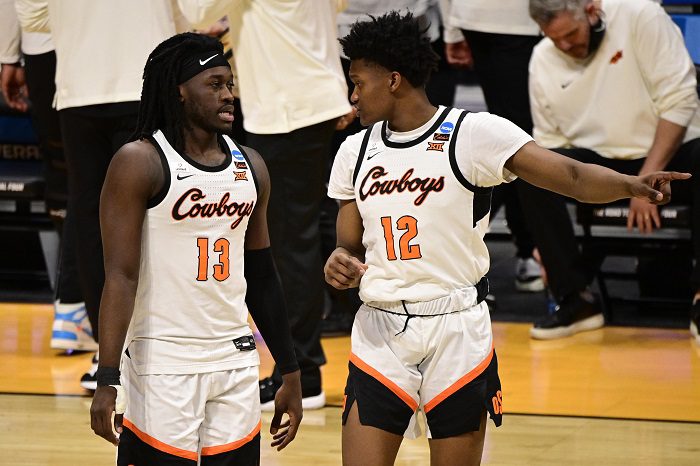 The Oklahoma State Cowboys won 21 games and won a game in the NCAA Tournament.  We take a look back in this Oklahoma State Cowboys 2020-21 basketball season in review.
Note: Updated on March 23 to reflect that Ferron Flavors Jr. has submitted his name to the transfer portal.
Recap
Record: 21-9 (11-7 in Big 12)
Postseason: NCAA: def. Liberty, 69-60 (first round); lost to Oregon State, 80-70 (second round).
Seniors/lettermen losing: G Cade Cunningham (20.1 ppg, 6.2 rpg, 3.5 apg, 1.6 spg); G Ferron Flavors Jr. (3.4 ppg); Bryce Williams (7.2 ppg, 1.8 rpg, 1.9 apg, 1.0 spg).
Note: NCAA rules allow all players to trigger an extra year of eligibility for the 2021-22 season due to COVID-19. Flavors and Williams have the choice to return based on that rule.
Any NBA Bound?: Cunningham is, to many, the No. 1 overall selection in the 2021 NBA Draft. At worst, he'll be taken in the Top 5.
Any One-and-dones or early entries?: Cunningham is entering the NBA Draft after his freshman year. I mean, as of this writing, he's still a Cowboy. But it would be stunning to everyone if Cunningham decided to stay for a second year in Stillwater.
Any transfers: No Cowboys have announced an early entry into the transfer portal. But Montreal Pena, a member of the 2020 recruiting class, left the program in January.
Who's back and who's coming?
Top players expected to return: G Avery Anderson III (12.2 ppg, 4.0 rpg, 2.0 apg, 1.5 spg); G Isaac Likekele (9.2 ppg, 6.6 rpg, 3.6 apg, 1.1 spg); F Matthew Alexander-Moncrieffe (9.0 ppg, 5.3 rpg); F Kalib Boone (9.4 ppg, 5.4 rpg, 1.6 bpg); G Rondel Walker (7.8 ppg, 2.9 rpg, 1.0 apg, 1.2 spg); G/F Keylan Boone (4.4 ppg, 4.1 rpg); Bernard Kouma (1.5 ppg, 1.4 rpg).
The player(s) you don't know about: G Chris Harris. This ended up being a lost season for Harris. The knee injury he suffered in February of 2020, a torn ACL, basically prevented him from playing in 2021, as the Cowboys put him on the shelf after he played just one game. It's easy to forget that coming out of South Garland High School he was a Top 100 recruit, and that he put a season-high 10 points against Georgetown his freshman year. He even started three games that season. He averaged 3.4 points his freshman year before the injury. He could easily fit into a rotation next season as a backup guard who could provide scoring off the bench. Head coach Mike Boynton Jr's logic for keeping Harris off the floor this year was, in fact, to preserve him for next year.
2021 recruiting class: None at the moment. But the departure of Cunningham, and any players who choose to submit their name to the transfer portal, should mean that head coach Mike Boynton Jr. has at least one scholarship to give.
Commitments yet to sign: None.
Summarizing the season
We really had no idea what to expect from the Cowboys this season. They were appealing a postseason ban for the 2020-21 season, they had the most ballyhooed recruit in the country in Cunningham, and a lot of question marks beyond their experienced point guard, Isaac Likekele. The Cowboys slowly, but surely, became one of the best teams in the Big 12. The best thing about having Cunningham on the team, aside from his scoring and his overall play of course, was the fact that he was willing to share the ball with the rest of his teammates. That may not have paid off in January in early February, but when the stretch run of Big 12 play rolled around , his dedication to sharing the wealth paid off. Players like Anderson, Walker, Moncrieffe, and Kalib Boone all made incredible progress this season. By the time March rolled around, the Cowboys won eight of their final 10 games in the regular season and the Big 12 Tournament, and were a trendy NCAA Tournament pick. Yes, because their appeal to the NCAA was still pending, the Cowboys could play. While they ended up losing to Oregon State in the second round, Boynton now has the best core of young talent he's ever had. He's built two Top 25 recruiting classes into a potential beast in the Big 12, and his recruiting credibility should bring more players like Cunningham to Stillwater. No Big 12 team did more, with less expected of them, than the Cowboys.
Looking ahead to 2021-22
We all know that Cunningham is out the door. I mean, as I write this, he is still technically a member of the Oklahoma State Cowboys. But as the presumptive No. 1 overall pick in the NBA draft, it would be wise for Cunningham to go leave. No one can blame him for that. As for the rest of this team, Boynton won't have everyone else back next season, as Flavors has opted to transfer. Williams could still decide to stick around for an additional year, thanks to the NCAA's extra year of eligibility. If you're looking at this team right now, it already have a set starting lineup. They'll have Likekele at point, with Anderson on the wing, along with Walker, Moncrieffe, and Kalib Boone. It gives them a long, young, athletic group of players to go up against the rest of the Big 12. Off the bench, Keylan Boone showed some real progress toward the end of the season. So did it forward Bernard Kouma, who's more of a traditional center. Boynton has Harris and Donovan Williams coming off of injuries, and the hope is that they'll be ready next year. Right now, with no recruits having signed on the dotted line, these are the Cowboys for 2021-22. It's a darn good start for next year. They'll miss Cunningham's offense, no question. But this is a team that can be competitive in the Big 12 right now and for the next couple of years. Something tells me Boynton will work some kind of magic on the recruiting trail between now and October.
You can find Matthew Postins on Twitter @PostinsPostcard
**Want to win a $20 gift card? Go sign up here and join our conversation! The best poster each week wins a gift card to your favorite establishment!**