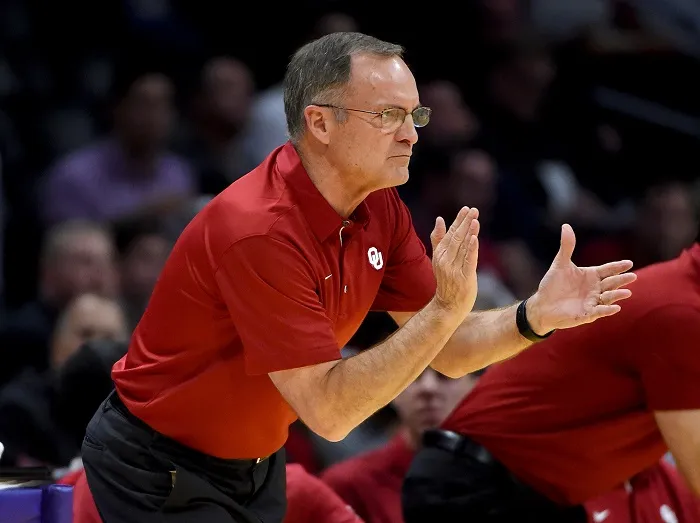 Who are the potential candidates to replace Oklahoma Sooners head coach Lon Kruger, who is retiring after 10 seasons with the Sooners? We take a look below.
Obviously, this is not a comprehensive list, and Oklahoma will likely approach the search differently than Iowa State did with T.J. Otzelberger.
Here we have three categories. First, there are choices from Kruger's own coaching tree from his long career as a head coach. Next, are the 'name' coaches that, for whatever reason, might interest the Sooners. Finally, there's a list of upwardly mobile mid-major coaches that would be attractive. Plus, a couple of TV commentators and one 'obligatory' reference.
The Kruger Coaching Tree
Carlin Hartman, OU assistant coach: With Kruger's retirement, Hartman is the Sooners' most tenured assistant coach and immediately becomes a candidate. He led the recruitment of every relevant Sooners player the past five seasons and developed the team's forwards and centers. He may become the interim coach immediately.
Steve Henson, UT-San Antonio: Henson had a long history with Kruger, playing for him at Kansas State, and then serving as an assistant for him at Illinois, the Atlanta Hawks, UNLV, and Oklahoma before taking over the Roadrunners. He has a .500 record in five seasons at UTSA.
Tim Jankovich, SMU: Jankovich was an assistant under Kruger at both UT-Pan American and Kansas State. He's won 258 games at three different stops, most recently SMU, where the Mustangs played in this year's NIT.
Robert McCollum, Florida A&M: He served under Kruger at Kansas State, Florida, and Illinois. He doesn't have a winning record as a head coach, but took Western Michigan to the NIT in 2003.
Todd Simon, Southern Utah: Simon served as an assistant under Kruger at UNLV, and was the interim head coach there for part of the 2015-16 season. Since taking over at Southern Utah he's won 72 games. This season he helped the Thunderbirds win the Big Sky regular-season title and he won Big Sky Coach of the Year honors.
Names, Names, Names
Rick Pitino, Iona: You know who he is, and you know what seems to happen when he leaves. I can't imagine he wants to spent more time in New Rochelle, New York. But does Oklahoma really want all that baggage after the Kelvin Sampson era?
Mark Turgeon, Maryland: He turned Texas A&M into consistent winners in basketball before taking over Maryland. Enough said.
John Beilein: The former Michigan coach is a proven winner at the college level. He would be an immediate steady hand.
Dana Altman, Oregon: He has a great situation at Oregon. But, he's a Nebraska native who used to coach at Kansas State. Plus, he was Kruger's successor with the Wildcats.
Ben Howland, Mississippi State: Not a 'sexy' coaching name, but he's turned MSU into a 20-game winner and he took UCLA to two Final Fours.
Steve Alford, Nevada: He has the 'name' recognition. But his deepest run as a coach is to the Sweet 16.
Bobby Hurley, Arizona State: Another 'name' in the profession that would excite the alumni base, but hasn't had much NCAA Tournament success.
Tom Crean, Georgia: The bloom is off the rose, of course. But Crean still has the credentials a program like Oklahoma will look for.
Sensible selections
These are coaches that have had success that could translate at Oklahoma. They're just not names you're as 'aware' of.
Paul Mills, Oral Roberts: All he did last week was lead ORU to its first NCAA Tournament victory and Sweet 16 appearance. Programs with openings are going to kick the tires on him. And the Sooners have home-field advantage with ORU being in Tulsa.
Porter Moser, Illinois-Chicago: He's now taken the Ramblers to two Sweet 16's. Give him resources and, well, dang.
Johnny Jones, Texas Southern: He's re-booted his career with the Tigers and taken them to the NCAA Tournament.
Travis Ford, Saint Louis: Big 12 fans will chafe at this. But since his firing at Oklahoma State he's turned the Billikens back into 20-game winners.
Ritchie McKay, Liberty: Three Atlantic Sun titles, two NCAA Tournament appearances, and one brand of basketball that appeals to guards who love to shoot the 3.
Kyle Keller, Stephen F. Austin: He's maintained the high standard at SFA, built under Danny Kaspar and Brad Underwood. He's also been a Big 12 assistant for Eddie Sutton and Bill Self, so he gets the conference.
Grant McCasland, North Texas: Aside from just authoring the Mean Green's upset of Purdue, he's had a winning season every year he's been at UNT and he is a former Scott Drew assistant.
Steve Pikiell, Rutgers: He just led the Scarlet Knights to their first NCAA Tournament appearance in 30 years.
Bryce Drew, Grand Canyon: Only because I want to see the Drew brothers face off twice a year. But he just led the Antelopes to their first NCAA Tournament appearance after Vanderbilt showed him the door rather unceremoniously.  
The TV Guys
Yep, there are a couple of TV commentators worth considering here:
Fran Fraschilla, ESPN: I don't know if he wants to get back into coaching. He seems to love the TV gig. But no commentator knows the Big 12 like him, and no commentator understands the strategy of the Big 12 like him.
Avery Johnson, CBS: Johnson is ultra-competitive and probably wants back in at some point. He did good work at Alabama, but he only got the Crimson Tide to one NCAA Tournament in four years.
And …
The Obligatory Chris Beard Reference
Chris Beard, Texas Tech: Someone will try to connect him to this job. But it won't be me.
You can find Matthew Postins on Twitter @PostinsPostcard.
**Want to win a $20 gift card? Go sign up here and join our conversation! The best poster each week wins a gift card to your favorite establishment!**