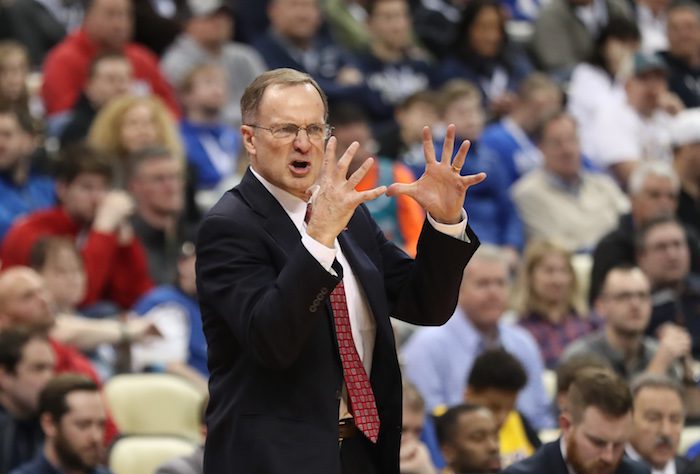 Saying that he "couldn't be more grateful" for his coaching career, Lon Kruger formally announced his retirement as head basketball coach at Oklahoma on Friday.
Kruger leaves the game after nearly 40 years as a head coach at six different college stops, including his alma mater, Kansas State. But the Sooners turned out to be his longest stop, as he spent 10 years in Norman, taking the Sooners to eight NCAA Tournaments and the 2016 Final Four.
"Barb (his wife) and I have gotten up 45 years ever day and gotten to do something that we love to do," Kruger said, with his voice breaking up a bit at the end of that sentence.
The press conference was emotional for Kruger, who broke up early on when talking about what he would miss the most as coach, which he said would be the players, his colleagues and the day-to-day preparation for practices and games.
Kruger said many factors went into the retirement decision. But he did say that when he took the job 10 years ago, he and Barb knew that OU would be the last stop. His son Kevin's elevation to head coach at UNLV was a factor, along with missing out on more opportunities to be with family.
But the more serious conversations started in January after Lew Hill, a former assistant, who was the head coach at UT-Rio Grande Valley, died from COVID-19.
READ MORE: Oklahoma Basketball: Candidates to replace Lon Kruger
READ MORE: Social Media Reaction to Lon Kruger's Retirement
"Didn't expect it to be right now," Kruger said. "When coach (Lew) Hill passed a couple of months ago, that hit hard. That got Barb and I talking more serious about it."
Oklahoma president Joseph Harroz Jr. said knew it was coming when Kevin Kruger accepted the job at UNLV, where Lon Kruger was once the head coach and coached Kevin as a player.
Harroz said that Kruger was "the symbol of excelling in both performance and character," and echoed an ESPN quote from Thursday, after the news broke of Kruger's retirement.
"He's your favorite coach's favorite coach," Harroz said.
Kruger has been overwhelmed by the reaction of his coaching colleagues, including Kansas coach Bill Self and Oklahoma State coach Mike Boynton Jr.
"It's very kind," Kruger said. "We appreciate it. Those in the coaching fraternity understand what we're doing every day, and there are so many great people, coaches, and friends in this game. Competing against folks enhances the relationships. I'll be bugging them about coming by practice from time to time to fill that need."
Oklahoma athletic director Joe Castiglione related a story that Kentucky head coach John Calipari told him about Kruger's humility and desire to share the game.
"He was talking about his zone offense, and (Calipari) told me 'I went to one of Lon's practices. He was gracious. I spent two days there. I learned all I could about Lon's zone offense. Now, I couldn't call it the Lon zone offense. So I call it the Vegas offense. So when you see me do that V on the sideline, that's what I'm calling,'" Castiglione said.
Harroz and Castiglione pointed out Kruger's reputation in the game, as one driven by hard work, integrity and focusing on helping his players get better on and off the court. Kruger said his parents, Don and Betty, probably had something to do with that. At times during his childhood, Kruger said the family would take in people for weeks at a time, something that made him community-minded at every stop in his coaching career.
"My parents were all about others, doing things for others, making others feel good about themselves," Kruger said. "It was always we, never I."
Kruger was a two-time All-Big Eight Conference Player of the Year at Kansas State had a coaching career that spanned stops at the University of Texas–Pan American (now UT-Rio Grande Valley), Kansas State, Florida, Illinois, UNLV, and Oklahoma, as well as a sojourn into the NBA with the Atlanta Hawks.
Kruger leaves the game with 17 NCAA Tournament appearances, two Final Four appearances (one with Florida and one with Oklahoma), 674 career college victories, and the distinction of being one of just three head coaches in NCAA history to take five different programs to the NCAA Tournament (Rick Pitino and Tubby Smith being the others).
"By any quantitative measure, that's a Hall of Fame career," Castiglione said. "But with Lon, we know it's much broader than that, much deeper than that."
But Kruger was the first to accomplish that feat. He was also the first coach to take four teams to the Sweet 16 in the 64-team NCAA Tournament era.
His career with Oklahoma ended after 10 seasons with 195 wins, eight NCAA Tournament appearances, and that 2016 Final Four appearances, with Buddy Hield leading the way for the Sooners. He did not lead the Sooners to a Big 12 title. The Sooners' best Big 12 finish came in 2014-15 when they finished tied for second in the conference.
Kruger's last season at the helm ended with a 16-11 record and a second-round NCAA Tournament loss to Gonzaga. Kruger said that telling the players was difficult.
"That's the most difficult part," Kruger said. "Leaving guys you've dealt with. The pandemic created a different relationship. You're leaning on each other so much. Through this pandemic, it was a different set of circumstances … they were great."
Kruger's retirement comes nine days after long-time Sooners women's basketball coach Sherri Coale retired.
You can find Matthew Postins on Twitter @PostinsPostcard.
**Want to win a $20 gift card? Go sign up here and join our conversation! The best poster each week wins a gift card to your favorite establishment!**