Big 12 News
Lon Kruger: 'NCAA is going to a gunfight with a knife'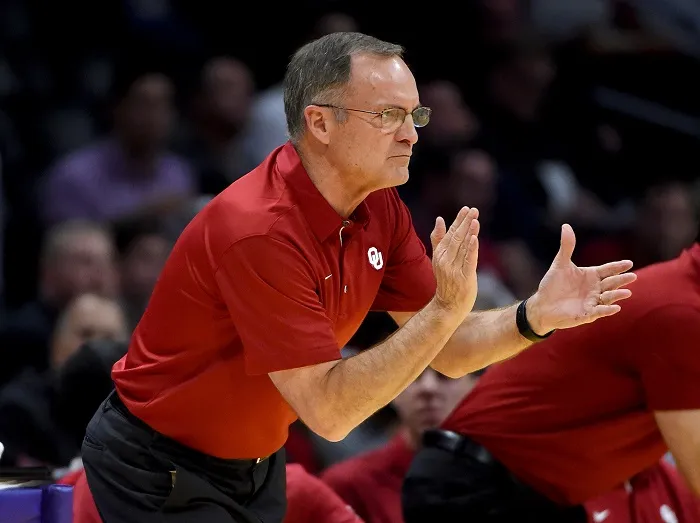 Saying that the "NCAA is going to a gunfight with a knife," Oklahoma head coach Lon Kruger expressed worry for the game of college basketball during his retirement news conference on Friday.
In what was mostly a celebratory hour of Kruger's long career in college basketball, he was asked about whether he had concerns about the state of the game as he departed. He admitted that he did, specifying the NCAA itself, worry for the game's young coaches, and the violations of NCAA rules that we've seen recently.
"As great as it is, and I'll get on a soap box here," Kruger said. "The NCAA has to revamp period. We can't continue as we are. Young coaches see violations of the rules and nothing happens and that's ridiculous. I'm concerned that young coaches are taking that as a lead."
Kruger didn't get into specifics about his concerns, but one could draw a line to the recent FBI investigation into college basketball, which has led to several arrests and spawned several NCAA investigations into programs around the country, including Kansas and Oklahoma State.
READ MORE: Oklahoma Basketball: Candidates to replace Lon Kruger
READ MORE: Lon Kruger 'Couldn't Be More Grateful' as he Retires
The Cowboys received a one-year postseason ban last year, which is still under appeal. Kansas is waiting to hear about punishment for the Level I violations it was accused of two years ago.
Lon Kruger didn't call either program out, of course. But, he referenced something his father, Don, told him, during his childhood, and it appears to have been a guiding principle in Kruger's coaching career and life.
"My dad told me, 'There is no satisfaction in cheating and winning. None. Anyone can do that,'" Kruger said.
Meanwhile, the NCAA is facing seismic changes of its own, starting with transfer rules that have led to a record number of players submitting their names to the transfer portal. The NCAA was set to vote on a package of rules in January, among which would have allowed all student-athletes to transfer once without reason and without sitting out a season, along with legislation related to players being able to profit from their name, image, and likeness (NLI).
That vote was deferred in January. The NCAA did present a release saying they were committed to modernizing its rules.
Kruger sounded like he knew the time was now to start getting things done, and even urged his fellow coaching colleagues to get on their soap box, saying "More people need to do it."
"There needs to be great changes," Kruger said. "It's challenging because of amateurism and the legal fronts. But the NCAA is going to a gunfight with a knife and we're not winning."
You can find Matthew Postins on Twitter @PostinsPostcard.
**Want to win a $20 gift card? Go sign up here and join our conversation! The best poster each week wins a gift card to your favorite establishment!**