Baylor Bears
MaCio Teague: 'Everyone Has a Chance to Eat On Our Team'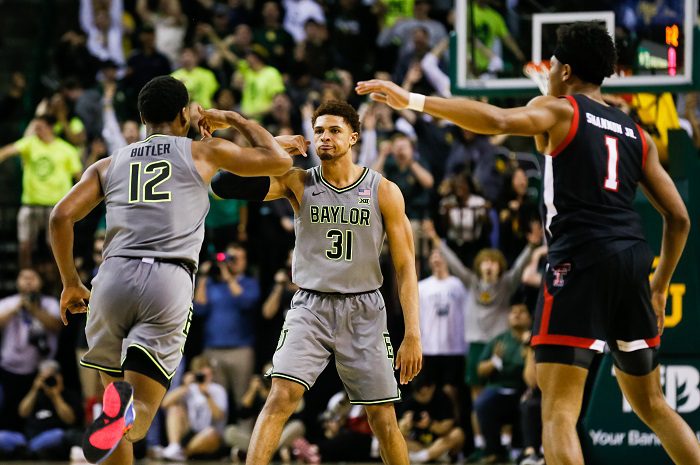 A common thread for Baylor this season has been its guard play. As Bears senior MaCio Teague puts it, "Everyone has a chance to eat on our team."
"We all just sacrifice for each other on a basis that most teams with this amount of talent aren't willing to do," Teague said earlier this week. "It kind of reminds me of those Kentucky teams where they platooned players. Everybody has a chance to eat on our team, and I thought that's how it was with Kentucky. We've just bought into our program."
The program continues for the Bears when they face Villanova in the NCAA Tournament's Sweet 16 at 4:10 p.m. central on Saturday. The game is set to be played in Hinkle Fieldhouse.
The Bears have a collection of starting guards that rivals any in the country.
Jared Butler is the leading scorer and a candidate for national player of the year awards, in addition to being a First-Team All-American. He's averaging 16.9 points, 3.3 rebounds, 4.8 assists and 2.1 steals per game this season. In the NCAA Tournament, he's averaging 14.5 points, 5.5 assists, and 3.0 steals per game.
READ MORE: Baylor vs. Villanova Preview and Prediction
READ MORE: Baylor Basketball Livestreams Connect 4 Championship Matchup
Davion Mitchell, also a junior, is a finalist for Naismith National Defensive Player of the Year and a Third-Team All-American. Mitchell is averaging 14.1 points, 2.7 rebounds, 5.4 assists and 2.0 steals per game this season. But in the NCAA Tournament, through two games, he's averaging 14 points, 5.5 assists and 2.5 steals.
Teague, a senior, is averaging 16.1 points, 4.1 rebounds, 1.6 assists and 0.8 steals per game this season. In the NCAA Tournament, he's averaged 15.5 points, 1.0 assists and 0.5 steals per game. But he had the highest-scoring game of the three in the Tournament to this point, scoring 22 points against Hartford. Teague was named Third-Team All-Big 12 and an honorable mention All-American by the Associated Press.
This list, of course, isn't complete. Senior Mark Vital may not score many points, but an indispensable rebounder and defender. Adam Flagler, in his first year after transferring to the Bears, is the top guard off the bench.
It doesn't seem to matter to any of them who gets the attention or who gets the points. When you consider the trio is combining to average more than 50 points per game in the NCAA Tournament so far, there are more than enough shots to go around.
Head coach Scott Drew says he seems the chemistry every day in practice. He sees the trio try to make plays for each other, as opposed to "getting theirs," as Drew said. The competition level between the three of them is fierce, and it makes all three of them better.
It may help that two of them are transfers and that none of them were considered All-Americans coming out of high school. To a certain degree, each still has a chip on their shoulder.
"These are three high character guys, great students that have a great work ethic," Drew said. "Guys that weren't McDonald's All-Americans, but guys that just get better each and every day and love to get better each and every day. So it's a joy and a pleasure to coach guys like this.
You can find Matthew Postins on Twitter @PostinsPostcard.
**Want to win a $20 gift card? Go sign up here and join our conversation! The best poster each week wins a gift card to your favorite establishment!**