Baylor Bears
Baylor's loss to OSU Proved to be a 'Good' Loss in Retrospect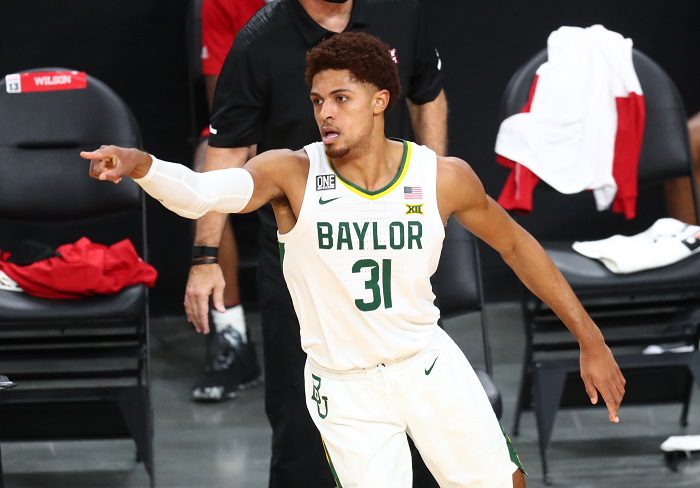 Baylor head coach Scott Drew never 'said' his team's loss to Oklahoma State was a 'good' loss. But that loss to the Cowboys may have allowed the Bears to reset entering the NCAA Tournament.
And that reset may have helped the Bears reach the Final Four, where they'll face Houston on Saturday evening.
That loss to the Cowboys came on March 12 at the Big 12 Tournament. Oklahoma State took the victory, 83-74, in the semifinal game. That ended up being the end of a break-neck few weeks for the Bears. After a prolonged COVID-19 pause, the Bears returned to the floor on Feb. 23 against Iowa State, and then played eight games in 17 days in three different states.
In truth, Bears head coach Scott Drew saw it coming. Saying 'we all use analytics,' he watched the Bears' defensive ranking drop with each game going into the Oklahoma State game.
"You see your defense go from one to three to five to 12 to 20 and (it) eventually got to 44," Drew said. "And once we lost to Oklahoma State, I believe in that game we only got two or three stops in the last eight minutes of the game."
READ MORE: Three Thoughts on Baylor Advancing to Final Four With Win Over Arkansas
READ MORE: March Madness: All-Time Big 12 Sports Edition Vote
Drew explained that period after the COVID pause like a 14-day trek, with nine days on the road and 3,500 miles traveled.
Guard MaCio Teague explained that period when he spoke to the Villanova game, and it sounded as if he had memorized a math problem.
"We practiced one time before we had a game day, then we played (Feb.) 23, we played (Feb.) 25, we played (Feb.) 27, so you don't really practice after you play a game if you have another game coming up," Teague said. "Then we played March 2, and I think we were off on (Feb.) 28. Then it was a light practice on March 1, play the second, play the fourth, play the seventh. I mean, our first real practice was probably March 9. Then the Big 12 Tournament started March 11. We didn't really have much time to go over things and build our chemistry back up."
So, after a 21-day COVID pause, followed by a 17-day sprint to conference tournament elimination, the Bears spent the next few days in Kansas City before the NCAA Tournament. They needed a break.
Drew knew it. The players knew it. Everyone knew it.
The Cowboys might have done the Bears a favor beating them that evening in Kansas City. It gave the Bears a chance to go back to square one.
Remember all that practice they had been missing? Drew and his staff took care of that.
READ MORE: Scott Drew Remembers His Seniors After Elite 8 Win
READ MORE: Davion Mitchell's Text to MaCio Teague in 2018 Predicted Final Four Run
"I thought our guys really bought into what we did in practice, which was basically beginning-of-the-year practice drills," Drew said. "And we returned to the basics and worked on our rotations, worked on our closeouts and everything and our defense has gotten better and better since that time."
The Bears were able to work on everything for a solid week until they opened the NCAA Tournament on March 19 against Hartford. By then, the Bears looked more like themselves on defense. But the Bears took that with a grain of salt since the Hawks were a No. 16 seed.
But the common thread in this tournament to this point for the Bears has been their defense. It enabled them to build a lead on Wisconsin in the second round. It came up huge in a close game against an undermanned Villanova team in the Sweet 16. And the defense set the tone against Arkansas in the Elite Eight, as the Bears converted 15 turnovers into 26 points.
Drew said he wanted to believe that the Bears could get back to being a 'Top 3' defense in the country. The ranking might not have caught up yet. But the Bears sure look like the pre-COVID defensive unit that was one of the most efficient in the country.
That loss to Oklahoma State, the week of work before the NCAA Tournament, and even this unique one-site tournament has helped the Bears.
"That's what's great about the bubble, we don't go back and forth," Drew said. "So we actually can get better during this time."
The proof has been on the floor the past two weeks. And Teague doesn't believe the Bears are done yet.
"We didn't want to peak in January," Teague said. "We want to peak at the time we're peaking right now. We want to continue to get better even going into this last week."
You can find Matthew Postins on Twitter @PostinsPostcard.
**Want to win a $20 gift card? Go sign up here and join our conversation! The best poster each week wins a gift card to your favorite establishment!**