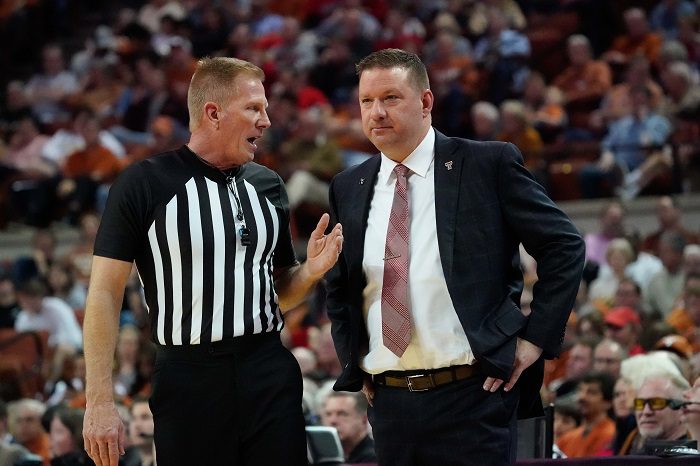 So, in the end, it was the alma mater, Texas, that defeated what Chris Beard had built at Texas Tech. Or, maybe Texas was just end game all along.
It's that rare hire that ripples through two schools in the same conference. And it's the ultimate test of the 'grass is greener' analogy.
Will Beard replicate, or more importantly to Texas fans, exceed what he accomplished at Texas Tech? Or will he suffer the same fate as his predecessor, Shaka Smart?
Only time will tell, but for Beard, Texas, Texas Tech and Red Raiders athletic director Kirby Hocutt, there are immediate, short-term things that must be dealt with.
One thing is certain — Beard is the coach Texas fans wanted the second Smart left for Marquette, and Texas always seems to get what it wants.
Beard's Concerns in Austin
For Beard, there are immediate concerns in Austin beyond just finding a place to live.
First among them is the cupboard of talent for the Texas basketball program. Some might have you believe that it's bare, but it's not. But there are players that Beard must talk to quickly, because they must make decisions.
Start with the seniors. Guard Matt Coleman III, guard Jase Febres, and forward Jericho Sims can all come back next season, thanks to blanket COVID-19 eligibility rules. All would make good pieces for Beard to work with. None have publicly said if they're coming back or not (and I checked). Some seem to think they aren't expected to return. Perhaps all three were waiting to see who would be hired.
READ MORE: Edwards, Santos-Silva Leaving Texas Tech after Beard's Departure
READ MORE: Texas Hiring Chris Beard as Next Longhorns Head Coach
Forward Kai Jones has already declared for the NBA Draft and is hiring an agent. But there's forward Greg Brown, a Top 10 recruit last season, who has athletic ability that, if harnessed properly, could do powerful things in this conference. But he could declare for the NBA, too. The transfer portal is an option for the Longhorns' leading scorer, Andrew Jones, and junior guard Courtney Ramey.
Smart left Beard a solid recruiting class, too. Yes, guard Tamar Bates asked to be released from his letter of intent. But, there's still guard Emarion Ellis (Assumption High school in Davenport, Iowa), forward David Joplin (Brookfield Central High School in Brookfield, Wisconsin), and Keeyan Itejere (Grace Christian School in Raleigh, North Carolina). All are in the 247Sports.com Top 200 nationally. All are Top 10 recruits in their respective states. Ellis and Joplin are in the Top 20 nationally at their positions.
Beard has to sort all of this out and quickly. Why? Well, the transfer portal is bursting with talent. More than 1,000 players have submitted their names for this offseason. Few college coaches work the portal like Beard. For every player that decides to leave, that's one more scholarship for Beard to peddle in an effort to make an immediate impact and, should the seniors leave, find ways to compensate for that loss of talent.
Right now, Kai Jones is the only loss that really hurts. But there could be more pain. How much more pain there will be relies entirely upon whether he can sell the Texas veterans on his plan for next season.
What's the fallout in Lubbock?
Meanwhile, in Lubbock, there is pain and plenty of it. Beard built something amazing in five years. Alums were all set to build him a statue. He had plenty of input in the program's new basketball facility, the Womble Center. When Hocutt spoke to the media on Thursday, he revealed that he and Beard had spoken daily about the opening. He also said that Texas athletic director Chris Del Conte came correct and asked for permission to speak to Beard. Everything was above board.
But when Beard made his final decision, Hocutt said Beard told him he was "ready for the next challenge." Hocutt's voice trailed off in a way that indicated that he felt there were more challenges to come in Lubbock.
Hocutt is absolutely right about that. This was the nightmare scenario for Texas Tech. And it's now Hocutt's challenge to manage.
Hocutt said he spoke to all the players today and asked them to be patient with the coaching search.
Well, patience is definitely a virtue. By 6 p.m. on Thursday, Kyler Edwards and Marcus Santos-Silva were already in the transfer portal. And there may be more to come.
When a head coach has unprecedented success at a program, like Beard had at Tech, players tend to come for the coach and not the school. In the coming days, Hocutt and his staff will be put to the test in the hopes of hanging on to players like Mac McClung, Terrence Shannon Jr., and Micah Peavy, players that would be invaluable to the new head coach.
Plus, there's Beard's lone signee at Texas Tech, Plano, Texas, forward Jaylon Tyson, who is a Top 100 recruit nationally. Would he flip to Texas?
In a college basketball world where transferring is more liberal, some of them could, conceivably, follow Beard to Texas. And Tech won't have someone like Oklahoma football coach Lincoln Riley there to hold it up, either.
For Texas, this was the best-case scenario. Sure, there will be a little pain at the beginning, but once Beard sorts through what's there, there will be a clear direction.
For Texas Tech, this was the worst-case scenario. And it will probably get worse before it gets better.
By the way, the Longhorns and the Red Raiders should open the Big 12 season up against each other next January, no?
You can find Matthew Postins on Twitter @PostinsPostcard.
**Want to win a $20 gift card? Go sign up here and join our conversation! The best poster each week wins a gift card to your favorite establishment!**