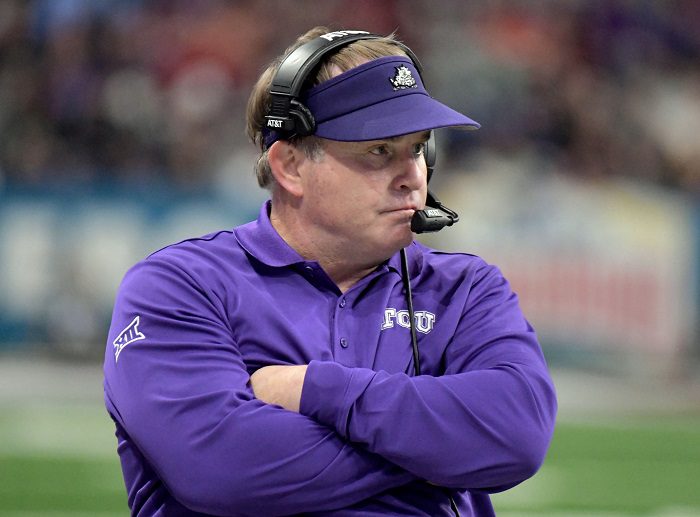 TCU head coach Gary Patterson knows all about collateral damage related to the College Football Playoff.
In 2014, his team was ranked No. 3 in the College Football Playoff (CFP) poll heading into the regular season-finale against Iowa State. The Horned Frogs won by 52 points, finished 12-1 overall and dropped three spots.
The Ohio State, a program with a much stronger national following and a 12-1 record, took the fourth and final playoff spot and eventually won the national title.
Patterson has advocated for playoff expansion since that season ended. Now, he's hoping a new approach shared with The Athletic might gain traction.
"But at the end of the day, one of the biggest reasons I think you need to expand to eight is I think there's a lot of collateral damage that's being done. Bowl games have always been important, but if you look at the Playoff, their guys stayed on their teams. Other guys opted out. Where is the risk-reward of that whole situation?"
The CFP replaced the Bowl Championship Series (BCS) in 2014 so more teams, theoretically, could have a shot at the national title. Alabama, Clemson, Ohio State and Oklahoma have filled 20 of the 28 possible playoff spots, making the CFP feel like another BCS.
Without a championship or anything significant motivating student-athletes during the postseason, the elite ones move on from college football quickly.
Stanford running back Christian McCaffrey and LSU running back Leonard Fournette sparked the movement in 2016. Both NFL-bound players skipped their team's respective bowl game. Guaranteed money outweighed the risk of an injury that could drastically affect a multi-million dollar paycheck or even end a career.
Others soon copied McCaffrey and Fournette with 10 student-athletes opting out in 2017, 16 doing the same in 2018 and another 15 following suit in 2019. (During 2020, more than 20 players did not play the entire season due to health concerns amidst the Coronavirus pandemic.)
When a student-athlete chooses the NFL over a bowl game, a sappy post appears on social media. It states how badly the athlete wants to play another game representing the school. The desire must not be strong enough since it can't override money.
Most college football fans will not watch a bowl game unless it's a New Year's Six game, the College Football Playoff or it involves their alma mater. The 2019 postseason featured 41 bowl games, including three playoff games, and only three games outside the playoffs garnered a TV rating over 4. The 2020 season had 26 bowl games during the pandemic and had four games rated 4.0 or better.
Who can blame the student-athletes for opting out in these situations?
Money drives these student-athletes' decisions and it influences college football's top executives. Patterson, though, thinks the time has come for an adjustment.
"We can't always make decisions because of money. That's how we pay the bills. It is. But like any good business, you sometimes have to take a step back to take two steps forward. We need to make good decisions. We need to do what's best for the game, not just for our pockets."
While that's an admirable sentiment, it's probably not realistic. However, expanding the playoffs can postpone NFL dreams a little longer while making the decision-makers happy.
Think about the time, energy, and money spent preparing for and conducting non-revenue bowl games. Adding playoff games in place of those bowl games would help the overall budget and keep NFL-bound student-athletes playing college football longer.
Plus, if more teams had a shot at the national title, maybe the same programs would not make the playoffs every single year. Coaches who currently sit outside the playoff bubble could steal recruits and create better parity, which can increase viewership and spread out the CFP payouts.
Patterson understands the current playoff format's true cost. While his passion for change will always have a personal tint, it carries a value everyone in college football can appreciate.
**Want to win a $20 gift card? Go sign up here and join our conversation! The best poster each week wins a gift card to your favorite establishment!**