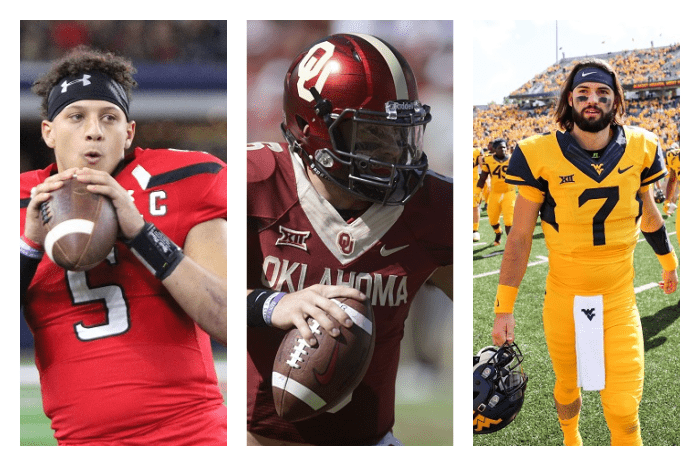 It is hard to believe that the Big 12 has been around since 1996. Of course, since then teams have come and gone but the conference finally settled down in 2012. Since then, the current ten teams have remained intact.
Going into the 2021 football season, marks the tenth season of the current alignment within the conference. So, I figured for ten years, why not ranks the ten best Big 12 quarterbacks since 2012?
Before I begin, there is no single criteria for my list. It's a combination of stats, wins, leadership, talent, and awards. Meaning these are the best Big 12 quarterbacks that have played since the 2012 season began in my opinion. Of course, everyone will have their own criteria when it comes to quarterbacks so I am sure people will have different views of my list. Keep in mind, while this list goes back to 2012, there were some quarterbacks who played in 2012 and before that so their full career will be counted.   
1. Oklahoma QB Baker Mayfield (2015-2017) 
Yes, I know he started his career in Lubbock but when you talk about all those things I mentioned earlier, Baker Mayfield is the ultimate combination of what I think a great quarterback should be. He threw for 130 touchdowns in his collegiate career while completing 68.5% of his passes and most importantly, he was a winner leading the Sooners to three straight Big 12 titles during his time in Norman. Of course, he won a Heisman Trophy in 2017 which was icing on the cake for the number one spot on my list.  
2. Oklahoma QB Kyler Murray (2017-2018) 
I know he was a starter for only one season but what a year it was for Kyler Murray. He threw for over 4,300 yards and tossed 42 touchdown passes. But that was not all he did. He also rushed for over 1,000 yards and had 12 rushing scores as he won a Big 12 title and the 2018 Heisman Trophy. If I had to pick one Big 12 quarterback to win me a ballgame, it is this man right here.  
3. Texas Tech QB Patrick Mahomes (2014-2016) 
Obviously, Patrick Mahomes didn't win a ton at Texas Tech but that was not his fault his school couldn't field anything better than a junior high-level defense. He is the only quarterback in the top ten in career Big 12 passing yards and passing touchdowns who didn't play four seasons in college. He threw 93 touchdown passes in 32 career games at Texas Tech and in his final season (2016) he threw for over 5,000 yards. Sure, he wasn't winning many games but there is no thrower of the football better than this man. He was the only reason Texas Tech was ever in games during his time in Lubbock.   
4. Oklahoma QB Landry Jones (2009-2012) 
I understand nobody thinks of Landry Jones as a top five quarterback, but I will pay the man some respect as he is the all-time Big 12 leader in passing yards and third in passing touchdowns. The man has tenure like few others have but he sure racked up a ton of stats on his way to two Big 12 titles. He wasn't flashy by any means, but he was efficient and earned a spot in my top five.  
5. Oklahoma State QB Mason Rudolph (2014-2017) 
Despite being the second-best quarterback in the state of Oklahoma during his time in Stillwater, I think some people forget how good Mason Rudolph really was. He is top five in career passing yards in the conference and top ten in touchdown passes. Of course, winning football games helped as he won ten games every season as the full-time starting quarterback. When you combine his record as a starter and his stats, he belongs in the top five.  
6. TCU QB Trevone Boykin (2012-2015) 
While his first two seasons weren't anything to brag about, his final two years at TCU were special. He led TCU to a Big 12 title in 2014 and threw for 64 touchdowns in his final two seasons in Fort Worth. But what made Trevone Boykin unique was his ability to escape pressure and run the football which he did well as he rushed for 27 touchdowns in his college career. This man was a must watch player every Saturday.  
7. Kansas State QB Collin Klein (2009-2012) 
If we are talking about pure passing ability, Klein would not be a top option, but this guy was one heck of a player in college with the offense he ran under Bill Snyder. Most think of him as a fullback playing quarterback but whatever you call it, Collin could play. His passing stats aren't great, but the man led his team to a Big 12 title in 2012 and rushed for almost 2,500 yards and 56 touchdowns. He fit what Kanas State asked him to do and he was extremely good at it. He deserves to be on this list.  
8. West Virginia QB Will Grier (2017-2018) 
Despite playing only two years in Morgantown, Will Grier was an excellent quarterback. The dude could sling it all over the yard and that is exactly what he did under Dana Holgorsen. He didn't have much of a defense to work with as his offenses had to put up a ton of points. In two seasons, Grier threw for 71 touchdowns and 7,354 yards. He put West Virginia in contention for a Big 12 title in 2018 but came up just short in the final regular season game.  
9. Baylor QB Bryce Petty (2011-2014) 
Most would consider Bryce Petty a "system" quarterback and that's fine by me. Collin Klein was a system type quarterback but just like Petty, it worked. In just two seasons as a starting quarterback Petty tossed 62 touchdowns on just ten interceptions. He also led Baylor to a Big 12 title back in 2014 and had one of the nation's best offenses during his time in Waco. Without a doubt, he has been the best quarterback to come through Baylor since RGIII.  
10. Iowa State QB Brock Purdy (2018-Present) 
Brock Purdy is the only current Big 12 quarterback on this list but after a lot of thinking, I feel like he has earned a spot on the list. He helped lead Iowa State to the Big 12 title game in 2020 and has helped take the football program at Iowa State to new heights. His sophomore season was better than his junior one, but this year will help solidify his place as a top quarterback in this conference. Through three seasons, he has thrown for 62 touchdowns but more importantly has won some big-time games as his time as a starting quarterback. Maybe the best is yet to come as the Cyclones prepare for a huge 2020 season.  
Honorable Mentions
Texas QB Sam Ehlinger (2017-2020)
Oklahoma QB Jalen Hurts (2019)
West Virginia QB Geno Smith (2012)