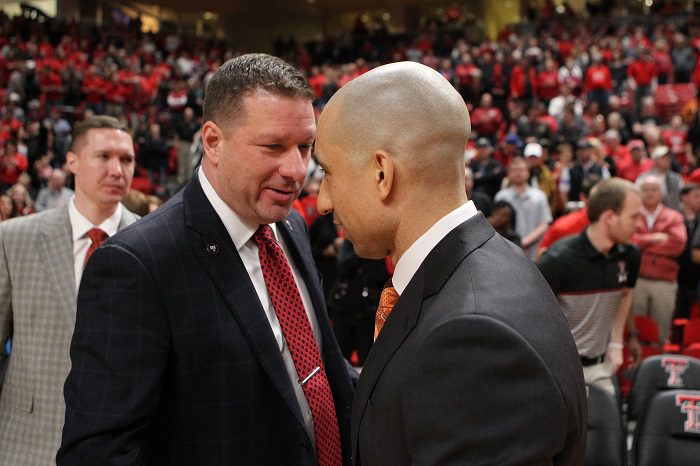 The Big 12 Conference had been one of the more stable league when it came to the tenure of its head coaches. Well, you can't say that anymore.
Just a few weeks ago Oklahoma State head coach Mike Boynton Jr. was still the league's '10th man,' and he had been coaching the Cowboys for four seasons. Now Boynton is Stillwater's $3 million man, armed with a seven-year contract and a reputation as one of the game's true rising stars.
And four Big 12 head coaches are looking up at him on the depth chart, if we're looking at tenure by school.
The Timeline
It's funny how it works, you know? When the Big 12 Tournament ended we expected Steve Prohm to lose his job at Iowa State. His Cyclones lost to Oklahoma on March 10 in Kansas City, and during the post-game press conference he was asked about his job prospects. Prohm was generally honest. He expected to have a meeting with Cyclones athletic director Jamie Pollard the following Thursday, March 18.
Well, that may have been Prohm's plan. But Pollard's was different. Pollard pulled the trigger on March 15. If there was a meeting, it didn't take long. And it didn't take long for Pollard to find his replacement, either. T.J. Otzelberger had the job by March 18. His press conference was March 19, basically an appetizer for 'March Madness,' which tipped off right as Otzelberger and Pollard signed off.
That SHOULD have been it, you know? Just one job turned over. Everyone else looked secure.
Then came March 20.
The last game of the night was Texas and Abilene Christian. Texas was seeded No. 3, the highest seed of the Shaka Smart era. The Longhorns were coming off their first Big 12 Tournament championship. Yep, Rick Barnes had NEVER done that. Smart finally seemed poised to get the alumni base off his back. It's easy to tell the Texas exes to 'stick it' when you win.
Well who saw that coming?
Texas committed a season-high 22 turnovers against an ACU team that shot less than 30 percent from the floor. Yes, ACU became the first team in NCAA Tournament history to win a game shooting less than 30 percent from the floor. The Wildcats beat the Longhorns, and everything changed.
I remember my Twitter feed exploding that night. Texas fans were not happy. Writers that follow the team, writers I trust, tweeted that this 'might be it.' Others, folks who were not in Austin but whose opinions I also value, tweeted that you don't fire a head coach that just won a conference tournament title and has a Top 30 recruiting class in the can.
But then I tell them, 'This is Texas.'
The next few days dragged by. We waited for a decision. Austin was unusually tight-lipped about Smart's fate. As we now know, Longhorn brass was basically telling Smart, 'Hey, you know, if you found another job we wouldn't complain about it.'
But, on March 25, as we were waiting on Smart's fate, Stadium's Jeff Goodman tweeted that Oklahoma head coach Lon Kruger was retiring.
I'm sorry, what?
The Shocker of Lon Kruger
The things that hit you the hardest are the things you don't see coming. I figured Prohm was coming, so I actually pre-wrote pieces about him being fired. I thought Smart might get fired, so I pre-wrote pieces for that, too. I wasn't trying to be morbid. This is a business, after all. As long as you're right, you want to be first, or as close to first as possible.
Kruger? I thought he was safe as houses. Eight NCAA Tournament appearances in 10 seasons, a trip to the Final Four in 2016. Athletic director Joe Castiglione isn't chasing him off.
Turns out he didn't. Kruger decided it was time. But it wasn't sudden.
It started on Feb. 7.
Kruger has collected a successful group of assistant coaches that have gone on to become head coaches, not the least of which is his son, Kevin, who is now the head coach at UNLV (and he has Otzelberger's departure to thank for that). But, Lew Hill probably occupied a special place in Kruger's heart.
Hill started his coaching career as an assistant coach at Wichita East High School in Wichita, Kansas. Eventually, he joined Kruger's staff in UNLV and, when Castiglione convinced Kruger to come to Norman, Oklahoma, Hill went with him.
In 2016, Hill FINALLY got his own head-coaching job. But it wasn't just ANY old job, not to Kruger. Hill took over at UT-Rio Grande Valley. Back in Kruger's day it was UT-Pan American, which merged with UT-Brownsville in 2015. UT-Pan American was Kruger's first head-coaching job, down in Edinburg, Texas. It wasn't just ANY old job to Hill, either. He was an Edinburg native. In 2019 UTRGV induced Lon and his wife, Barb, into their athletics hall of honor. He even scheduled a game with the Vaqueros to make it a work trip.
On Feb. 7, Hill died of COVID-19.
When Kruger spoke to the media on March 26 to make things official, he admitted that Hill's death accelerated his conversations with his family about when the 'rest of his life' would begin. Turns out, it began after the Sooners lost to Gonzaga. I just happened to have the day off. I figured, 'I'll watch the press conference, file a story or two, and enjoy the rest of my day.'
About midway through Kruger's one-hour valedictory, my phone buzzed. It buzzed again. It buzzed again.
The Texas Two Step
'Shaka's leaving for Marquette,' read one text.
I'm sorry, what?! NOW?!
So as I'm listening to Kruger, I'm writing about Smart, taking my pre-written story about a firing and altering it to a story about a coach leaving. I filed that, and then I filed a story about Kruger, my main story. I had another Kruger story that I wanted to write and then I realized something. My day isn't just about Kruger AND Smart anymore.
The same Texas fans that wanted Smart gone wanted Beard to come rescue them. The sentiment was almost instantaneous on Twitter. I've had the conversations with Tech alums and fans the past couple of years. Through other job searches at other schools, they never expressed concern, even when the Indiana job opened right after the end of the regular season.
But the Texas job, even if they never said it, always worried them just a bit. It's hard to mess with a man's alma mater.
Beard got his degree at Texas. He was a student manager for Tom Penders and the Runnin' Horns. Texas fans have put fewer numbers together and gotten 'We have to hire that guy.' Of course, as I wrote about the 'nightmare scenario' for Tech, I also made the point that there are plenty of other reasons to hire Beard, starting with his incredible 9-3 record in three NCAA Tournaments. If you're a Texas fan and THAT is what's bothering you, problem solved.
But there were other points I made in that story, beginning with the fact that the Texas Tech job, from a basketball standpoint, is a better job than Texas right now. I mean, the folks in Lubbock LOVE him. Why go to a city where they turn on you on a dime for the slightest reason?
Plus, if we're being honest, I thought, Beard might just be a west Texas guy now. It's not like he stuck around Austin after graduation, like thousands and thousands of other Texas exes. He got to work and ended up in Lubbock, working for a decade under Bobby and Pat Knight. When that era ended and, after a year coaching pro basketball in South Carolina (yes, that's a thing), he resumed college coaching in Abilene, Texas, at McMurry, and then moved to San Angelo, Texas, at Angelo State.
It was hard to turn down Arkansas-Little Rock, his first D-I head-coaching job, where he led the Trojans to the second round of the NCAA Tournament. The UNLV job got him closer to West Texas. But, when Tubby Smith moved on to Memphis, Beard found his way back to Lubbock.
His daughters live nearby, one of which is playing high school basketball. Beard is engaged to a local volleyball coach. Lubbock is home now.
Until April 1. Yes, April Fool's Day. Worst joke ever as far as Texas Tech was concerned.
Turns out Texas athletic director Chris Del Conte had secured permission to talk with Beard. Turns out, Beard and had been wrestling with the potential of going to Austin for a week. Turns out, in a Comfort Inn in Plainview, Texas, about 45 minutes from Lubbock, Del Conte and Beard got the deal done. The April 1 date was important for Texas, financially speaking. Beard's buyout to a Big 12 school dropped by $2 million.
Texas was end game for Beard. The alma mater won out. Texas Tech athletic director Kirby Hocutt, we learned later, didn't get a chance to counter the offer. To hear Hocutt tell it that afternoon during a press conference, steam seemingly rising from his neck, Beard told him it was 'time for a new challenge.'
Hocutt's voice trailed off in that way that told me he was saying to himself, 'I don't get it. We gave him everything he wanted. And probably more.'
Beard is, perhaps, one of those coaches that thrives on defying expectations. He did that at Texas Tech. If he can do that at Texas, with that basketball program, well, the Hall of Fame in Springfield, Massachusetts, awaits.
My April 1 and April 2 turned into a Beard-a-thon — his hiring, the impact, the ripple effect. It was immediate at Texas Tech.
By the weekend, five players had submitted to the transfer portal, a stunning reaction to Beard's departure. Red Raider Nation was not happy. Not only had the golden goose left town, but the program seemed to be immediately imploding. But I could only keep one eye on that. By the end of April 2, the Sooners reportedly had their man.
Oklahoma, Texas Tech Find Their Guys
Welcome to Norman, Porter Moser.
The leader of Loyola-Chicago for a decade (or, as some of us call it, the House of Gryffindor, since those L-C scarves their fans wear look exactly like the ones from Harry Potter), was ready for his promotion. The Ramblers had just been eliminated from the Sweet 16. They were four years removed from the Final Four (I saw their first two game in Dallas that year — incredible stuff). I had just wrapped up a replacements story for Beard at Texas Tech and mentioned Moser. And, well, by God, there he was talking with ESPN's Rece Davis on Saturday afternoon wearing Crimson and Cream.
For the Sooners, this, admittedly, happened faster than I expected. Why? Castiglione was conducting TWO coaching searches at the time. Before Kruger hung it up, women's coach Sherri Coale retired. So he was looking for both a men's and a women's basketball coach at the same time. He found Moser first.
Moser should be inheriting a consistent program built under Kruger's watchful eye. But, instead, he's getting what amounts to a complete rebuild. In the short time between Kruger's retirement and Moser's hiring — and we're not even talking two weeks — the Sooners' talent pool went into drought mode. De'Vion Harmon and Austin Reaves declared for the NBA Draft. Four other Sooners, including Brady Manek, had submitted their names to the transfer portal. Moser inherits a team without its three leading scorers from last year.
Good luck with that. Speaking of luck … being in the right place at the right time worked out for Mark Adams.
Hocutt said he wanted to take about two weeks to find a new head coach. Turns out it took five days. It's easy when you think you have the right hire in-house.
For Red Raiders fans, Adams was the right hire. If Texas was 'end game' for Beard, then Texas Tech was 'end game' for Adams. Born 40 minutes from Lubbock. A 1979 Texas Tech grad. A head coach at practically every West Texas stop along the way. Beard's top assistant. So there was no chance Adams was following Beard to Austin.
Beard got his dream job. Adams got his, too.
And he was the only one on that stage on April 6 who thanked Beard, and for good reason.
"I wouldn't be here without coach Beard," Adams said. "I appreciate him giving me an opportunity to coach with him. He's done a lot for Texas Tech. He's a friend of mine. I get to be right here as the head coach and it's because of him."
If Beard hadn't left Texas Tech for Texas, then Adams wouldn't be the head coach at Texas Tech.
If Kruger hadn't retired to finally start 'the rest of his life,' then Moser wouldn't have a new job in Norman.
If Pollard hadn't fired Prohm, then Otzelberger couldn't return to a program where he did three stints as an assistant coach. Kevin Kruger wouldn't have a head-coaching job, and papa Kruger wouldn't be able to move back to Vegas and dote on his grandkids.
And, all of this happened in the space of 23 days in March and April. The Big 12's version of March Madness, coaching style.
(Note: For those wondering, I'm counting coaching tenure by the numbers of years at the same school. So, while Beard has more years in the Big 12 than Boynton, by moving to Texas, he's 'starting over.' Hence Boynton moving up to No. 6 overall in coaching tenure by school).
You can find Matthew Postins on Twitter @PostinsPostcard.
**Want to win a $20 gift card? Go sign up here and join our conversation! The best poster each week wins a gift card to your favorite establishment!**