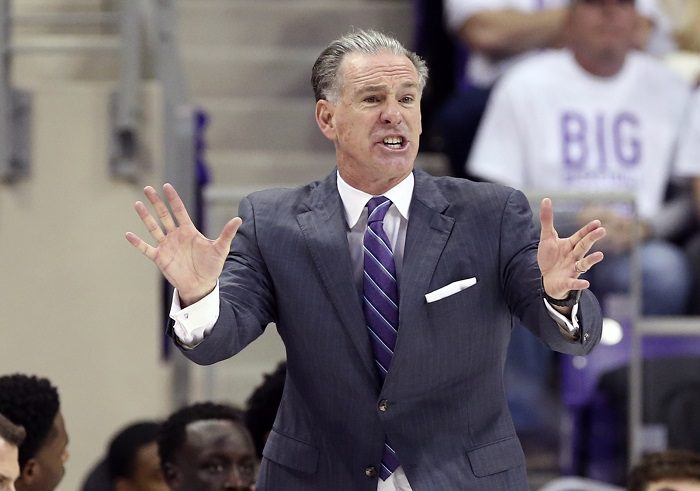 The TCU basketball team has backed itself into a corner.
An unprecedented eight student-athletes have entered the transfer portal since mid-March and All-Big 12 guard RJ Nembhard left for the NBA draft.  
The Horned Frogs finished the 2020-21 season on a 1-7 skid and played without much spirit in a 21-point loss to Kansas State at the Big 12 conference tournament.  
It's not surprising student-athletes wanted out given that ending. The root cause behind TCU's predicament, however, dates beyond a handful of games and it might be the person who anticipated this mess. 
TCU head coach Jamie Dixon correctly pointed out the transfer portal will change college basketball's recruiting landscape and how a program maintains success. The portal provides immense freedom, especially since student-athletes can now transfer one time during their collegiate career without missing games.
Dixon can blame the transfer portal for constant roster change all he wants, but the Horned Frogs have bigger problems.
It's one thing if one or two student-athletes leave in an offseason. To have 16 student-athletes transfer out in a three-year period, culminating with a mass exodus, is another thing.
After the 2018-19 season, the head coaching job at UCLA popped open. Dixon wanted it since he could return home and take over a tradition-rich and prestigious program.
The Bruins had all but hired Dixon until the contract buyout became an issue. Rumors flew about which side was at fault and Dixon's desired landing spot. Eventually, the $8-million buyout became the reason UCLA moved on.
Dixon stayed with the Horned Frogs, but the damage had been done.
A trio of underclassmen bolted that spring, the first offseason the transfer portal existed, followed by another sophomore right before the 2019 Christmas break. Another four student-athletes, all backups, exited during the 2019-20 offseason.
These problems were unfathomable just five years ago.
When Dixon arrived at TCU in 2016, it felt like the perfect match. A former Horned Frog basketball star guiding his alma mater to its first National Invitational Championship and then its first NCAA tournament appearance in 20 years.
TCU fans thought Dixon could do no wrong until student-athletes expressed their true feelings through the transfer portal.  
Losing nine student-athletes, no matter how much or little they contributed, pulls a team further away from achieving sustained success. Practices and daily interaction become focused on getting to know teammates instead of refining plays and building on a pre-established foundation.
Dixon does rebuild using transfers when student-athletes leave, which provides a temporary solution. The Horned Frogs will welcome Memphis guard Damion Baugh (3.8 points per game), UT-Arlington guard Shahada Wells (16.8 points), Western Carolina forward Xavier Cork (12.7 points, 6.1 rebounds), and Vanderbilt graduate transfer guard Maxwell Evans (8.5 points per game) in 2021-22.
TCU also returns five student-athletes with some starting experience, including All-Big 12 sophomore guard Mike Miles and senior center Kevin Samuel. Nembhard could still come back, which would give the Horned Frogs a major boost. No matter who is on the roster, though, TCU must focus on keeping young talent and not letting the transfer portal destroy the program.
Otherwise, Dixon might not finish a contract that goes through 2023-24.
Dixon will always hold a special place within TCU basketball history for making the team relevant again and increasing the expectations. Anything less than NCAA tournament bubble talk and an actual tournament appearance every few years has become disappointing.
Dixon should remain the coach a little longer, especially since the pandemic affected practices and player availability this season.
But another year without serious tournament bubble talk, and perhaps even a tournament appearance, and significant improvements in player retention and development will make keeping Dixon a hard sell.  
**Want to win a $20 gift card?  Go sign up here and join our conversation! The best poster each week wins a gift card to your favorite establishment!**