Big 12 News
Bill Snyder's Autobiography Due Out in Fall of 2021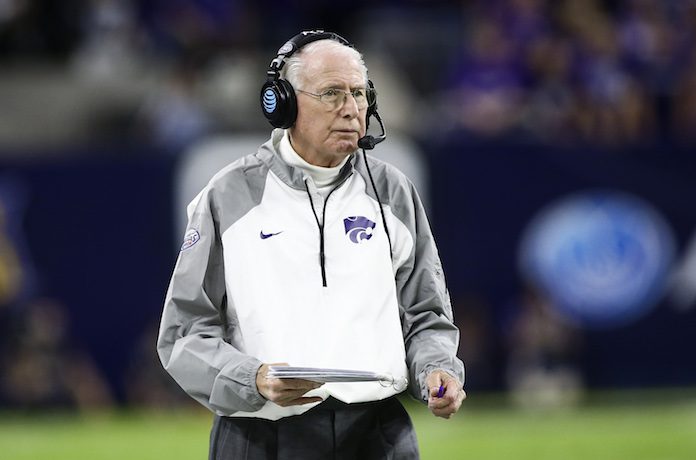 Legendary Kansas State football coach Bill Snyder's autobiography is coming to a book store near you.
According to our GoPowercat, Snyder's autobiography, which will be co-authored by D. Scott Fritchen, will be due out later this year.
The book will be titled,  "My Football Life and the Rest of the Story."
Bill Snyder retired nearly two and a half years ago following the 2018 season.
Snyder constructed what will go down as, to date, the greatest turnaround in college football history. Snyder was hired following the 1988 season and a stretch in which the Wildcats had lost 26-straight games and were 2-30-1 under head coach Stan Parrish from 1986 to 1988. In fact, when Snyder was hired, the team had not had a winning season since 1970, when they went 6-5 under Vince Gibson.
Not only did Snyder get this team to respectability, he took them to places no one ever dreamed was possible in Manhattan. After a 1-10 season in 1989, his first year on the job, Snyder had the program at 10-2 by 1995. Upon the move from the Big Eight to the Big 12, Snyder won the Big 12 North three straight seasons from 1998 to 2000. During this three-year stretch, the team went a combined 33-6. The 1999 team finished with its highest ranking ever in the AP Poll at No. 6.
Snyder retired the first time around following the 2005 season. The team had gone 4-7 and 5-6 in 2004 and 2005, respectively, and Ron Prince took over as the head coach. However, Prince struggled in three seasons, going 7-6, 5-7 and 5-7. That led to the return of Snyder, Part II.
By 2011, the Wildcats were back to winning 10 games in a season. And in 2012, the Wildcats reached the No. 2 spot in the polls before a November loss to Baylor derailed the 2012 season, which finished 11-2 and loss in the Fiesta Bowl to the Oregon Ducks.
However, the program had seen things take a bit of a dive in Snyder's last couple of seasons. The Wildcats finished under .500 two of Snyder's last four years and lost 25 players from the program during that time, along with coordinators on each side of the ball.
Snyder career wrapped up with an overall record of 215-117-1 and 128-89-1 in league play. He took the Wildcats to 19 of their 21 bowl appearances, with a 9-10 record in those match ups.
**Want to win a $20 gift card?  Go sign up here and join our conversation! The best poster each week wins a gift card to your favorite establishment!**