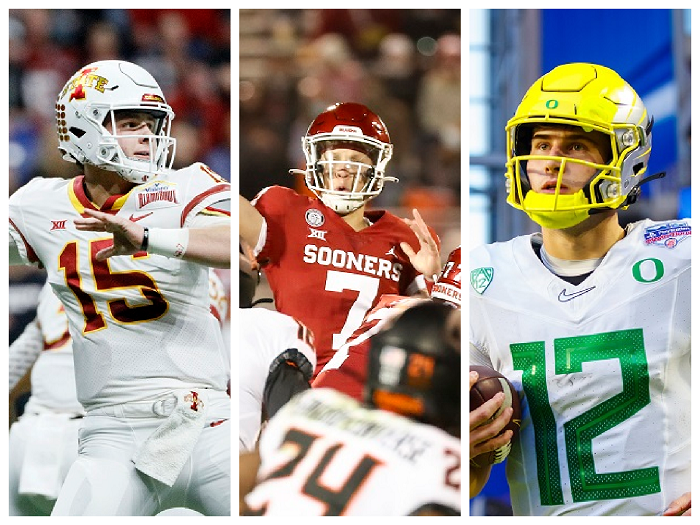 The NFL s driven by the quarterback position. Just ask the Kansas City Chiefs and Tampa Bay Buccaneers. And while all the focus is on this month's 2021 NFL Draft, which begins next Thursday in Cleveland, why not even look further ahead?
College Football News put together a list of the Top 10 quarterback prospects for the 2022 NFL Draft and three Big 12 players made the list. Oklahoma's Spencer Rattler came in at No. 2, Texas Tech's Tyler Shough at No. 5 and Iowa State's Brock Purdy at No. 10.
The shocker of the group has to be Tyler Shough, who transferred to the Red Raiders from the Oregon Ducks.
Shough played and started in all seven games for the Ducks in 2020. This was his first year as the starting quarterback for the as he finished the 2020 season throwing for 1,559 yards and 13 touchdowns, completing 106 of his 167 attempts, and also threw six interceptions. Shough also ran for 66 carries in 2020 and finished the year with 271 yards on the ground and two more touchdowns.
And while there's no doubt, as we wrote this month, Shough has proven to be the guy to beat out for the job, if Tech is truly getting a Top 5 NFL Draft QB prospect, then the Red Raiders may be finally able to break out of their state of malaise. However, ask fans how that worked out with Patrick Mahomes.
Spencer Rattler is not shocking at all. He's already the 2021 Heisman Trophy favorite and Lincoln Riley produces No. 1 overall draft picks at the position with ease. Rattler finished the 2020 season with 3,031 passing yards, 28 touchdown passes and seven interceptions, while completing 68% of his passes. He also ran for 160 yards and six scores. Spencer Rattler was left off the coaches All-Big 12 First and Second teams, but he made our Heartland College Sports All-Big 12 team.
Then, Brock Purdy, who decided to return for the 2021 season. It was the right call for Purdy, who didn't have the lights-out season he needed to justify leaving Iowa State before he had to. Purdy had a really good season with 2,594 passing yards, 18 touchdowns and nine interceptions, while completing 66% of his passes. Purdy also had 343 rushing yards on 78 carries, with four rushing touchdowns. However, he can add a lot of value to his stock with a strong 2021.
So while one year ago at this time, the Big 12 was, by it's own standards, a bit of an unknown at the QB position (minus Purdy and Sam Ehlinger), the conference now has arguably three of the Top 10 quarterback prospects for the 2022 NFL Draft.
**Want to win a $25 gift card? Go sign up here and join our conversation! The best poster each week wins a gift card to your favorite establishment!**