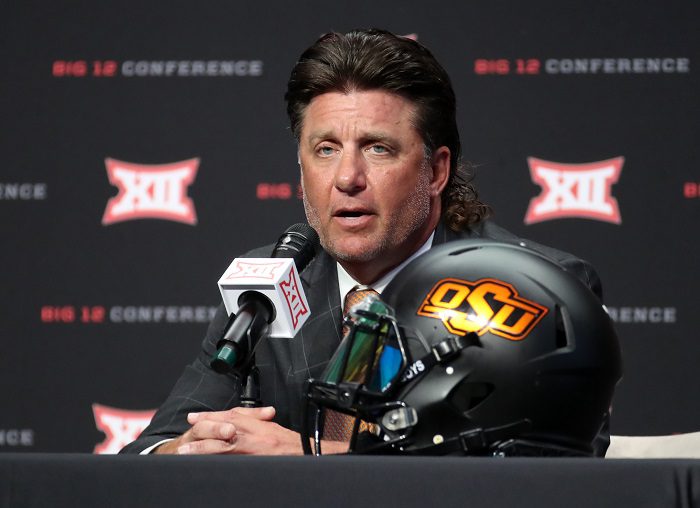 Spring is in the air and so too are footballs.
College football teams across the country are hosting their spring games after many were forced to adhere to COVID-19 restrictions and forego their annual scrimmage in 2020. Many SEC programs have already had their game like Alabama, LSU, Georgia and Arkansas.
Oklahoma State is set to kick off its spring game Saturday afternoon, April 24, after not having a game this time last year, and Cowboy fans have a lot of questions heading into it.
It's me, I'm Cowboy fans.
The spring game is always a good way to see the early stages of what a team will look like come fall and to get a peak at the new guys. Certain players will stand out amongst the rest, while others might get lost in the shuffle. Here are a few things I'll be looking for when the Pokes battle the Pokes on Saturday.
Any new offensive schemes?
2020 was a hard season to watch if you like offense. OSU struggled to put the ball in the endzone unlike anything I've seen from a Mike Gundy-coached team. The bulk of that had to do with play calling. Oklahoma State was painfully predictable on offense and teams began catching onto it in the later half of the season. 
It seemed like offensive coordinator Kasey Dunn only had a handful of plays on his clipboard; run up the middle, outside zone run, wide receiver screen and deep sideline ball to Tylan Wallace. If they ever ran a play that deviated from that I was actually shocked. They also had a habit of running up the middle on every first down. This became incredibly predictable and usually resulted in a 2nd & 11 or 12 situation, causing the Cowboys to have to make up yards. 
Basically, I want to see some variety in the spring game. Some added schemes and formations that cater to the talent we have. The jet sweep to Brennan Presley against K-State, for example, made me do a double take when I saw it. It was like playing a slot machine at a casino and finally pulling three cherries after hours of losing. Gundy and Dunn recognized Presley's ability to run and called the play specifically for him. I'm really hoping to see more of that Saturday.
Who will stand out at wide out?
Oklahoma State lost Tylan Wallace, Dylan Stoner, Landon Wolf and Dee Anderson at receiver and are looking to find the next man up.
Look for former Washington State transfer Tay Martin to make a splash on the Orange team, as he has been having a productive spring practice. I expect to see a lot more of him this season after he was brutally underutilized a year ago.
Some other receivers to watch are sophomore Brennan Presley, senior Braydon Johnson, sophomore Langston Anderson and redshirt freshman Rashod Owens.
Running back rotation
It's evident that senior L.D. Brown will likely be the starting back come fall, but what will the rotation look like behind him? Both senior Dezmon Jackson and sophomore Dominic Richardson proved they were worthy of the backup role last season, with each yielding spectacular performances when Brown and Chuba Hubbard were not on the field.
The one guy I'm most interested in, however, is Utah State transfer Jaylen Warren. Warren will be playing for the Black team, presumably behind Jackson, and I'm curious to see if and how much playing time he will crack this season with all the depth at the position. The number of snaps he gets Saturday will be a good indicator of where he stands on the depth chart. I've heard good things about him, so perhaps we'll see a rotation of four different backs this season much like we did last year. Hopefully injuries won't be the cause this time.
How will the late arrivals factor in?
The Cowboys currently have 11 incoming freshmen that have signed their letter of intent but have yet to arrive on campus. This group includes a lot of OSU's best prospects of the 2021 class, including four-star defensive tackle Aden Kelley and No. 1 safety in Oklahoma, four-star Kendal Daniels.
With these guys and many others yet to make it to Stillwater yet, I can't help but wonder how much they will shake up the depth chart once they do report to the team. JUCO transfer offensive lineman Caleb Etienne will fill a much needed role, as the Cowboys look to rebuild the tattered O-line from a year ago. Three-star Donovan Stephens is a promising linebacker who is very vocal about coming to OSU and has also been luring other fellow prospects to follow him to Stillwater on Twitter.
There are a lot of late arrivals I think will battle for significant playing time this season, so the rotations throughout the spring game won't in any way be the de facto lineups come August. I'm really looking forward to seeing what Daniels and Kelley can do at their respective positions, as well as Etienne, a 6-foot-8 beast, on the offensive line.
Orange or black?
After the official spring game roster made it to Twitter, I'm sure many fans speculated on which team would walk away with the W.
The coaching staff tries to balance out the teams as much as possible, as to not give one side an advantage, but one team is always usually a little better than the other. This time, however, I'd say these two teams are nearly dead even. I think the Orange team is a little better on offense, featuring both the quarterback and running back with the most experience in Spencer Sanders and L.D. Brown. The Orange team also boasts the most experience in the past-catching department, with Tay Martin, Brennan Presley and Logan Carter. I like the offensive line group better on this squad as well.
I'd give the defensive edge to the Black team, as they're front loaded with some of the best defenders on the team like Tre Sterling, Trace Ford, Devin Harper, Jarrick Bernard-Converse and Tyren Irby. I also like the freshmen talent more on the Black team, with new names such as Jaden Bray, Ty Williams, Lyrik Rawls, John Paul Richardson and coveted receiver Bryson Green, the Black team may be the team to watch if you're a sucker for scouting incoming talent like I am.
After close examination, I have to give the edge to the Black team to come out on top. Despite the superior offensive group on the Orange team, the Black team is so rich in talent on defense and backup quarterback Shane Illingworth is a more than capable secondary passer. I'll take Black over Orange with a score of 31-21.